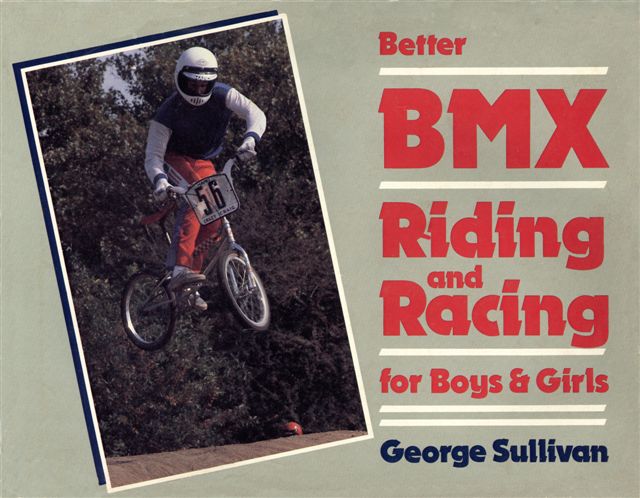 Back when I raced and announced at Braddock BMX in North Bergen NJ, there was a racer who stood out in my mind that was a bundle of BMX enthusiasm…Craig Wilson. He caught up with the site not too long ago and has even decided to return to the track this spring.
With guys that have this kind of love and experience for BMX returning to racing, great things are about to happen in NJ…
Yeeehaaa! Here's Craig…
How did you get into racing? What was it that got the itch to race
going in ya?
There are a few different reasons I think got me into racing, but first I have
to thank my two older brothers who would tear down and re-build"junk"
pre/early BMX bikes and dad for letting us have such a huge pile in our basement.
If we tweaked something, we just grabbed a replacement off another wreck. And
man, we had some early classics, just didn't know it, but that was the
mid-late '70s. We could've opened a bike shop in that basement.
We'd jump them off wood ramps and loading docks until we broke something
(or us!).
At 11yrs old I started delivering newspapers on my bike and most days "raced"
around my route (okay Mom, after I finally got out of bed). The neighborhood
became a practice track (with a bag of Star Ledgers wrapped around the handlebars!)
but I didn't know BMX racing existed. That paper route actually helped
pay for races & parts till I was 17! I learned about "real" BMX bikes when I bought Mongoose Gold Stem to replace a cheapy neck on a Kmart
bike. The KKT pedals and mags followed shortly after. That first trip to a real
shop made me want a "Goose, and I talked dad into buying one for 8th grade
grad in '81. I was already a great jumper and soon realized I enjoyed
BMX way more
than little league, but didn't know what to do next.
Do you remember your first race? How quick did you progress from
novice to expert and finally superclass?
My first race was late 1981 at the Jersey City Armory. Marty Epstein, who still
owns Marty's Reliable Cycle in Morristown, gets credit for that. Me and
some buds were there one day and he asks "who wants to race BMX?
Well, I guess the rest is history. I started in 14 & over beginner and that
winter raced 8 times, made 4 mains and got two trophies. I still have my first
trophy, a third place finish. I raced a few races at Waretown BMX that summer
(Grandparents at the shore!) and finally found Braddock just before the '82
ABA East Coast Nats and that got me hooked. (225 Motos!) I turned expert in
spring '83 (15 Novice was tough!) but not for lack of trying: I have more
2nd place trophies than anyone I know. Getting a cruiser in 1984 made the difference.
I rocked in 16x & Cruiser that spring (locally and on the road) and held
my own in 17x & cruiser after that. (Braddock had a nasty 17x class in '84!)
I started making big mains and thought '85 would rock but a broken foot
cooled a great start (4th & 5th at Dixieland Nats). After a couple of years
of casual racing and announcing (Litsky was my inspiration), I went full throttle
again in 88 & 89. I did great locally and regionally and moved to Superclass
after the '89 NBL State Series (#3 17+ Ex and 1st in Cruiser). To all
you new guys out there: don't give up. Eventually it happens. You get
smooth. It just took me longer than most, but when I got there, it was worth
it.
There was no mistaking you at Braddock BMX back in the day, the super big guy
in the white helmet, was Braddock your home track, do you remember James Cerullo,
thoughts and opinions on racing there.
I guess when you are 6' on a big Redline PL24, you stand out,
huh? Not that I was a quiet guy either.  Braddock was my home track although
Flemington became my NBL home in '89 to pursue the state series. It wasn't
easy to race both sanctions, but it made me a better rider. Looking back, I'm
amazed at the level of comp we had at Braddock considering it was a small track
by today's standards.
I have nothing but loads of respect for James Cerullo. Every week he'd
be out there putting up with all of us. I don't know how he did it. Us
Jersey boys would mix it up every once in awhile and he'd have to referee.
He WAS Braddock in my mind, and instead of taking the winter off, he'd
run the Armory races as well. You should devote a section on the site to all
the great track operators who made BMX what it was (and is) in Jersey. I would
consider him one of the greats for his years of commitment.
Braddock was not the most intimidating track, so the gate snap was critical.
Still, that didn't guarantee the win 'cause racing was always tight.
It didn't have a huge, sweeping, monster first turn like some tracks so
it got wild with eight older experts or cruisers out there. Making mains was
not easy. You paid your dues bangin' bars with the guys who raced there.
Who was your toughest competition back then?
At Braddock, with all the great riders we had back in the day, that's
a tough call. In 16x Nick Dottino was tough. It took a long time before I finally
beat him (a lot of second places). When I hit 17x EVERYONE was tough, especially
Dave Campbell, Billy Sargeant, and anyone with a Factory Thruster Jersey (Chris,
Frank, etc). After that it was Pete Woghlemuth. I got him to his first race.
He came from a family that raced cars and it wasn't long before we were
fighting for the same trophies in Expert & Cruiser. Later in 17x Marlon
Pierson (Wewo) and I would go at it real good too. In cruiser Austin Steele
always gave me fits at the big races and his brother Donny was real tough in
Expert, too.
When I hit the NBL, I had to chase Mark Zalewski in 17+ Expert. That year the
NBL 17x class rocked in NJ. I truly believe we had at least sixteen riders all
capable of making national mains, so every race was great. If you raced NBL
17x in NJ in 1989, you rocked, regardless of how you finished that year. I take
a lot of pride in the #3 plate I have from the state series. I think I worked
harder for that then any other ranking I achieved.
Who was in your riding crew?
The main guys from my area that I rode & raced with from '81 to '85
were John Keyes, Bob White, Mike Moylen, Jim Young & Pete Woghlemuth. There
are a lot more from all around my area that rode the Hawthorne pit or the infamous
Crater in Whippany. I guess I was part of several crews, so it's a big
list and everyone one of them loved the sport and kept it real.
In 1988 a couple of us started Crazy Train, and renamed it The Wrecking Crew
(the guys chose the name). We tried to make all the big races in NJ, NY, MD
& PA as best as we could for two years in a brown Chevy van I bought. This
crew was: Pat Taft, Robert Clarke, Anthony Kipikasha, Sal Gagliardi, Pablo Tosich,
Kevin Bastin and Mike Nunn. No rest area on the Pike was safe from these guys.
We won our share of Team Trophies and got a nice write-up by the ABA at the
East Coast Nats in '89.
You stuck with racing as freestyle really seemed to come to dominate
BMX in the mid-80's, what are your feelings about that time as it seemed
a lot of racers were leaving to just do freestyle.
Everything in life goes through cycles. Not everyone could race, so it gave
kids another way to show off. Still, I miss the days when we could pull a 100+
motos for a triple point race. It did show that the sport was not marketed like
it should be, so racing slowly declined, at least in Jersey, to where it is
today. But people like a show, that's why the X-Games are so popular.
You are right on target when you say we need to show
it as a lifestyle.
What teams were you on back then?
My first team was Marty's Reliable Cycle and then I rode for Cliffside
Cycle. I got some attention at the 85 Dixie Land Nats, but missed the rest of
the east coast nats due to a broken foot. I was talking with several national
teams but missing those nats killed it. The last team I rode with was The Wrecking
Crew. It was my van, gas and tools, so you could almost say I sponsored the
team.
I wasn't around for it, but it obviously happened. The ABA
at one point was HUGE in NJ, then poof it was gone, did this transition occur
during the time that you raced? If so how did you feel about going from ABA
to NBL?
The ABA was down to two tracks in Jersey by '89, and that was Braddock
& Deptford. It seemed no one wanted to run the ABA tracks any more, it was
the end of an era. I chose to race NBL before the ABA died off, but mainly because
there was more nats and stuff on the upper east coast. I was involved in Braddock
at the end and even I didn't want the responsibility. Its amazing cause
I remember when there were tracks everywhere. It didn't bother me making
the change, and it made me better because you have to ride hard every race in
the NBL. I actually got accused of riding too hard sometimes. I had that ABA
transfer mentality where you won your moto or died trying.
Who do you feel contributed the most to BMX racing in NJ during
the time you were involved in the sport?
I don't know if there is any one person but I think all the track operators
deserve credit for keeping their corner of the state involved. I think every
kid who went out every weekend and paid their dues deserves credit. Still, there
are folks like James Cerullo, Sal Zeuner, Bob Warnicke, Charlie Litsky, etc.
that gave so much time to the sport back in the day. And forget about a list
of riders, it's too long. Guys like Farside, Dave Campbell, Brad Dalbec,
etc. It's a monstrous list. And as I write this, names & faces are
flooding into my head. I wish I could remember everyone, because I am leaving
SO many people out.
List some of your biggest wins, what was the most memorable?
The 1988 ABA NJ State Championship in 17x at Braddock. I came from 7th position
(a bad start out of the 7th lane!) to win the race and the series. It meant
a lot because I started late on the 20incher that year. I wasn't expected
to win the championship, especially in dramatic fashion. Taking 4th in 17x behind
Kevin Hull at the '85 Dixie Land nats ranks up there too, along with the
NBL 17+ Expert #3 State Series plate in 1989. I also won the PA State champ
race in 17x one year at York, that's a fun track. Being successful in
the Expert class meant a lot because most people know me as a cruiser rider.
I won tons of big races on my cruiser. One favorite cruiser win was a Friday
night National pre-race at the old Howard County Fairgrounds in MD. A wreck
put a pedal into my back rim which tore out a ton of spokes and I still won
(no, the other 7 riders didn't all fall, ha-ha). If you saw the rim, there
is no way I should have. Later that weekend I tweaked my knee and couldn't
walk, but still pulled off another win on the cruiser (I had extra rims). The
unusual ones seem to mean the most to me. I take pride in having won at the
local & regional level on every east coast track I've raced except
those first few races at Waretown.
Craziest story from back then, the one the grandkids are gonna
say, "oh come on pop's you're nuts!"
We talking personal or racing? ? Even though my name is Crazy Craig, I"m
kind of low key in many respects. The Wrecking Crew probably has a list a mile
long that I don't know about cause I always felt responsible to their
parents to keep myself out of trouble. Hmm let me thin.  Every time
we came back from Maryland we'd hit wall-to-wall Sunday traffic on I-95,
and the guys would open up the side door on the van and cruise chicks in traffic.
I guess that's crazy as it gets. Taft, I know you're reading
this, you remember all the crazy stuff, help me out here. Like I said before,
no rest stop was safe from The Wrecking Crew. They lived up to their name. One
more: Late 1988: Racing my first mountain bike race in the morning in Jefferson
NJ and a triple pointer near Wilkes Barre, PA in the afternoon. It felt like
a lung collapsed after the mtb race. I couldn't practice at all later
that day, just run the motos & mains. Oh, and I doubled in 17x and cruiser.
Go figure.
How big was racing in NJ when you stopped, moto counts and participation
wise.
I recall it being decent, but by no means the salad days. 1989 was the last
full year and the state series rocked, although there was a limited amount of
riders over 18 and the younger classes were starting to thin out. Braddock had
its last hurrah and I don't know when Deptford went out, but thankfully
there were enough NY riders to keep Braddock going that year. Being in a city
area, it was changing a lot and the word just wasn't getting out. All-in-all,
the NBL was it, the ABA was not making any major effort to help. Looking back,
I wish we had converted Braddock to NBL, it might have kept it going. A local
at Braddock was pulling 25 motos. The sport was slowing down.
Do you remember the JC Armory indoor series? Any good memories from
there?
Oh yeah, cause that's where it all began. It was just something you looked
forward to every winter, a chance to keep racing. I didn't win a lot there
(tons of second places) because I was a power rider. That wooden floor seemed
to favor the "spinners" who got good gate snaps. If they had the
lead by the first turn, it was hard to pass them. I could spin a low gear on
my cruiser but not as well on the 20. Still, I never missed a race. Anyone who
raced there knows the wood could be brutal. I tweaked my forks on the wooden
whoop-de-doos my very first race.
When did you stop racing, and why?
Sadly I hung it up early 1990 getting serious with a girl (way before I met
my wife) and "finding" a career. Having what I have now, my wife
and kids, I wouldn"t change a thing, but at the time I didn't realize
I was at my peak and should have kept riding. BMX could have been a career.
Still, NO regrets. I have an awesome wife & family.
What occupies your time now?
Church, family, my mortgage business and NY Yankees baseball. My wife is a
big part of our church music ministry and we work together in the pre-marital
program. We seem to do a lot there. My wife is a saint to put up with me, and
means the world to me, I hope she is reading this (hi honey!). I have two extremely
energetic kids (5 & 2) who are always smiling and keep us busy. Once my
son gets off the training wheels, he's gonna be a terror. My mortgage
business can be a 24/7 gig sometimes, but its been the best thing for me and
affords me a lot of flexibility in my schedule. Whenever we can, my wife and
I go catch the Yankees. My wife is a HUGE fan from before she met me. She actually
takes me to games!
 
Any chance we'll see you back on the track in the near future?
Yes. I hope at the Jack Frost. I have to drop some weight (I am heavier than
I look) but the bike is ready and dialed in. I caught some decent air and style
the other day, it felt great!!
Final thoughts, or thank you's?
Thank you for this site man, it rocks, but its gonna be up to everyone out
there to make this a place for EVERYONE. Remember, we want to attract NEW riders
of all ages, so don't dis the new guy, at the track or online, if he's
not hip to everything. Not everyone is gonna be hardcore. Every kid knows somebody
that wants to ride or race, so we gotta make sure NJ BMX is a positive experience
for everyone so they'll tell their friends!!
Thank you God for putting me on this earth. Christine, I love you and I am
a better man because of you. Thanks to mom & dad for taking me to all the
early races. I also want to thank every one I ever rode with or raced against
(that includes you Brett!) BMX & New Jersey. Perfect Together!
Photos: