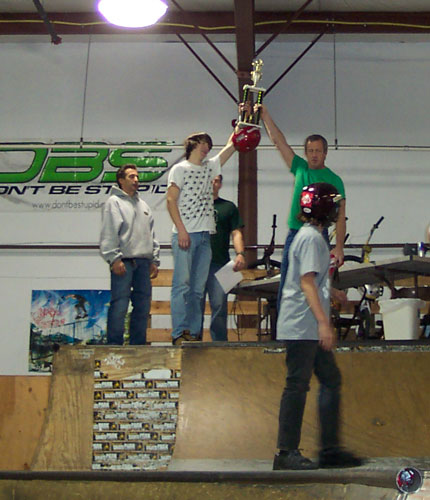 Twas the week before Christmas and all through the state….ah forget those Christmas carols, the week before Christmas BMXers in NJ were getting bizay in Flemington NJ at Shields Skatepark for thier final BMX event of the year! Massive quantities of prizes were given by Mountain Creek, Efinger' Sporting Goods Immortal Ink, Primo, Pelican Ski and Spa, Pete's Bike Shop, CJS and High Gear Cyclery. Yours truly was supposed to attend but got a bout of the sickness and coughed his way into bed for this event. Luckily, Shield's promoter Jacqui was able to get me some photos and the results from the day to get this write up out here on brokenspokes! Mucho grande thankos to her! The word from the comp was that it was a great atmosphere at a killer park nestled up there in the hills of NJ. Many of NJ's craziest freestylers rolled out to bust thier latest moves. Aaron Graff, demo man extraordinaire was given mic duties for the day and let the comments fly. Aaron was also cool enought to wrangle in 3 judges for the contest and they got the privilege of chilling for the whole day and watching the stunt show. Shields broke the riders up into 3 classes to let loose the moves, unfortunately without me being on hand, I have no idea what the deal was with who was busting the biggest and best but I can give you the rundown on the finishes. Wanna hear about it? Hear it go!
Beginner: 3rd- Justin Benthen, 2nd- Jeff Tantum (a racer busting loose! Rock on!), 1st- Mike Veise
Intermediate: 3rd- John Brungard, 2nd- Seth Bernard, 1st- Eddy Hernandez
Expert: 3rd- Nikki Gatarz, 2nd- Andre Postell, 1st- Gary Nilsson
Best Trick- Joe Libero
Sorry I don't have highlights from the runs, but no doubt these young killahs were shredding it! The next comp is March 4th and barring more illness, (don't laugh, 2005 was appendix year!) brokenspokes will be there for full comp coverage! Many thanks again to Jacqui, the sponsors, Shields and all the help who came out to put the contest on! Get ready 2007 BMXin is ready to roll over everyone!
Photos: