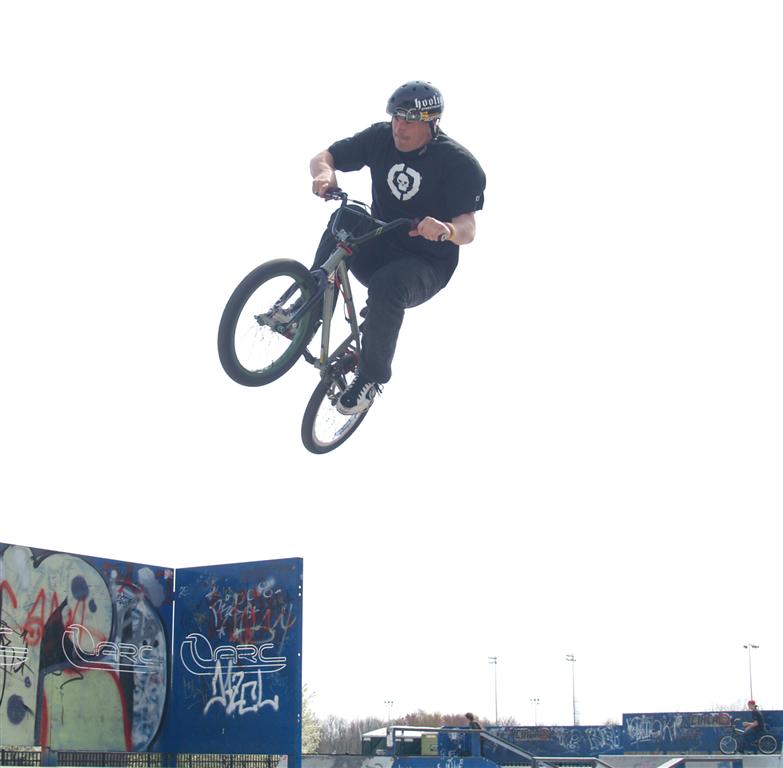 When I came back on the scene in 2005 I noticed a new guy that I had never seen before out there running around taking care of business in the area that I grew up in. That guy was Aaron Graf. Now I had heard of Steve Wisbeski, but Aaron was a mystery to me as he had the skills of someone who was riding for a long time but, well to be egotistical for a moment, I had never heard of this guy and I was in the scene 17+ years before I took a hiatus. Who was he and where did he come from permeated my mind. It quickly became apparent to me that he was one of the guys pushing the sport in the area that I grew up in and at some point I would need to know more about him. Well this past winter, one of his team mates on CJS, John Ritchie contacted me and asked if I could interview Aaron because he felt he had been doing a lot for the guys in the area, so me, never one to turn down something to put on the site figured it was time to get this guy some recognition for what he has been doing and to find out just where the hell he was hiding in the years I was riding. I set up a date with John and headed up to CJS to sit down with Aaron and find out what he was about and where he came from. What follows is a bunch of highlights from that interview and some shots from Edison Skate park that we took later in the day. So without anymore rambling wordness, here he is straight outta Josie, (apparently by way of Missouri) Aaron Graf.
Coming out of the same state as old school legend Dennis McCoy. Aaron is a transplant from the show me state of Missouri. He moved out here at an early age with his parental units and his 5 brothers and 3 sisters. Dad had landed a job with AT&T so to NJ they rolled!
Aaron was a bit different than his brothers and sisters and had more of a tendency to go off and do his own thing, which like a lot of us, led him down the road to alternative sports.
Skateboarding caught his attention in the 80's and he was out shredding the mall with his bud Mike Perrini on his Vision Gator Ragowski board. It was during this time that he got a taste of BMX by seeing the riding of the GT team with Eddie Fiola killing it. During the late 80's Aaron eventually did test out the freestyle waters and played with a little flatland on an Osborn Pro of the now legendary bike company from NJ, General Bikes.
But sticking with freestyle was not to be, instead Aaron sorta went off and began to put his life on a path that if followed would have led to self destruction. That along with chasing girls as much as he could! (Hey any red blooded guy goes through that stage!)  Fate intervened though, strangely enough at a McDonalds' when a Sgt. Andrews from the US Army tapped Aaron on the shoulder and said if you want direction…maybe you should join the Army son. Aaron manned up and enlisted the next day and was off to basic training that October.
A life changing experience. Aaron was sent off to Saudi Arabia, Somalia, Haiti, and other countries eventually becoming a Sergeant in an Army infantry combat unit.  Going out and dealing with the realities of other countries and the military changed Aaron's viewpoint on life completely. He found a whole new respect for life and people and he promised himself that he would never be the same person he was when he joined the army. He did 3 years active duty from 1996 to 1999. After that he joined the National Guard and went back to school to get a liberal arts degree and did a little bit of acting. (Probably where he gets the flare for announcing at comps!)
When he got out of his stint in the US Army, Aaron decided to give something that he enjoyed as a kid a shot again. So…he went out and got himself an orange and white Dyno. So while out riding one day he saw some dudes riding and said where you can go ride around here. They took him to the local trails and he promptly overshot the doubles landed, broke his foot and crank arm on a 12' set of doubles that he overshot by 5' landing flat. That jump that brought him back into the game was at the 420 trails in Manville. (They have since been plowed, RIP)
So with a broken foot and a broken bike, Aaron was hooked once again on the BMX.
Some mellow; learn how to ride years followed from about 1996 to 1999. During this time he worked at Somerville Cyclery and put himself through the Chubb institute to become a computer technician and landed a job at Vonage.(yea, a tech support guy, I can only imagine the crazy questions he fielded at that job!)
The Vonage gig lasted for a bit but as things have a tendency to go with BMXers, things changed and Aaron moved on to other pastures. But BMX though, well he really caught the BMX bug full on and began to dedicate himself to riding. (If anyone has that pic of Aaron at the trails with the leaf blower knocking out all the leaves there, he'd love to see it!) It was around this time that Somerville Skate Park came into focus as well as Anvan Skate Park in Hillsborough which Aaron also had his hand in.
Around 2001-2002 he was riding at the now closed Rex Plex in Union where he met up with Al (of CJS BMX and Skate Fame). Al approached him about helping him open a park and he said, yea you bet! So Aaron got, Joey, Brandon WIlke, Eric Rollin, Harley Debazio, and Andy Inglun. Together they did a show with Al at the grand opening of Shields Skate Park. Through this friendship they also helped open the Edison Skate Park (where Aaron pulled his first full length of the box back flip).
Aaron then started doing some traveling. Heading down to the Incline Club where he met up with George Hoernig, heading out to PA and Posh, Nam, Minersville. Headed out to the BK trails, up to Paramus for some sessions up at the trails there. If there is one form of BMX that Aaron really has a passion for it has to be dirt jumping.
From helping all these people get parks going and promoting BMX Aaron started to see that this was benefitting not only him but the entire BMX community.  He started his own small company to promote BMX and other alternative sports called Mass3 (Massive NJ, 3rd state to join the union) A bud of his LukeE made the logo for the company which Aaron has tattooed on his arm. Though not designed to be a real money making venture, Aaron uses it to help get the word out about all the good things that can come out of being involved in sports like BMX and skateboarding. It is actually one of the things that helped get him introduced to Paul Shields of Shields Skate Park and 5 years later that relationship continues with Aaron helping out with many aspects of the park like the new beginner comp coming up in 2 weeks there. When I asked him about any future plans to grow Mass3, he said, really the bottom line for me is to help promote the whole industry, build ramps, parks, shows, whatever I can put out there to make things better, that is Mass3.
At this time Aaron was friends with Marc of Real Life Cyclery (now of Efingers fame).  Now it seemed that a kid had written Somerville saying that he would like a skate park because Hillsborough's did not allow bikes at all ($250.00 dollar fine!!!, STILL IN EFFECT! CRAZY!)  This young guy was able to get everyone together and with the head of recreation department as well as , Rick from Unreal Skate, Ed, Greg Turner from Somerville Cyclery,  and other people and decided, hey let's get a skate park together at a tennis court down in Somerville. They contacted Rich Stuck, who helped build the ramps, and Somerville Skate Park came into being. Now run of course by the famous Ken Cornell.
That was just one of many triumphs for Aaron and the crew he hung with, Woodbridge Skate Park, would be opened, and many demos would be done throughout the area to help promote BMX.
Now Aaron had lost track of Al from CJS for a few years though but eventually found his way back to him and said, "Hey why not do bikes too?" (Al was primarily skateboards at this time) Up to then Al wasn't able to due to Bike N Gear's proximity to his shop but when they closed…well…the rest is history. The CJS Crew now rolls pretty deep showing up at local comps, doing local demos and promoting all the positive aspects of BMX.
Around 2003 Aaron met up with the now famous duo of "Crazy" Bill Jones and his son Brandon. Though Bill wasn't riding at the time, Aaron said "Get on the bike man!" As we all know the rest is history and Bill soon earned the nickname "Crazy" because he is such a madman on the 20"!Aaron said he sees a great future for Brandon in his pursuit to become a pro BMX rider. Together these guys have done great things for the sport in the area that they live in.
The conversation drifted over to what BMX is all about and after talking about promoting and all the history and what has been done off the bikes that's when Aaron talked a bit about what he really sees as the most important part of BMXin' (which a few of us older guys sorta seem to agree on) and that is the attitude of riders when they are not "on the bike". Do they talk to the younger kids who look up to them, offer encouragement, have a good attitude, stay humble even as their skills improve. It isn't just all about how good you are, how many tail whips you can do, it comes down to who you are as a person that really matters most.
To Aaron BMX is an outlet to have fun with, to laugh about, that's the bottom line. Don't stress over it.  (It took the ol web guy here many years to learn that one!) You'll have on days, off days, middle days…but mostly it's those middle days, were your having a good time, laughing, hanging with friends that are most remembered. He went on to say that with the older guys like himself, "Hippy Steve", "Crazy Bill", George, Al, Ed from Unreal, Ralph, that figuring out ways to make BMX bigger and better than before is really what it's all about. Being able to still ride is just a perk.
And just like the rest of the older guys he has the "we've been through life and we can't be stopped" mentality, he believes there is no such word as "can't". Maybe, "haven't done that yet", or "haven't accomplished that yet" but can't is not a word he lets slide in to conversation. Whether it was the rough  younger years, the things that he saw while in the military or the tenacity of picking  up a BMX bike in his late 20's and saying, yea this is what I want to do. Aaron doesn't just believe there is nothing that he or you, the person reading this, cannot do. The future is limitless possibilities waiting to unfold.
Ending out the interview Aaron threw some shout outs to people who are helping him out make the scene better up there, including, Al from CJS, George Hoernig, and Brian Cunningham. Even though Aaron is "on the older side" as he put it, (37? Bro! You are a KID! LOL) and it seems that society as a whole still is having a hard time accepting the "middle aged BMXer"" he will be out there promoting the sport as all of us riders see it, as a lifestyle.
I asked Aaron what his goals for 2009 were and unlike some who will start to list tricks or things to get, Aaron went down a more philosophical road.
"Be nice to everyone, even people I don't get along with. Yea, I might rub people the wrong way because of the way I am, but you can't change the way you are. You can try but you can't always change the way you are. There are people out there that I didn't get along with and I have been getting along with them and I have been a lot nicer to 'em.  Ya know, I'd rather have more friends than enemies. That's what I'm about, what Bill's about what we're all about, putting forth the effort to make the scene bigger, so the kids get better. Shields, Hackettstown, Somerville, Sayreville, all these parks that have popped up, the kids are getting better and better. I'm there to have a good time, put a smile on your face, drop in and hope for the best."
I can see where he is coming from, it's hard to realize how others perceive you and it's even harder to try to live up to their ideals of how they'd like you to act at times, but at the end of the day when we are all hanging out laughing about the day's festivities, that is what matters. The friendships. Disagreements come and go but our mutual love for BMX will always bind us all together.
Before we stopped the interview Aaron talked a bit about his own personal support system at this stage in his life, his family. He has a son Brandon, 8, and a daughter Madison, 4. We've seen Brandon tear it up out there at times and he is really into jumping dirt trails, which Aaron is stoked on. That's not that surprising though as he had Brandon out in the trails at 6 months old, chilling in the shade as Dad was jumping a set of doubles. (Aaron would even roll him over the jumps in the stroller on occasion to give him a little "BMX roller coaster ride".) He also wanted to say hi to his gal Michelle whom he had lots of positive stuff to say about her not the least of which was that she is RIDICULOUSLY good at being a mom, loves the kids, and  has a good head on her shoulders.
With that we wrapped up the bio and headed out with John to take a few pics at Edison Skate Park and stop at Hippy Steve's to check on his back yard ramps.
With positive role models like Aaron and the rest of the crew in the North Jersey area out there repping BMX  it looks like we have some good days ahead.
Thanks to John, Al, Rich and Hippy for letting us use all the facilities that day, and thanks to Aaron for cleaning the PT's windshield when I pulled up! LOL
Ride on!
BMXNJ