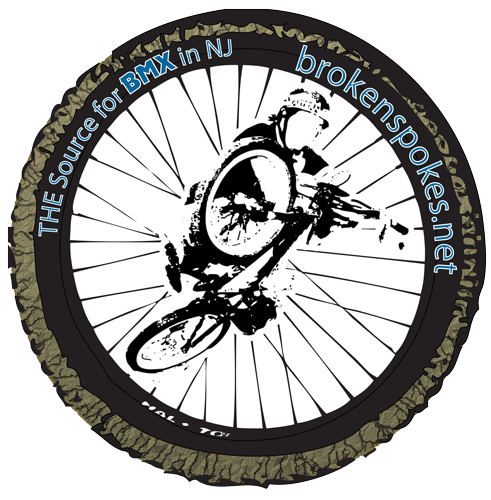 Updated from NBL.org 9-4-07
Yes, NJ BMXin spokenuts, the NJ contingent left it's nasty skid marks all over the NBL Grand Nationals in Kentuck. Word is dribbling in on what damage the NJ lads and lasses did to the rest of the country but preliminary destruction estimates go like this: (Thanks to Glen Knapper, Legend, the Hatems and Lisa Heath for posting it up in the forums)
Phil Delizia First Super-Ex
Austin Padilla 7th 10-11 Open
Gabe Hatem 6th 7 under Open
Susie Levan 5th 35-39 Ladie Cruiser
Jeff Heath 5th 45-49 Cruiser
Rich Farside 1st 40-44 Cruiser
Anthony Derosa 3rd 11-12 Cruiser
Jeremy Smith 3rd 9-10 Cruiser
Mike Reszkowski 4th 9-10 Cruiser
Ryan Scott 4th 8 under Cruiser
Shannon Walsh 5th 16 Girls
Taylor Farside 7th 12 Girls
Anthony Derosa 1st 12 Expert
Jake Pletscher 8th 11 Expert
Mike Reszkowski 7th 10 Expert
Jeremy Smith 6th 9 Expert
Gabe Hatem 4th 7 Expert
Lee Matos 5th 16 Novice
Brandon Perez 3rd 13 Novice
Nicholas Jones 5th 13 Novice
Brandon Brown 6th 12 Novice
Ryan Cohen 5th 10 Novice
Michael Gelsomine 6th 9 Novice
Jeffrey Elletto 2nd 6 Novice
Dan Forte 3rd 14 Rookie
Connor Crofton 7th 7 Rookie
That's everyone, damn, that is a badazz roster, from Pros to Rookies NJ took over.
Now.
Who's gonna go to the ABA Grands and show them what is up.