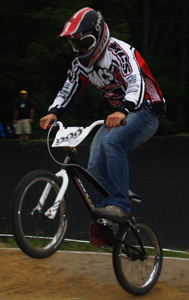 As told to bs.net by the main Knapper himself…
Dateline 2007 NBL 30th Grand Nationals
The main man of NJ BMX racing Phil "The Dragon" Delizia went wire to wire in SuperX at the NBL Grands this evening. Although it comes as no surprise to the rest of us joise natives, it seems the rest of the country shall not long forget "Philly D". The rest of NJ is also rocking the Kentucky BMX fest with firsts all over the places in their motos for Farsides, Knappers, Moore….you name it.
But tonight, it's all about the MCS maniac Phil Delizia…
Hey….hehe….That would mean that Phil D is the first NJ native to win both the ABA AND NBL Grands in their pro debut!
It's celebration time!