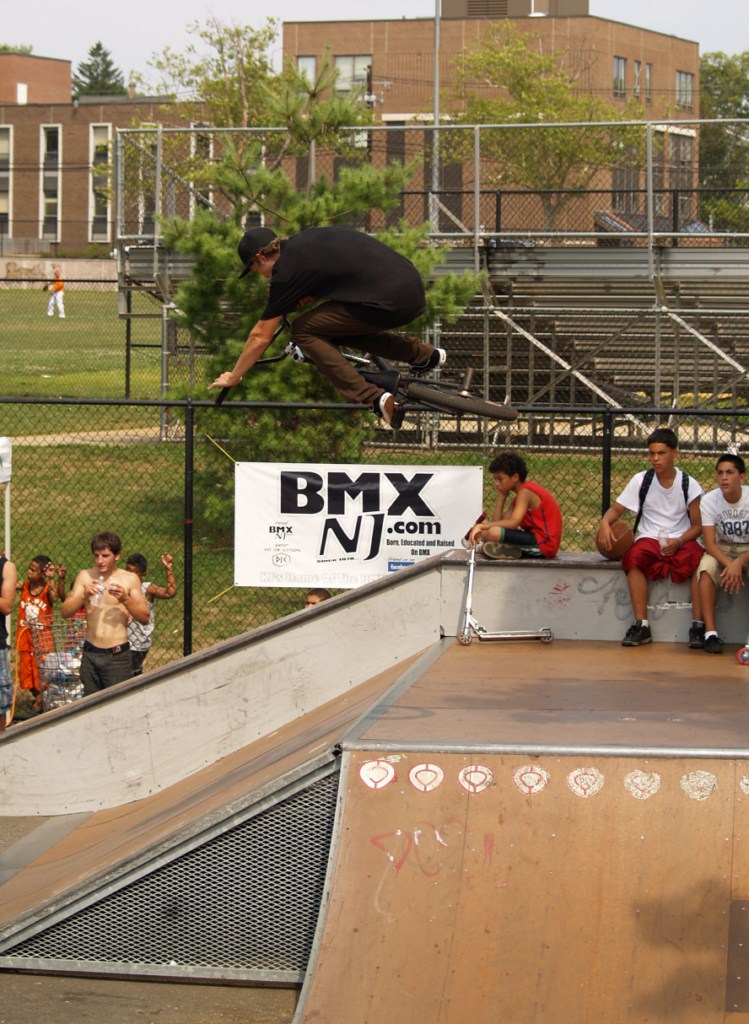 It's summer and summer means heading to Perth Amboy to hit up some of CJS's BMX comps at Washington Park. Al Battagliotti has been consistently throwing down good old homegrown, all about the locals, free comps, going on 3 years now and this year he is back at it again. July seventeen was the day and even though the Gatorade Free Flow Tour was going down in Lakewood, more than a few guys showed up to get busy in Perth. Unfortunately the weather decided to stay in the upper 90's with 300% humidity. With the riders out there coming within inches of melting by the afternoon, a quick show of hands made Al and Aaron decide to turn the comp into a jam and just have the guys bust out tricks and give out some swag to the guys who pulled some cool stuff. Probably a much better idea as no one was really into the idea of wiping themselves out at these astronomical temps. CJS's crew was there, the local crew, even Extremz riders stopped by to get bizay. It was good to see Rob and Al from the two shops hanging out together and discussing working together to make BMX as big as possible in the area.
Since there was no straight up comp going down there's no need to go into a blow by blow play of the action at the event.  Some of the locals that are there year after year are really stepping it up, guys like Tionne, Rob, and Tranelle (who was rocking one of BMXNJ's "World Bike Organization" stickers on his forks). Rob was going for a big ice pick on the rail out of the mini, Tionne was kicking big airs and Tranelle had the tailwhips on lockdown. In betwixt getting free water thrown out from Aaron, the rest of the guys there were getting busy earning some free tires, tubes, grips, sprockets and the like. "Not" Little Nick was all over the grind rail with variations on toothpicks, Rick was getting loose with whips over the spine and Mike Aldomavar was spinning like a madman while impressing the ladies with his muscle shirt in full effect. Two guys that had crazy lines in the park were Ted and Roman, who were blasting airs out of the mini ramps hip. Ted even let loose a 720 just to show the crowd that it is possible to shred in humidity bad enough to break a 10 ton air conditioner. Roman was on it with tons of style and flow along with a laid back one hander layed out air for Ramona Larsoe's lens…BMXers know how to have a good time and keep the stress out. Redondo Beach shirt wearing madman Dario Villegas was knocking off flip transfers and crazy no-handers…smooth as melting butter on a hot summer day…come on you know it's a fitting analogy
Big props have to be given to everyone who came out to Perth on a hellaciously hot Saturday to have a good time at the park. Al is having another shindig on August 21st, hopefully the weather will be a little more mellow on the heat and humidity side so the riders can have an easier time at busting loose. In the meantime though, here's a few shots from the day. Look for more shots from the jam in BMXNJ mag issue 3 and video on brokenspokes BMX in August.
Ride that shite out.
BMXNJ