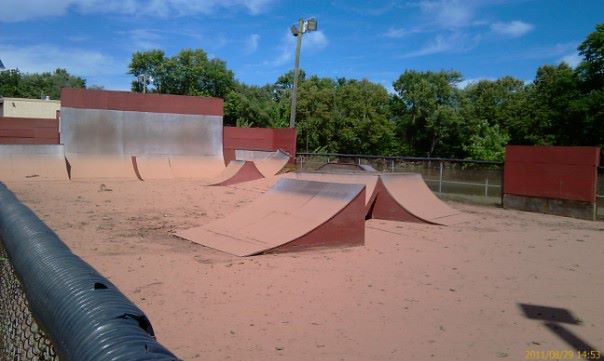 First things in the beginning…(AKA first) I wanted to throw a big things will get better to everyone in North NJ and around the state who got hit real hard by the flooding and wind damage from Irene. I know Hippie Steve got SWAMPED in SBB with 5′ of water in the basement causing him to have to cancel the Grove Street Jam on September 10th. Anyone wanting to help Steve out should hit him up on FB, there's work to be done. Ken Cornell's Wheelpark in Somvervile also got swamped upnder a good 4′ of water. The ramps wil be back online in no time though once things are cleaned up. 
More positive news…well positive for Brian Tunney and his new wife at least, I guess it's sort of a bummer for ladies looking for a decent guy as the available ones have just been reduced by one. Seems
ESPN's main BMX writer has tied the inner tube with Heather Duby and is now a respectable married man as opposed to just being a respectable man. Congrats to both of 'em and may there be many years of happiness between them both. Wasn't it like last week that he was 15 and at contests in South Plainfield…kids you're breaking my heart with all this growing up!
In the "from adversity comes opportunity" department Ed's Bike Shop own Mike Paton batoned down the Delmont Skatepark offices for the hurricane and promptly used the wood that was bracing windows for some new ramps at Paton Place. Word is there will be a jam in early October there so if you are a bro of Mike you may want to ask him WTF is up… Here's a shot of some of the happenings there…
There also seems to be a jam or two coming up…check the calendar and the update above!