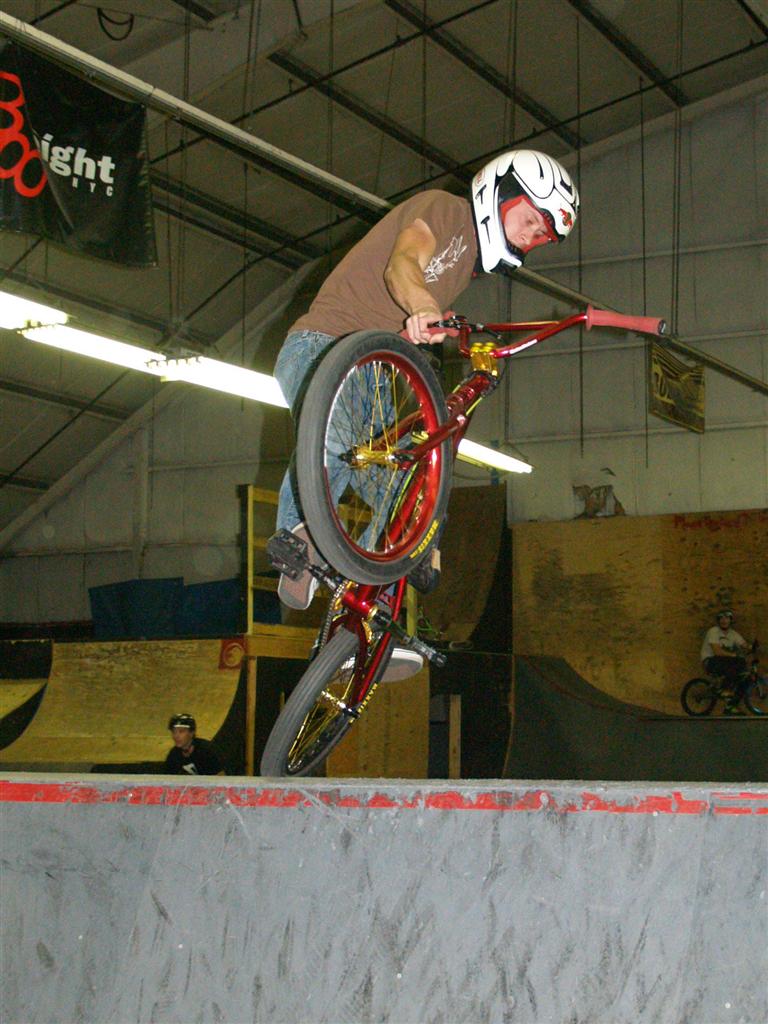 (Heads up! We got an ID on the dude below, we blew it and it is the ever awesome Grimaldo Duran killing it!) The fifteenth anniversary of "Hippie" Steve Wisbeski's Jump For Joy Kontest Series went down once again at the infamous home of many a northern NJ freestyle comp, Hackettstown Skatepark. Less of a showdown and more of a "snow"down, Hacketts was a winter wonderland that Sunday for the 65+ participants in the comp and few hundred people huddled inside staying warm with the heat of crazy BMX action. BMXNJ has to give big props to all the judges who know what is up out there this time around and Aaron Graf for once again losing his voice announcing during the day. This time the write-up here on the site will be a bit short and to the point with just a few highlights and the results because at the end of January 2010 we will be revealing the first issue of BMXNJ "The Magazine" to the huddled NJ-PA masses to peruse. Inside that mag will be a full write up on the day's events as well as the best shots we got from the comp that day! Look for it mid to end of January.
Steve had 4 classes this time around "Real" Beginner for the little dudes to have fun, Beginner, Expert-Intermediate and Pro. The riding in all the classes was totally out of control and the Pro's really stepped up the game this time around with stuff that you normally only see on the Dew Tour. NJ's BMX freestyle Pro class is really coming into its own with a bunch of guys who all have different styles and tricks.
Steve started the comp off early at about 11:00 am to get things moving and keep everyone fresh and enthused on getting the contest rocking. Since this will have a big section dedicated to it in the premiere issue of BMXNJ Magazine, I'm just gonna recap a few highlights here on the hallowed 1's and 0's of BMXNJ.com.
In Beginner Josh Serafin jumped in and out of the class once or twice before finally settling in for the day and saying he was a beginner which put him into a tie for 2nd with Richie Romznek. Josh was lofting some sweet style during the day and laying out some kicked out racer style over the jump box.  4th place was picked up by Dan Hodgins who had some of the brightest spokes of the day as well as some pretty smooth 3 6 0's for a beginner. The other dude who was there for 2nd Rich Romznek , lofted some nice airs on the small quarter on the back of the old Hacketts course, that and a host of other funky goodness brought him a passle of good stuff from the event sponsors. Big winner in biginner was Anthony Maimone who got swept up by Rob and Andre from the Pro class and promptly carried away holding his kick arse new frame which was good as Anthony was doing a bit of hobbling with a tweaked knee after the comp.
Expert saw another tie in 3rd and 4th betwixt "Brazil" and Tommy Papiner. BMXNJ has to hand it to the guys who sponsored this comp, as Steveo had no problems awarding both these guys  HUGE prize packages. Second was snarfed on by Tom Spooner. Grinding all over the street section of the park and some killah barspin variations were lofted by Tomahsino. The victory though went to Victor Devigilis. The old man here was shocked to see Victor on a CHROME bike as we all though any chrome frames had been outlawed by the EPA. Victor however didn't get arrested by any EPA agents today while flagrantly violating several statutes on how radabonzical (it's an 80's term) you can get inside a skatepark in mid-December. Whipping the back quarter, crazy vars on the step-up, 3ing the spine ramp, barspinning 360in' the jump box were just a few thangs that Vic took to grab the top spot in the monster Expert class.
In the late 80's when freestyle was going into its first underground phase the line between ams and pros had blurred quite a bit and it seemed that the top ams could easily compete if not win a pro class event. Well at Jump For Joy 15 it sure wasn't the 80's anymore. The Pro class here saw so much original tricks being thrown and up to date freshness that any of these guys could have been put on an X or Dew Tour course and looked right at home. Front flips were being thrown not only on the box but on the wedges and even off the hubba wall, Scotty Cranmer style. The tricks were out of control and what really made the Pro class great was that all the guys competing have their own style out there. It's not all "who can huck the biggest whip" but who flows the course, has the best lines and throws the best stuff down. All the guys who came out and put on a great show for the Hackettstown crowd should be given some big time props. The guys definitely were pleasing the crowd.
The final rundown in the class though saw Andre Postell and Robert Devaux tie it up for 3rd place. I gotta say these two rippers were on it all day long throwing big tricks down. Rob attempted a bike flip up the step up that was completely  nuts and had some no handed 360's and barrel rolls that he was  throwing out that kept the crowd awake at the end of the day. Andre went for not only a front flip on the street course wedges but a frontier off the hubba wall, much like Evel K, fear is not a word in his vocabulary. Second dinero was scarfed on by  none other than Mike Fede, who tore the step up to shreds with big variations like bar spin 180's up that mug.  360 whipping was also up Mike's sleeve during the finals. Mike's lines and tricks were what kept him up in the top spots but if it was the 80's he would have scored high in the showmanship category as well since he was doing it all with a huge smile on his face. The BMOS (Big Man On the Skatepark) this comp was Chris A(i)rceto. During practice I kept seeing this dude bust out and was thinking who the he** is this guy? It wasn't until the comp got underway that I heard the name and realized this guy was no joke. The height of his 360 variations was completely stratospheric and almost sorta scary. (Hey, I'm 43, we did 360's lower than like 8-9' out of 4' box jump as kids.) He took home the top greenbacks at this Jump For Joy. There will be a complete video wrap up showing the Pro finals on the next episode of brokenspokes BMX. Other notable highlights from the comp were Hambone tossing out his first attempt at a front flip during the comp and of course the LMNOP front man Ed Herbison throwing down his usual way too tucked no hander variations. Look for more coverage of the 15th Jump For Joy in BMXNJ Magazine in late January.
Big thanks to all the Jump For Joy sponsors, Animal, Skavenger, FBM, Grove Street,  S&M, WeThePeople, Profile Racing, Madera, Hoffman Bikes, Staff, Big Diesel Bike Shop, Primo,  Revenge Industries and Metal Max's for supplying MUCH product to all our riders. Props to Aaron Graf for going horse announcing the whole day, Sal for letting us use Hacketts once again, Hippie Steve for being nuts enough to put this thing together, our celebrity drive by's, Rod from Grove Street, Brian Dunlop, Danny Parks, Dave Dechert and all the parents who came out to support their kids having a good time doing what they love, riding BMX. 15 years of Steve keeping the BMX freestyle contest scene alive in NJ and things are only getting bigger. We will see you all at Jump For Joy 16.
Pro
1
Chris Aceto
2
Mike Fede
3
Robert Devaux (tie)
4
Andre Postell (tie)
Expert
1
Victor Devigilis
2
Tom Spooner
3
Brazil (tie)
4
Tommy Papiner (tie)
Beginner
1
Anthony Maimone
2
Richie Romznek (tie)
3
Josh Serafin (tie)
4
Dan Hodgins