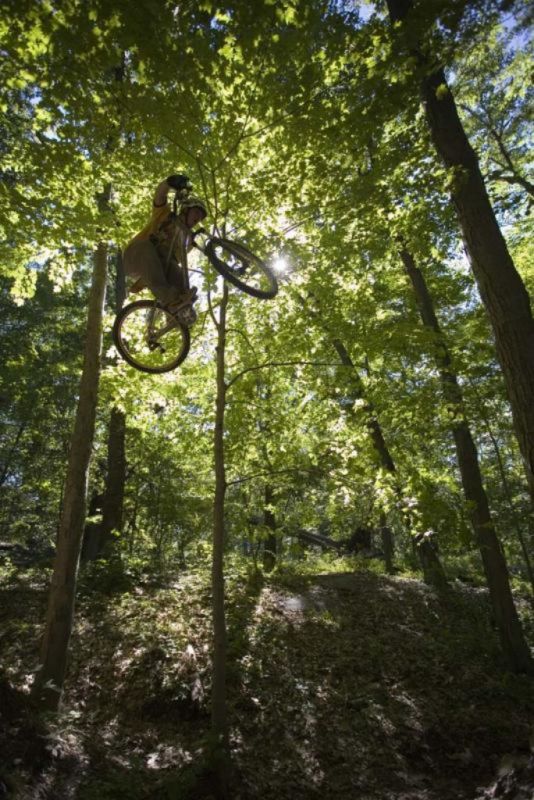 New member to the site Jim Dellavalle has clued me in to a bunch of things he is working on in the NJ, NY, PA area. Jim is a big advocate for the BMX-MTB community and is pretty hardcore about making sure the next generation of riders have places to ride that are good, hassle free, legal and approachable on a "newb-beginner" level. Ya know..sorta, looking out for the future of riding. Jim goes all the way back to the earliest days of BMX in the area and was a staple at the  old AFA comps. He is now a pretty burly MTBer and has mixed his BMX influence in with the bigger bike to create a fusion of some outrageously creative riding. Check out some shots of Jim on these pages. 
The reason this post is up here though beyond going on about one of the areas OG BMX guys is to get word out about what he is working on at the moment. Jim has been having meetings with Monroe County Commissioners of open space, township supervisors and borough managers to lock in bike parks throughout the county. Bike park is a word you will be hearing more of in the coming years both here and around the cycling community. They are basically what we grew up riding as kids. Small trails, pump style tracks, bike "skills" areas, all designed to get the younger generation riding. This plays right into the BMX part of cycling as a lot of young dudes and dudettes get started off the road and that is what these places will be. The goal is to make places like High Bridge Park in Manhattan and Cunningham Park in Queens commonplace throughout the area for BMX and MTB guys to let loose on. If you are interested in helping Jim out in these endeavors, contact us here at BMXNJ and we will forward your info on to the man himself. I've had a few talks with Jim and he really understands the need to get all the positive aspects of what we do out there in public so everyone knows what this thing we do is all about. Check these shots of Jim today and realize this guy has been around since the days of neon uniforms and tuff wheels.
2011 is looking to be a big year for bikes in the area!