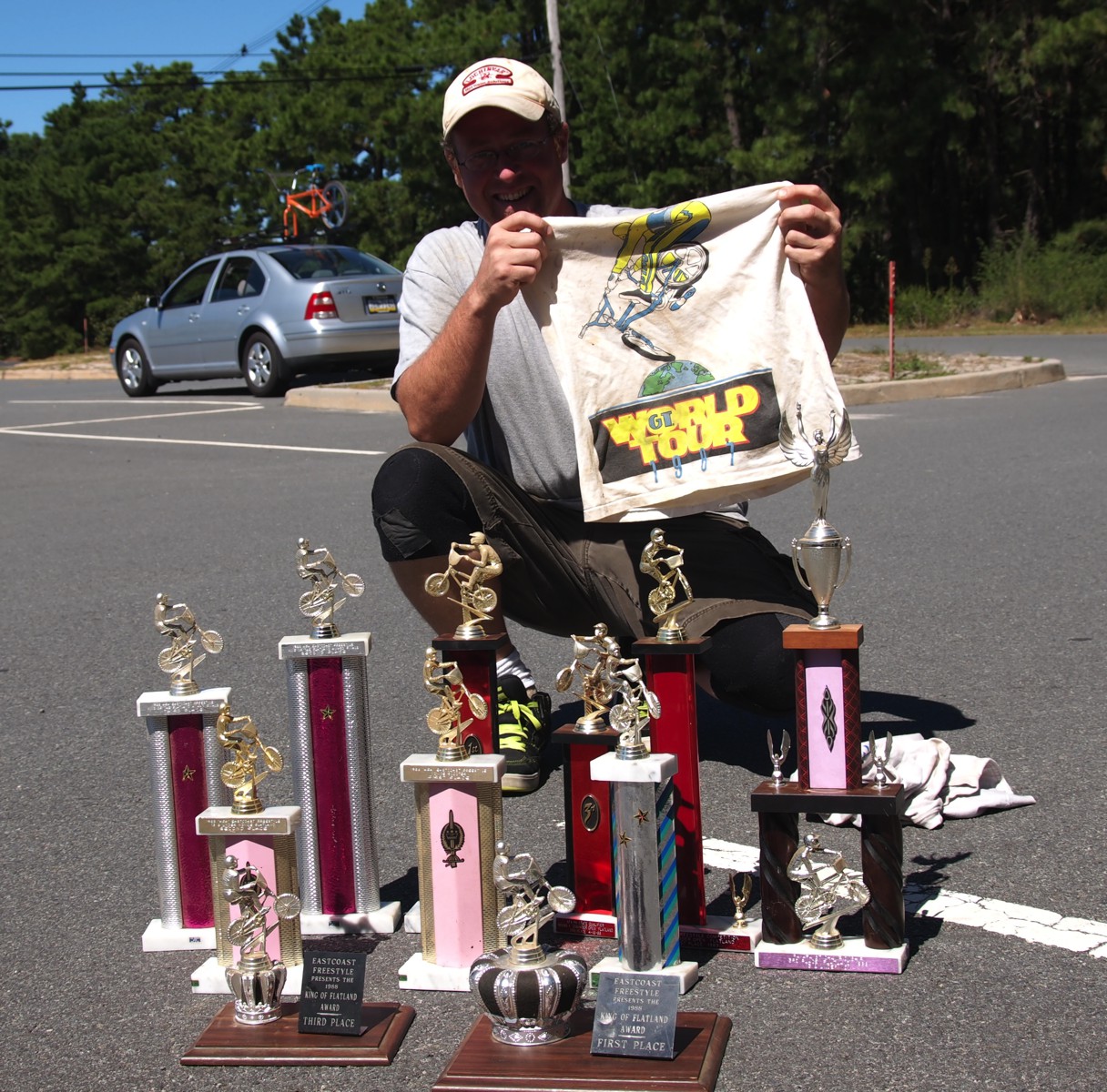 For like…the 3rd year in a row, BMXNJ has put on a little fall jammie here in Brick to get anyone to come out who wants to roll out a chanceto see what this crazy BMXNJ guy is about in person. This year we called it the EOS Jam (End Of Summer) and told everyone to come out, ride some flat then head on back to our place to ride some jump box and chow some pizza and Corona's. As usual it was a mild turnout with just a few bros of old coming out and some new guys to spice it up. I always like meeting some of the peeps who take the time to look at the craziness I put out there and it was a real pleasure hanging, b.s.ing and riding with everyone. 
For the first time in quite a while I got to see old OC locals like Pete Gan, Jerry Beck, Kenny Lund and a few other dudes who's names I have to look up for the magazine. New school guy Troy Haynes popped out for a few minutes with the bike he won from Terry Adams this year. South Jersey guys, Evan Eisenbray and Matt Young came up to battle a little wind in the parking lot for the afternoon with a whole generation seperating those 2 guys. Usual BMXNJ jam stalwart, Keith also dropped by…without his flatland bike but he did have a badass motorcycle he was rocking and he also borrowed Bud's bike for a few just to prove he was there. We even had two guys trek down from Mass. to hang for the day. Airin Rosso and Scott Duszlak drove their newly renovated Demo Team van down and ripped it up. These guys are planning on stepping it up on the traveling school shows circuit this winter in New England and the North East. Good time BMXparty guy Tim "Freedo" Wilson was also there all day and into the night with the rest of us busting out on his OS Mongoose machine. Broken back Bud Wingren even stopped by to get a little filming done and got to hang for the evening weirdness back at the Chateau Woo Woo.
Maybe it was the Corona's…or maybe it was just the strangeness that is being a BMXer but somehow half a dozen grown men got into a contest to see who could do a 180 to backwards wheelie up the backside of the jumpbox's transition and while staying upright, just as the momentum stalled, roll back down the ramp in said peg wheelie. After only 4 or 5………..hundred tries, Airin got loose with the trick and it was promptly dubbed the snookipuss since it was a incredible waste of all our time but kept us laughing at the stupidity of having fun doing it…sorta like…
So after once again ceding to the Mass crew, that yes, you guys are bad ass even at just having fun, we all tossed out the "mi casa es su casa's" and went our seperate ways. For once, that way was 500′ into my house and a good night's rest. Me and Chrissy wanna thank everyone who came out to have a good time and we hope to see everyone again at our next little get together!