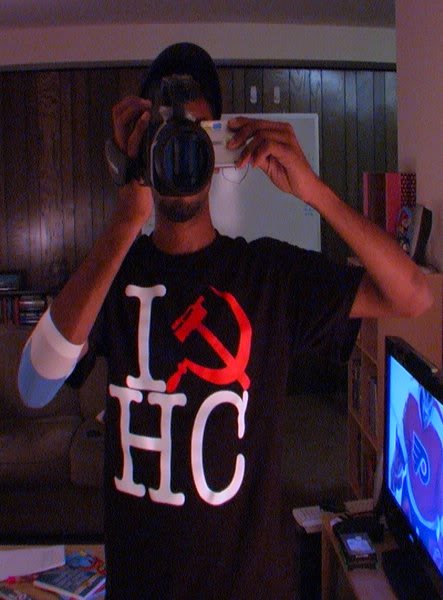 Philadelphia- Riding flatland BMX goes hand in hand with underground music. They are two different aspects of art and don't get a lot of recognition out side of their respected circles.
Sunny Singh, an amateur flatlander, has been filming his favorite bands for as long as he can remember. Except, he doesn't film your normal mainstream acts, he takes his skills behind the camera to a scene, known as hardcore.
With the amount of mainstream music and media, Singh found hardcore to be a savior.
"I've always deviated from the norm in almost all aspects of my life and found that I fit in with very few people," said Singh. "When I discovered hardcore, I found kindred spirits and people similarly felt alienated within the 'mainstream world.'"
Hardcore music is known for it's "do it yourself" mentality, which Singh takes to heart.
"I am a firm believer in the 'do it yourself' mentality," said Singh. "I wanted to undertake a project I knew nothing about and explore all the details on my own."
Singh was fed up with the fact that some many different hardcore bands were not being documented when he would go to shows.
"I always bemoaned the fact there was a huge gap between the types of media available for enjoying a band," said Singh. "I love music and believe it's an incredibly powerful form of expression worth documenting."
Mastering his skills behind the camera would take more than one day, it was mostly a trial and error process for Singh.
"I learned (and still learn) slowly over the years," said Singh. "It's almost impossible to master anything in a day, so leveraging this notion of "learning along the way" certainly made the project tenable for me."
Since Singh is also a flatland BMXer, he feels that he has the same mentality for filming bands and progressing on his bike.
"I view filming and riding as outlets for creative expression," said Singh. "Innovation is empowering and that's what keeps me going with all of my endeavors in life.
Singh enjoys all of the different ways that he is able to connect with different bands and riders.
"Filming allows me to connect with a band in a different way," said Singh. "Riding enables me to connect with other riders on a different plane. We all ride at different levels, but we respect each other's abilities.
Singh isn't selfish when it comes to filming bands, he films many bands that he doesn't enjoy and he always shares the footage free of charge on his website, www.hate5six.com.
"I film a lot of bands I don't particularly like," said Singh. "I view documentation as something that should be done through an objective lens.
"As I've said, music is a raw form of expression and I try to convey that through my videos by stripping everything else away," said Singh. "It allows for the videos to reach a larger audience; it enables the messages and ideas communicated within the music to make a bigger impact."
With many miles under his belt, Singh has seen how different riders progress and how different scenes contribute to the hardcore culture.
"A rider can succeed in solitude, but traveling to meet with other riders is refreshing and gives you a unique perspective on things" said Singh."I believe that individual scenes and venues themselves are worth documenting as much as the band themselves."
For Singh, having two different hobbies is a great balance.
"I go through phases where I invest all my time doing video work,but I invariably get sick of it and instead focus on riding," said Singh.
"Sometimes it's good to step away from your passions and try something else," said Singh. "You typically come back with a newly found sense of motivation that would have otherwise never surfaced."
Just like a young kid who looks up to a professional baseball player, Singh also looks up to others who have filmed before him.
"I've always respected people like Joseph Pattisall and Larry Randomfor filming hardcore bands before my time," said Singh.
Much like flatland, filming underground hardcore bands it is difficult to gain support from parental figures, but for Singh his parents realize it's very important to him.
"I don't know if they fully understand it," said Singh. "Because I've been doing it for so long they've recognized that it's something that is very important to me. The same applies to riding."
Even with all of the positive feedback that Singh receives from his fans, he still has to deal with some of the negative aspects of filming.
"I don't really like the majority of the bands I film," said Singh."There are times when I find myself thinking about how much longer it'll be before the show ends.
"There are probably external factors at hand with respect to my apathy sometimes," said Singh. "Just like riding, there is a love and hate relationship at all times."
For Singh, he views that filming and flatland are very creative and it will always be that way for him.
"Absolutely," said Singh. "I see both as dynamic pursuits full of opportunities to both be creative and interact with people in a novel way.
"Both have become forms of catharsis for me," said Singh. "And I'llalways carry that with me."