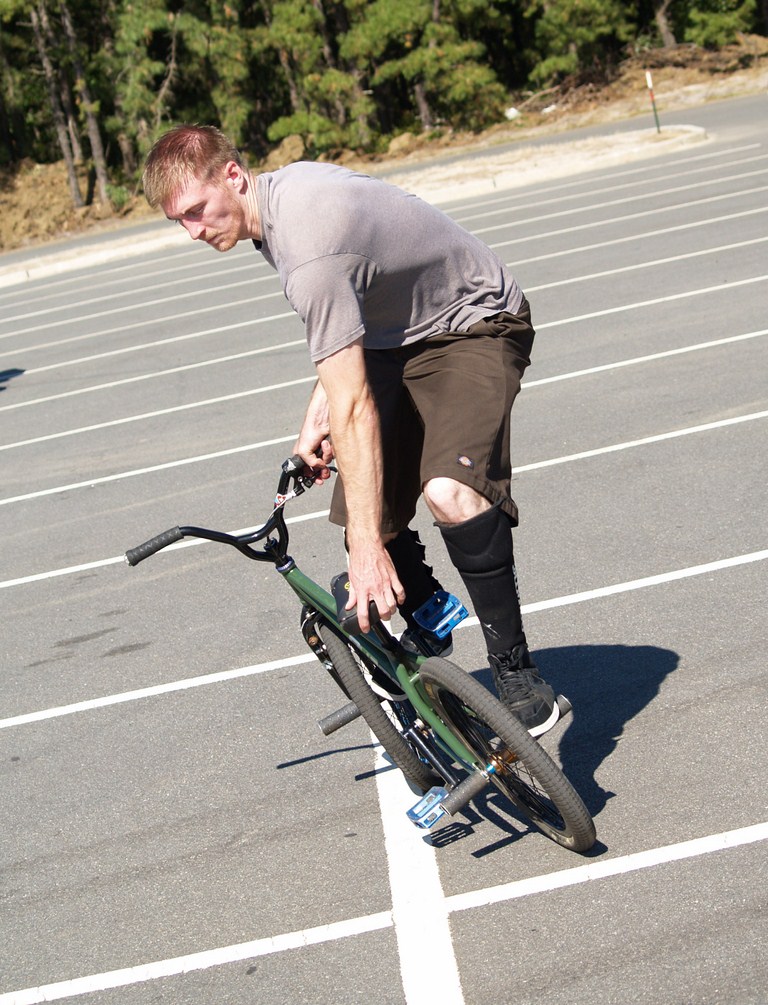 Wow…How do you write about an event at your own place in your own town that you put together? Sort of a tall task 'cause if I say it was great and everyone had a good time it could just be a fluffy egotistical thing, if I say it sucked and cars drove through the lot, razor scooters were abounding and the ice cream man only dropped by once, it may seem like I am downplaying the great riding that all these guys put on. Maybe I should just stick to the facts and hopefully remember most of the guys names who showed up.
Originally the jam was to occur in Millville, NJ but some last minute changes from the host area forced me to turn around and move the jam and BBQ to my hometown of Brick. I was hesitant at first but with backing from my gal Christine and our main contributor Louis Orth, I decided to go for it and have the jam at BMXNJ HQ. Luckily, for once, the weather held out and we had the perfect day to ride. (Don't think anyone can argue with that point!) Louis and myself got over to the spot the night before with a generator and blower to clean up the jam area and were unpleasantly surprised Saturday morning when the lot was, once again, filled with debris from the night before. A quick trip home and the blower was back, we got the lot cleared just as everyone was showing up and we got down to biznass. Which is the biznass of flatland. Now I'm not gonna lie and say the lot was perfect, as more than a few cars cruised through and a couple razor scooters got in the way of the flatland madness but it all seemed to be working out pretty good. The riders were having a good time and Miss Chrissy was good enough to roll up with a big jug of iced tea laden water for the flatjammers. Since this jam was put together literally in about 5 days, we did the best we could. It seemed to work out pretty well and considering the snow outs and chilly day outs, bad lots and just annoying happenings at earlier organized jams…this one seemed to come together.
North, South, East and West (as well as us shore folks and a few gents from outside the NJ area) got bizay rolling, spinning, scuffing and squeaking around the Drum Point Skateparks parking lot. After a good blow down and a cruise through by Brick PD, the riders got to doing what they do best. Riding. Brick Skatepark, even though it is…was, posted as a NO BIKES park is now a mostly bike park and it is not uncommon for tons of BMXers ato be there on any given weeknight and weekend. What however is uncommon is a group of about 20 flatland riders just busting loose in the parking lot. This of course became quite a bit of intriguing happenstance to everyone who was wandering through and we got the, what's, huh's and look "I'm a flatlander" from the passersby. We even had some scooter groms busting loose with some flat trickery.
Nothing compared though to what was being put down by the crew that was assembled in the lot. I know I'm gonna have a hard time remembering everyone's names but here's a shot… Louis Orth, Jon Stettler, Buddha, Ron Baker, Matt Stroud, Dave Debuono, Willie Smith, Freedo, Austin, Budz Wingren, Ivan Adamiec, Lincoln, Keth, Ken, Rosie Taylor, Mark Harris, Sunny Singh, Matt Stroud their gals and other assorted passerbys. If I missed your name, it's cause the 'ol noggin is getting whooped!
As the afternoon hours came into being the guys were busy causing all kinds of parking problems for the drivers rolling into the lot. Matt was killing out some great mid school flat with lots of linked tricks involving the front and back wheel, pinky squeaks, hang five variations, sideyards and much more. Will Smith rode crankless and was banging out long no handed hangfives all day. Louis was the lucky recipient of the flat…tire award of the day.
It was a massive shotgun blast that went off when that mug blew out. Bud was his usual tight self, hanging with his gal and newly adopted boston terrier. Ron Baker was up from south jersey and throwing down some tight linkage. Dave D had the brightest green bike of the day his links were as loud as the color of his scoot. Rosie was rolling some looooong backpackers in between tokes on the best smelling cigarette I have ever had wafting through a lot. Really, I normally can't deal with cigs but this thing had this super fragrance kicking. (no it wasn't one of THOSE kinds of smokes…geesh.) I spent part of the day confusing Mark Harris and Louis as their bikes were almost the exact same color and set up….old eyes were not helping that either. Ivan and Lincoln who came all the way from York and Maryland had the best time of the jam in the big pile of ground up tire shavings, using them as a foam pit. They also were crowned kings of the BMXNJ pump track for ripping up the 18″ jumps!  Crazily enough the youngest dudes there were riding the oldest bikes, Freedo and Austin were rolling about on Mongoose Decades and GT Pro Performers. They both were tossing about some old school tricks which was cool to see from the young bros. Craziest trick of the day had to go to Sunny who was killing the time machines, busting loose no handed and spinning like mad. Suffice to say that the parking lot was getting seriously abused by the flat rippers that were out there throwing down. As the day wore on, some of the park regulars were actually looking at flatland with a whole new eye seeing what is possible on the level rampless ground with a BMX bike.
I was pretty stressed all the way up to this whole thing as it was a really quick change of plans and venue and I didn't want another bad turn with the flatland scene in NJ to go down. As the day wore on though I could see that the riders were actually having a decent time. I did my best to run around and tell everyone that right down the road we were gonna have a little BBQ action and chill into the evening hours at Chrissy and myself's place. 'round 5 o'clock I made the rounds and told everyone that we were heading over and feel free to come by, eat, ride the track, B.S. about BMX, whatever you felt like doing.
Believe it or not…everyone came over! (Side note: Guys and Gals, thanks for coming over and enjoying the hospitality at our little place, it was a real pleasure to host the BMX flatland guys and you are all a class act and great people. We look forward to having you all back again!) I got grilling, everyone else either chilled on the deck for an after jam b.s. session or hit the track for some laps. It was good to see the pump track finally see some real riding…and crashing. I gotta admit the thing is a bit harder to ride than it looks. Small, a bit cramped with tight azz berms, a couple laps and you realize smaller is not always easier. Freedo was killing it on his old school Mongoose Decade with Ivan being the first guy to clear the first set of dubs. The track got sufficiently broken in and the turns got take for a buzz as well. The vibe at BMXNJ HQ was feeling pretty good. I took Ivan and Lincoln over to the historic Breton Woods trails so they could see if they wanted to hit some slightly bigger stuff. They were both good enough to not laugh at the small size of the jumps there and as we headed back to the BBQ, they loaded up a few guys and went on over to ride Breton. The core flatlanders though stayed and hit up a nice little session in front of the  house as  JSteady took a few evening shots while dreaming of bigger and better flashes.
As the evening wound down, Matt, George and myself chilled out on the back deck and talked of future plans while the rest of the  flatljammers bid their farewells and began to head on down the road. The day was coming to an end but the good times vibe was just beginning. Christine and myself are already thinking about more for next year with the possibility of even a small fall BBQ-Jam in October.
Once again the BMX community has show how cool and great they can be as well as showcasing their ability to overcome a bit of "event adversity" by coming together on short notice to ride and have fun even though everything was planned for a different venue. We hope everyone who came out had a great time and like I just threw out there, are looking forward to seeing everyone again!
Scope the few pics we got from the day around these words and here in the BMX NJ photo section .
Also check out pics from JSteady here , Freedo here,  Keith here, video from Sunny  and even more video this fall on brokenspokes BMX.
We'll see ya out there doing some kind of riding…as usual…Rock out with your spokes out,
BMXNJ!