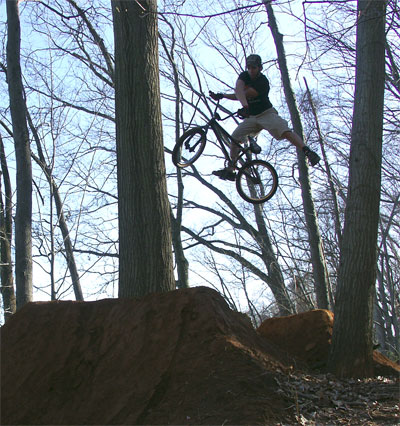 What makes a killer trail scene? A group of guys willing to do what it takes to transform a bunch of woods and a hill into a man-made cavaclade of dirt delights.
The guys at Dutch Trails have without a doubt one tight nit group. The day I was there, just happened to be the first day back after the winter shutdown and all the lads were dropping the spade to the dirt to get the trails running.
I didn't get all the locals names…but I think they prefer it that way. Hardcore, no B.S. riders always just go out there and give it everything for fun, no glory, no money, just to push limits
The final word.
Dutch Trails have been rockin' for almost 3 years now and the locals have no intention of a tear down, so if you contact Don and he is cool enough to give you directions, be sure to bring a shovel or some food for the locals, be respectful and don't blabber about the spot
For all the scoop and any possible invites contact:
The Official Defconfour Site.
Remember RESPECT THE WORK OF OTHERS!
Postscript:
These guys were nuts and this was their first day out, so look for me to return later in the year to fill up this space with more pics.
Brett…..