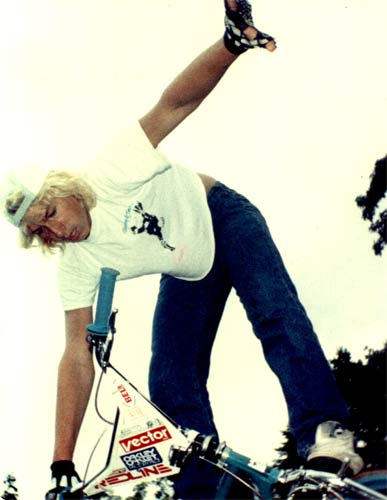 by Adam Guild
Who are you?
Eric Searles
What was your earliest memory of freestyle/ BMX ?
My earliest memory of Freestyle BMX has to be around 1979-80. My cousins doing curb endos with their Mongoose Moto Mags.
What style of riding did you do?
I suppose I tried every type of freestyle prior to developing a 'style' beginning with rockwalks and riding backwards. I was a big fan of the early 'flail' style pre Kevin Jones. I was always drawn to difficult, more complicated flowing moves vs. rough daredevil stunts. I loved the moves that flowed one into the next flawlessly. G-turns, G-strings, whiplashes – that riding had style.
What was the time era?
1982-1988 Very Heavy
1989 Moderate
1990 Very light
Can you remember your favorite bike? parts?
My favorite bike…Tie: '86 RL 20II – '87. Haro Master. I had the RL20, but couldn't afford the double top tube version. I remember ordering it from Rockville BMX for like $160.00 for the frame, stem and forklifter bars. It seemed like so much money back then.
I had the Haro Master later, which was a nice bike, though I can't recall where it went.
I loved my TNT stem. It was flawless and indestructable. I thought everything odyssey made sucked except the gyro. I always wanted Profile cranks, but could never afford them…and flite cranks. In retrospect, I suppose I only wanted them because I couldn't have them.
What riders did you think were ahead of the pack?
I was a huge fan of Dennis McCoy. I thought his flatland was so flawless. I was fortunate enough to grow up in the same town as Dan Menapace and even more fortunate that he was so cool to let a bunch of much younger kids hang with him once in a while. Dan was already tired of freestyle when my clique came up, but was always willing to take his bike out and show us up when we'd bring our latest to him. Dan was the ultimate natural. Roger Sullivan was a talented guy that could've gone big places, but was unfortunately quite injury prone. Adam stack (hate to admit it) always made me jealous with his skills. Finally, Adam Guild who introduced me to freestyle and made me better by giving me fierce competition every day.
What was your spot? Who was in your crew?
My spot was anywhere we weren't getting kicked out of. I can think of so many, all around Piscataway, NJ. I suppose my favorite surrogate spot was Union center in Union, NJ. We always loved going there and showing the guidos what skills looked like. Finally, I had fun in New Brunswick, mostly at Diner Park.
Have you seen the riding of today?
Yes. It's not the same. It reminds me of 'street' style skating. Rail slides and grinds, a bunch of jumps. I really don't like it. Dave Mirra will never be what Matt Hoffman was to us.
What is your fondest memory of riding?
My fondest memory? They are all great in spite of the broken bones. I had a lot lf fun stealing plywood to build mega ramps in Adam's backyard. As if the builders couldn't figure it out!
Where are you know?
Long Island, NY – Wife & 3 kids, Corporate… You know.
Long live Mike Dominguez – The real King of the skateparks!