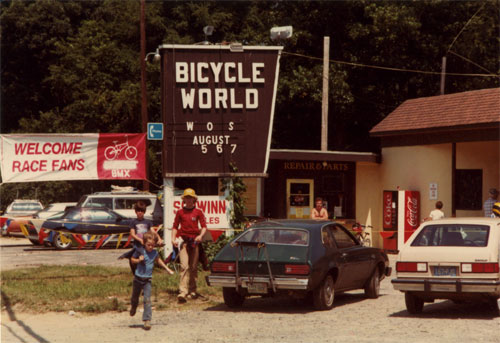 And so it began…
1981, Squirelly Stirley gets the Gleasons, owners of Bicycle World, motivated to start Central Jersey's first BMX track.
CJBMX.
1980, Ron's in the White House and BMX is dawning on the East Coast. One of the first places to get it going in NJ was Bicycle World and the Howell BMX Track. Run by none other then Bob and Carol Gleason. Very few people can be called pioneers at something and they were truly forging the way with many innovative ideas there at Bicycle World. The following interview went down in a few email exchanges this past spring. Over the coming months look for all kinds of pictures and words about the early days of BMX in Central NJ.
Thanks to not only Bob and Carol, but the whole Bicycle World gang for getting BMX'ing off the ground..Much respect to the founders.. Now onto some words.

Carol, Can you give us the rundown on the startup of the track, how did it all come together?
A local boy, Hans Sterlie, would hang around the bike shop and help out. He kept telling us about BMX, which he read about in magazines. Bob worked with the Howell Township recreation department, and they agreed to build a track on township property. Bob and I had agreed to donate our time in running the program. Before the track could be built the recreation director was replaced and the new director said he was only interested in soccer, so the track was out. We had a few acres in the rear of the property so Bob, my son Troy and an employee Rod Beddow went out and marked trees to be cleared. They laid out the track and since they were unfamiliar with racing, the track runs left to right instead of the normal right to left. Bob Seaman, the bulldozer operator, who was doing some other work for us, agreed to clear the woods. We had dirt delivered and every one shoveled. The local boys heard about it and volunteered to help. It was definitely a joint effort.
Carol later added a few more people she felt deserved some credit on getting this thing going…
I forgot three very important people. One is Jerry Lyle who grew up with my kids and who is always there to donate money and time. He is the one who welds the gate and contributes a lot to make things happen. I knew him as a kid who hung around my house and we are still very close. Ken Kasiske joined us on the second round in 1993 after we reopened. He was indispensable working with the computer, contributing to the maintenance of the track and the running of races. There is no job that Ken wouldn't do including cleaning the bathrooms. Jerry LaRocque is the last and he is still with the track. Jerry is great at getting donations of everything. All the people I mentioned did more than just participate. They loved the sport and put a lot of time and effort into all aspects. Without their help the track would have been just there and not all the fun it was. By the way the announcer in the tux was Barry from Pt Pleasant, but I still can't remember his last name.
Freestyle, It's not really known that you guys had one of the first shows there.
The first, really big show, was with Bob Haro in front of the store on Route 9. After that, we tried to have at least one show each summer and two to three clinics.
What were the big memories, the people who really made a difference.
There are so many people and many of them made a huge difference. Jeff and Julie Platt who ran the NBA. Widol Rubel who was our first track director and a terrific announcer – Tom Webber and Scott Cranmer who were our second and third directors. Helen Webber who worked by my side to make the races fun. One of our announcers, I am sorry that I can't remember his name only his face, that wore a white tux to the Ironman. So many riders that give me affectionate memories. My daughter Kelly, who at 15 tried to race and had to race the boys. They ran right over her. After that she ran registration and scoring. She was my right hand. Her friend Dee Hicks who helped every week. CJ Ferry, our medic, and his entire family. Tina and Judy Higgins who scored. Bob and Helen Panaque, and their family who ran the food concession. After them Felix and Cecila LoPresti and their terrific family. Russ Okawa, who ended up with Sachs in CA and who I met at my first national race. Hutchinson from Hutch bicycles and Lee Van Ormer from Thruster. There are so many who helped us succeed and who enjoyed the entire sport.
One lost fact is that Howell was the ONLY track in the nation at one point to run under a dual sanction by the ABA and NBL, how did that go down?
Our track was the most successful in NJ with attendance rivaling FL and CA. Both sanctions wanted our track. Clayton John agreed to let us run ABA on Tuesday and Friday in hopes we would change sanctions. We ran strict individual rules. You had to be a member of the sanction to race. Eventually, both sanctions decided we had to be one or the other. We chose NBL. But we ran for approximately 2 years as a dual sanction track.
How were the BMX companies at the time in supporting the track?
A lot of support. We made it a point to advertise and thank these companies. We always sent them free shirts with their advertising on them. Many of them boasted how many shirts they had. Almost no one ever refused us prizes and some would compete to see how much they could give us. We moved a lot of BMX product in Bicycle World.
When was the track officially shut down in the 80's?
The insurance company dictated our last race date was October 18,1987. Much crying and sadness. It would eventually reopen in 1993, thanks to John B. Wright Insurance.
How much input did CJBMX have in implementing new rules and such for the NBL?
The very first item was when Bob Tedesco and the national crew were here for the Thruster War of the Stars. After two very long days involving the hand writing of motos the night before, the practice race and the national race itself, Bob wasn't looking forward to giving out the trophies. The whole crew was exhausted. When he came up from the back of the track everyone was already gone with trophies in hand. He was amazed and wanted to know how we did that. We explained that we had someone, in another area, hand out the number positions to each rider at the end of every final race, they turned in their number at the trophy area and received their award. The other item was the Ironman Classic. They had never given out prizes before and wanted us to give the rights to the race to the NBL. Other tracks have tried to run a similar race, but none have been a success. The reason is they cannot get the backing of a bike shop or the distributors that CJBMX was able to get.
Well it's happened BMX is in the Olympics, how do you feel about that?
I would love to see BMX become an Olympic sport because there are a lot of riders who are young and very talented. They cannot compete in criterium racing so this would give them a good venue and something to strive for. I would also like to see Freestyle become an accredited sport. The Freestyle rider has to combine skill with gymnastics.
What do you remember as the best times from running Bicycle World, what many people considered at the time to be the best shop in NJ.
I thank you for the top shop remark. We enjoyed the riders. Keeping up with what people want should be the main purpose of a retail business. Treating your customer with respect and fulfilling their needs is what it is all about. We had the greatest customers who were generally very kind to us. Many would not show up in the store without pastry, or bagels or pizza. Many neighbors met at the store or recommended us to new neighbors. We ran a survey at one point and asked every customer why they chose our store. Some said they saw us on the highway, but the majority over 75% said they were sent there by their neighbor, relative or friend. We would powwow every evening after work and discuss what went wrong and what people requested. No finger pointing was allowed only constructive criticism. This practice was not initiated by Bob or I, but by the workers. We were very close to each other and we still keep in touch with many of our old crew through e-mail and if we can, visits. We are going to the wedding of a son of one of the old crew in July. Many have moved far away, but stop to see us if they are in the area. Some people worked for us for over 25 years.
Well that's all I have for now…Carol, Bob and the crew have to be thanked for all the support over all these years..right up to now! Keep riding!