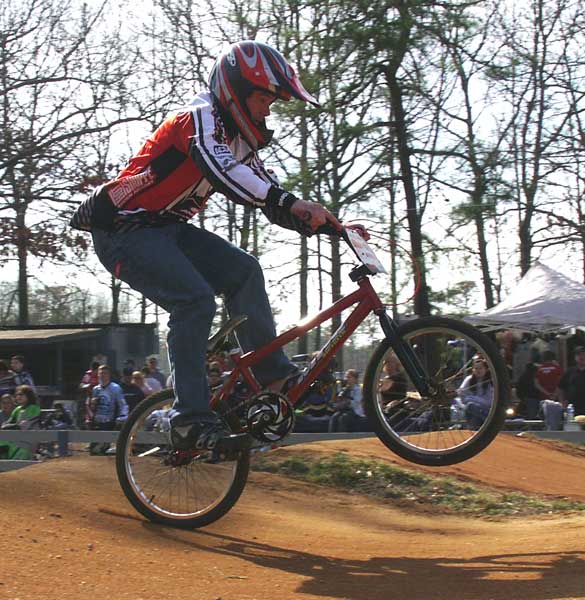 Load up the car, BMXaholics the '06 NJ season has
begun! Janeen was able to dial in a classic 72.535 degree day for the Frosty
wonder at EHT. Old school riders,
new school shredders and newbs were fully ensconced in the racing action as
practice got underway at the classic Egg Harbor track.
Wandering the pits, KB racing could be seen dialing in it's team
for the year, looks like the teacher, Kevin Mark, will be doing some schooling
this year, Hyper was as usual repped big time by the Farside contingent and
his assortment of "hyper" active racing rippers. Speaking of Rippers,
from an old dog like myself, I haven't seen such an abundance of SE
bikes in the pits since the heydays of the mid 80's, what is Todd Lyons spiking
those paint jobs with? Gotta admit it was cool to see so much floval tubing
flying on the track that day!
As usual 90% of the racing was done by those 19 and under and about 10% was
done by those 20 and over, but I would have to say that 100%
of the B.S. talking was done by all
those 35 & over, dang fellers, we might as well not even get on the track,
we wear out our lungs just shooting the nonsense between us!
Super mouth Paul Roger came down to flow the mic, but unfortunately
the PA got heavily vandalized not too much before the race and wasn't quite
up to the task on race day. I'm not raining on EHT there but putting a call
out to some dude who can lend a hand to EHT and get that PA system back up
to snuff for the first State Qualifier in April, volunteer fellers, it feels
good…
On the comeback trail…Crazy Craig Wilson, bailing and wailing
in 35-39 cruiser, give him time folks and you'll be seeing another old ripper
out there. 35 & Over novice, John Wolkiewicz, first race back and second
place! Props to the geez and the blue PK!…Another vintagebmx.com guy Rich
D'Amico rolled up on the gate and put the foot down in the old mans newb class!
Welcome back you pyschos!
Jammin Jimmy Moore put the stomp down in the 18-21 Expert class
tearing it up for PPB. Usually you'd expect Flying Phil D to be in the lead
here but he was saving some for the money in the open class!
Max Edgdorf rocked in 15 Ex, but Vinnie Mannino was heard to say that when
he gets him on CJ's new first straight at the regional things will be winding
up much different than at the JFC, (ok, maybe
he didn't say that, but Vinnie is gonna lay some smack down boosting the dubs)
Torquing Taylor Farside was blazing in her motos but had to play
bridesmaid to Blazing Tiffany Bontorno from MA in the main. The girls classes
were really perking up at the JF and we even had a full on ladies cruiser
class. Come on out ladies, BMX needs more femme fatales at the track to keep
us men in check, hehe..
Speaking of the Farsides, I'm seeing a lot of families out there
racing together, Suhonen, Hamblin, Cafiero, Roarty, McMurray to name just
a few. It's rocking to see BMX become such a generational sport! Rock on BMX
familias!
I saw a lot of returning beginners this season! Welcome back!
Might be time to start thinking about hitting it on up to the novice class,
so's the
new crop of crazy newbs can roll on in and start shredding on their walmart
skoots!….Speaking of beginners and walmart bikes, Roosting Rich F got together
with Hyper to have 3 races of their X-Games Moto-X bikes. I'll admit when
I saw Rich talking about those things, I thought the main Hyper agent had
gone ballistic, but after seeing the young dudes and dudettes, (yea, we got
a lady on one of those bad boys) tear it up on the track with 'em, it looks
like they would be a great move to bring in brand new fresh
riders to the sport. Major props to Farside, Hyper and EHT for donating the
bikes and time to have the races and get some new interest rocking in the
sport!
Speaking of rookies who moved up and are shredding it! Jeffrey
Heath, no guys not the OM Jeff, he's already to much of a terror, I speak
of young Heath.
The young Heath bar stepped up into the novice class this season after going
about the rookie class last year, 3 firsts in his motos and a 3rd in
the main says something to all those staying in
beginner past that first year, step it up and get rocking! No
fear to plow through a new class! KICK IT Jeffro!
Young pedaling padudelars? Jeremy Smith stomped cruiser and Expert
class… 8 years old and all that power! Dagnabbit all! Matty Cranmer took
the second, with all the style that you expect from that last name, the Cranmers
are on a steady diet of air and they are catching plenty of it! The flying
dustmop, Paul Filippone blew apart 10 Ex with a full on perfect for that class.
The longer the hair, the faster the kid. Pop F also catches plenty of volunteer
time at HCBMX!
Last regular class proper of the day, Tom McMurray, dad, racer and all around
cool dude, not one 'tude near this guy, humble and well…dagnabble it pretty
near impossible to catch! Welcome back, have fun this year! And congrats on
the 1st in 35 & Over Expert.
The open classes, 16-29 and 30 over….whew doggie it's ricearoni
time….
In 30 & Over the racing was all over the place! Farside, Ciancio,
Kelley, Wilmot. Any of these guys could have ridden home a richer man but
only one did. At one point Jud went thud and did a gnarly endo out of the
first turn, rumor had it that visions of some crazy internet thread at vbmx.com
were going through his head during that flipatude….London Wilmot came down
from MA to defrost at the Jack Frost and proceeded directly into 4th place.
Kelley Kelley wound up looking pretty good but infortunately he was
looking from behind the orange jersey of Hyper flyer Farside. Rich decided
to step it up 1.1125 notches in the main and take home a few dollars for his
trouble. Seriously all the 30 Over guys are great individuals and rock the
house in their own right.
16-29….1/4's!
Dang fellers, these gents are HUNGRY. Pros, ams, and in between it is the
class to watch and take down notes, pass them to your friends and study it
again!
I'll start by letting you know who won, Lance McGuire and Mike
McGonigle went 1 and 2 for the state of MD. Toasty fellas! I have to tell
you no bragging, no nonsense, no B.S., Phil Delizia is THE guy to keep an
eye on. He got 3rd for the day in open here at JF, but I saw this man charge
and I mean American Express Platinum Card kinda charge down straights and
pass riders left and right like they were standing
still. The skills on this guy and the good attitude are going to eventually
turn into heavy bank for him and I hope he remembers his jersey roots when
the payola hits. George Hoernig from Inopia also tells me Phil skies heavy
jumping variations and what not, so the man is multi bike lingual, and I can
tell you one last thing, he can just about pedal up and over telephone polls.
(Yea, I'm NJ bias so Phil gets the big props!, hehe)
Overall, the day was killer, the race was
fun, ran mostly on time, definately run very quickly and efficiently and the
shirts were killer looking…Ok, I have a soft spot for baby blue since I'm
an old school SE nut job. I will admit though that I would rather see a return
to giving away trophies at big events like this, because that
gleaming hunk of metal means a lot to a kid, but that's just my opinion though
I'd definately like to hear yours in the forums.
Looks like 2006 is off to a blazing start here
in NJ and who knows…maybe this winter, we'll see some indoor action. Keep
your eyeballs glued
to brokenspokes.net. NJ is about to set the freaking BMX world ablaze!
Ride on, my BMX brothern and sistern! See you in April at the first State Qualifier!
Results and photos:
Opens:
8-9 OPEN
CASSIDY COX                         1
ZACK PAUGH                          2
10-11,14-15 OPEN
EDDIE HIMES                          1
STEVEN WEIMAR                   2
16&OVER OPEN   
LANCE MC GUIRE                   1
MICHAEL MC GONIGLE         2
PHILIP DELIZIA                         3
WALTER DUNN                        4
JUSTIN LOFFREDO                  5
MICHAEL HENDERSON          6
PETER LORENZO  III                7
GERALDO ECHEVARRIA         8
30 & OVER OPEN
RICH FARSIDE                  1
KELLEY KELLEY             2
JUD CIANCIO                   3
LONDON WILMOT           4
FRANK YOUNG                5
JESSE GUILBAULT            6
SHAWN RICHARDS          7
LEE KIRSCH                      8
Expert:
8 EXPERT,NOVICE 
JEREMY SMITH                    1
MATTHEW CRANMER        2
KYLE DULOCK                     3
CASEY TANNER                   4
CHRISTOPHER KOVAL      5
EVAN GRECO                       6
DYLAN WOLKIEWICZ        7
9 EXPERT 
MICHAEL RESZKOWSKI   1
JUSTIN KNAPPER               2
LUKE ROARTY                   3
JOSH THIMMESH               4
STEPHEN FERRIGNO         5
ANDREW HICKEY             6
10 EXPERT 
PAUL FILIPPONE              1
CODY TAINTOR                2
PHILIP HICKEY                 3
JACOB RITCHIE                4
TAYLER FICHTNER         5
PATRICK ELAM                6
11 EXPERT
ANTHONY DEROSA            1
ANDREW MELFI                  2
MICHAEL SCHNEIDER       3
STEVEN DULOCK               4
DANIEL ROBERTI               5
12 EXPERT
VICTOR V BEHM               1
DYLAN PEREZ                   2
FREDERICK LONG            3
JOHN GRASSIA                  4
CODY ELLIS                       5
13 EXPERT,NOVICE 
BUCK TAYLOR                  1
SHAUN O'CONNOR           2
JONATHAN HOFFER        3
KYLE KUSSELING            4
JUSTIN FLANNERY          5
PAUL MAHER                    6
JEFFREY CROSHIER         7
JOSHUA WEDGE               8
14 EXPERT
ANDREW CHRISTOPHER    1
MICHAEL CAMPBELL         2
NICK MELFI                           3
FRANK OLISH                       4
JUSTIN BRODERICK            5
ANTHONY DEL VENTO       6
SHAWN LLOYD                    7
JAMES MC GINTY                8
15 EXPERT 
MAX EGDORF                      1
KYLE BILLER                       2
STEVEN WEIMAR                3
NICHOLAS SIMON IV          4
JONATHAN BARNA             5
JOSHUA GRIMES                 6
LANELL ROCKMORE          7
VINCENT MANNINO           8
16 EXPERT
MATTHEW KELTY              1
JEFF TANTUM                      2
DEKE VEEDER                     3
ROBBIE CONDELLA           4
CHRIS KARKAS                  5
PETER BALOTTI                  6
RYAN O'CONNOR              7
ALLEN CURRIER                8
17 EXPERT  
JIM MURRAY                       1
DANIEL BYCENSKI            2
WILLIAM NADWAIRSKI    3
MICHAEL SCOLARO          4
STEPHEN FRIED                  5
NICHOLAS STODOLSKI    6
18-21 EXPERT,NOVICE
JIMMY MOORE                   1
MIKE SMITH                        2
JAMES NORMAN               3
KYLE BICKFORD               4
GERALDO ECHEVARRIA  5
BOBBY NASH                     6
PETER SCHULER                7
22-29 EXPERT 
CHRISTOPHER HAUGH     1
CHRIS GIACOMAZZO       2
TOM BALLARD                   3
DAVE PAWLOWSKI           4
30-34 EXPERT 
JESSE GUILBAULT            1
CHRIS DEAMELIO             2
FRANK WEAVER               3
35 & OVER EXPERT
THOMAS MCMURRAY         1
LINWOOD CHRISTOPHER   2
ROBERT BENNETT                3
FRANK KLIMECKI                4
Novice:
6 NOVICE
MICHAEL GRADWELL JR  1
NATHAN KASPER                2
JD GUILBAULT                   3
7 NOVICE
MICHAEL GELSOMINE       1
JOE CAPUTO                         2
DAVID HAKES                      3
SHANE GOLDSMID             4
9 NOVICE      
AUSTIN PADILLA              1
JESSE HEFT                          2
JUSTIN PHILLIPS                3
ZACK PAUGH                      4
JAKE PLETSCHER               5
RYAN LEDOUX                   6
THOMAS CURTIN               7
TYLER WARNER                8
10 NOVICE    
ZAREK JUSTIS                    1
FRANKY UMBRINO           2
RICHARD GODINO            3
SHANE CHRISTOPHER     4
RYAN ANDERSON             5
ADAM CONSIGLIO             6
11 NOVICE  
RYAN SAMBELLS-GRECO   1
ZACHARY MCLAUGHLIN    2
NICHOLAS JONES                  3
TAYLOR ANDERSON            4
ANTHONY CARSILLO           5
JASON PALMA                        6
ANTHONY PAULETTE          7
ALEX MOURA                         8
12 NOVICE  
DAVID CLARK                    1
TRENTEN CARPER             2
BRIAN FARRO                     3
DENIS SHEAHAN                4
WILLIAM BARNA               5
ADAM KULIS                       6
TREVOR JUSTIS                  7
KYLE GLENN                       8
14 NOVICE  
MICHAEL EATON              1
JUSTIN HARRINGTON      2
THOMAS TURNER             3
THOMAS RINCK                4
AUSTIN GRETZ               5
CHRIS AMAN                      6
JESSE DUNLAP                  7
15 NOVICE   
THOMAS H COWDRICK     1
TIMOTHY FARRELL            2
JEFFERY HEATH                  3
RAYMOND MENDOCK      4
ANDREW WILLOUGHBY   5
GLENN SCOGGINS              6
ERIC MARTZ                         7
JEFFERY RITCHIE               8
16 NOVICE        
SALVATORE PAULETTE    1
RICHARD NELSON            2
KENNY MELETA                3
MIKE SORENSEN              4
ZACHARY RITCHIE            5
TIM CUMMINGS                6
JOE BRODERICK                7
17 NOVICE 
TOM MARTIN                     1
DARIN CRANMER JR        2
JOE MATTERA                   3
TOM MCFILLIN                  4
TAYLOR WIGGLESWORTH   5
STEPHEN MORITZ             6
SEAN MULHERN               7
22-29 NOVICE     
MATT MICHALAK            1
ZANE KOLNIK                  2
KEVIN CLARK                   3
JASON CONKLIN              4
BRIAN WARD                    5
30-34 NOVICE   
KEVIN MARK                     1
DAVE PAWSON                 2
ANTONY DICIANO           3
STEVEN WEIMAR SR       4
JIMMY MCNEAL                5
TROY MORRONE              6
35 & OVER NOVICE   
LAMAR DAVIS                   1
JOHN WOLKIEWICZ        2
BRETT MIDDAUGH           3
JOHN CAFIERO                 4
DAVID ROARTY                 5
JASON DAVIS                     6
GLEN KNAPPER                 7
Rookie:
5 & UNDER ROOKIE
JOSEPH KRAUSE                  1
NICHOLAS MCDONALD     2
PHOENIX CRAGER               3
KEVIN DITMIRE                   4
LAUREN UMBRINO             5
ALEX MCMURRAY              6
GAVIN ROBERTI                  7
6 ROOKIE
COLBY HICKEY                   1
RALPH AMITRANO             2
ANDREW CAFIERO             3
CHRISTOPHER BESTINE    4
7 ROOKIE
RYAN SCOTT                       1
JARETT KRAUSE                2
KYLE MEHR                         3
VINCENT PAULETTE          4
ERIC MATOS                        5
DREW KULIS                       6
8 ROOKIE 
BRIAN PASEWALDT          1
DEVIN SAGENDORF           2
JOHN TRIOLO                      3
9 ROOKIE   
CHRISTOPHER WHILEY         1
CLAY GOLDSMID                    2
CHRISTOPHER PFEFFER        3
KEITH PERRIN                         4
ZACHARY HORTON                5
CHRISTOPHER PANNULLO   6
SEAN ROBINSON                    7
10 ROOKIE
BRANDON BROWN            1
IAN KULIS                            2
JORDAN FARLEY                3
EDDIE HIMES                      4
RYAN HOTALING               5
WILLIAM BLACK                6
11 ROOKIE 
ANTHONY DESTEFANO     1
MCLAINE MYERS                2
TYLER BRODERICK            3
12 ROOKIE
DAVID CROFTON               1
BRANDON PEREZ               2
JOSHUA ROHE                     3
MICHAEL HAKES               4
ETHAN MERCIER               5
JESSE ROHE                         6
TASHAWN SIMKINS           7
13 ROOKIE  
SHAUN HARRIS                 1
SEAN MASTERTON           2
CODY MCDONALD           3
JESSICA JAYNE                  4
JOHN PAWELEK                5
14 ROOKIE 
LEE MATOS 1
JOSEPH BENEDETTO JR    2
15 ROOKIE
SHANE HALLERAN           1
TIMMY PENROSE              2
SEAN HOGAN                     3
DUSTIN DRY                       4
BRYRE TEMPLER                5
TOM MCDONALD              6
BRUCE GILMORE
16 ROOKIE 
JUSTIN MARBOT                     1
MATTHEW O'CONNELL         2
JESSE ST CLAIR                       3
JOSEPH COATS                        4
17 & OVER ROOKIE
ROBERT EDWARDS                1
SCOTT PLOURDE                    2
JOHN COX                                3
KARL GREIS                            4
LORI WHITT                            6
BRUCE HANLON                     5
Girls:
6-7 GIRLS
NEVA WARREN                  1
CASSIDY ELLIS                  2
JESSICA LEWIS                   3
CHEYENNE GODINO         4
8-9 GIRLS  
ALANA CAROLAN             1
CASSIDY COX                     2
SAMANTHA SUHONEN    3
GABRILLE ROBERTI         4
EMILIE MCMURRAY          5
JENA SAGENDORF             6
10-11 GIRLS
TIFFANY BONTORNO      1
ALISSA THIMMESH          2
TAYLOR FARSIDE             3
AMBER ADAMS                4
LINDA OLIVERIO              5
KATELYN WARNER          6
CARLY CURTIN                 7
AMANDA WEDGE             8
12-13 GIRLS
CARLY VEEDER                1   
ALAINA HENDERSON      2
14-15 GIRLS 
LIZ PASSWATERS             1
SHANNON WALSH            2
CORINNE BISHOP              3
TONI BENEDETTO             4
ADRIANNA PAULETTE     5
16 & OVER GIRLS
CHRISTY KESTLER           1
HEATHER HAUGH             2
JESSICA EGDORF              3
CASSY SCOTT                    4
ALEXIS HILDEMANN        5
SARAH WELSH                   6
DANIELLE JOLICOEUR     7
LINDSAY CONSIGLIO      8
9 & UNDER CRUISER
JEREMY SMITH                    1
CASEY TANNER                   2
JOSH THIMMESH                 3
TYLER WARNER                  4
MICHAEL GELSOMINE       5
CHRISTOPHER WHILEY     6
CHRISTOPHER KOVAL       7
 10-11 CRUISER   
DOUGLAS SCOTT                   1
ANDREW (AIR) MELFI           2
ZACHARY MCLAUGHLIN     3
BRANDON BROWN                4
12-13,14-15 CRUISER
JEREMY KNAPPER                1
FRANK OLISH                         2
NICK MELFI                            3
JUSTIN BRODERICK            4
MICHAEL CAMPBELL          5
JEFFERY HEATH                    6
VICTOR V BEHM III              7
ANDREW WILLOUGHBY     8
16-17 CRUISER
PETER BALOTTI                     1
JUSTIN HELLWINKEL           2
JUSTIN LEDOUX                     3
TODD SNOW                           4
SALVATORE PAULETTE        5
18-21 CRUISER
STEPHEN OLDHAM               1
SEAN SUHONEN                    2
22-29 CRUISER 
FRANK UMBRINO                1
WILLIAM GROEN                 2
KEVIN CLARK                       3
RAYMOND MICHALAK      4
30-34 CRUISER 
SHAUN TUFTS                      1
CHRIS GULICH                    2
CHRIS DEAMELIO               3
JAMES THOMPSON            4
35-39 CRUISER 
RICH CAROLAN                 1
FRANK YOUNG                  2
BRIAN ROEMER                 3
CHRIS WHILEY                  4
CRAIG WILSON                  5
NIALL BRIDGEMAN          6
40-44,45-49 CRUISER
RICH FARSIDE                   1
TORRENCE ADAMS         2
JEFFRY HEATH                  3
JIM MULHERN III              4
55 & OVER CRUISER 
GEORGE ELMY                 1
DIETER WARD                  2
30-39,40 & OVER LADIES CRUISER
PENNY SHIPMAN               1
ROSEMARY SCOLARO      2
ALISSA THIMMESH            3