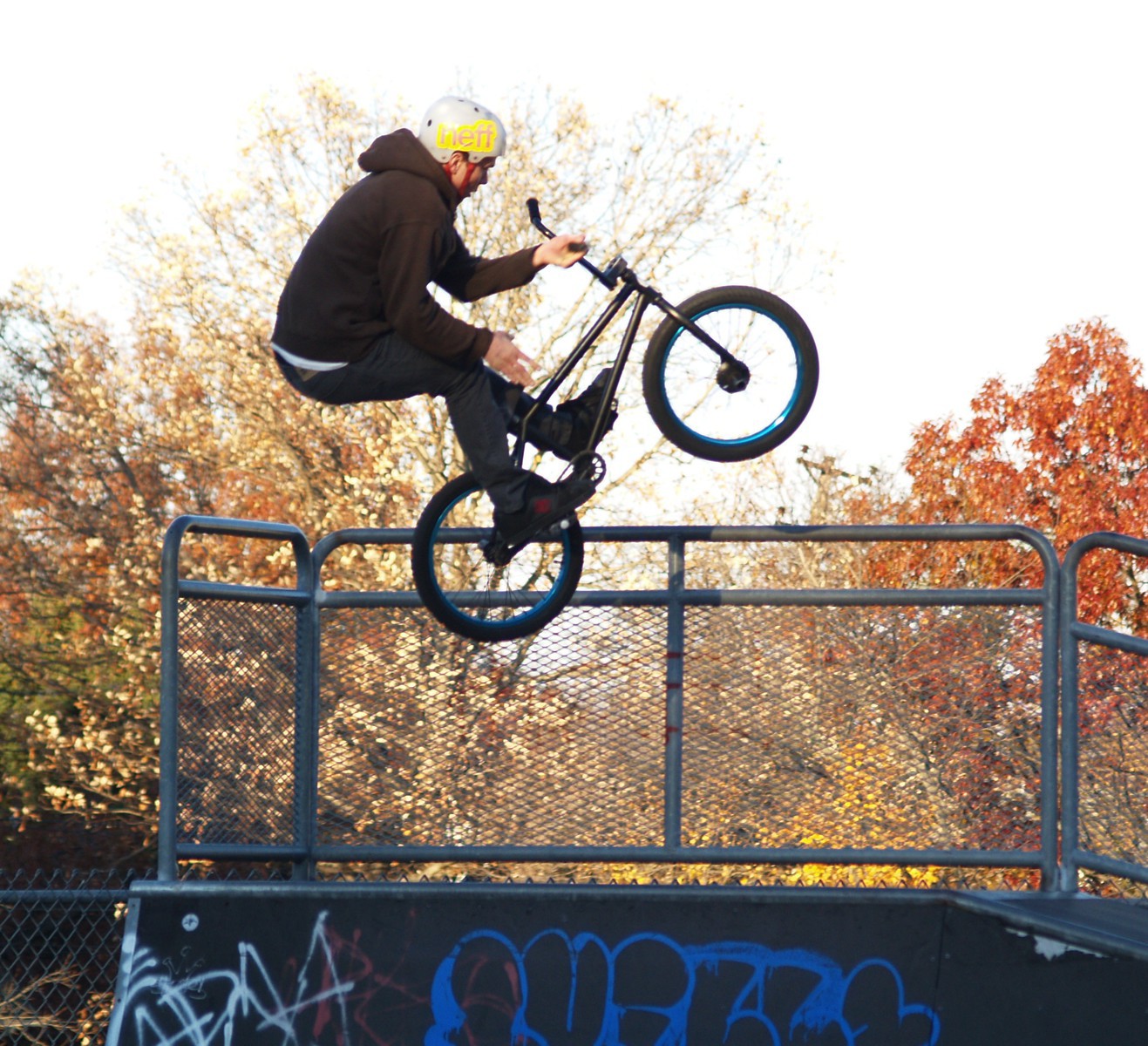 Got an email and FB invite from Mitch Bartko to get out to Clifton for a jam on 11-12. Seems that the town is thinking about closing down the public skatepark there and is holding back the funds to repair it. The locals led by Mitch decided to throw down a little comp-jam fundraiser to show how much the park means to the riders in Clifton. (a town that has a pretty big history in BMX with Clifton Speed Center's shop being a center for BMX racing and freestyle in NJ for years in the 80's) I didn't think I'd be able to make the jam at first but a late cancellation of a story and photo op in South Jersey made me available to scoot up to North Jersey on the 12th.
I got there near the beginning of the jam and got to scope out a lot of practice from the locals. I also got to see the dilapidated state of the ramp layering of the prefab park. Though the ramps themselves looked great, the covering was pretty beat up, definitely almost unskateable and border line dangerous. I'm always amazed how towns will spend tens of thousands on baseball, football and football fields that get used a few times a year by just a few people and let a skate park go to hell which is used daily by, from what I saw that day, at least 50 to 60 people from kids to adults.
The jam itself was put together well with a kicking PA system. Mitch and his brother were running about keeping a lid on BMX chaos. I caught a few of the locals going off like Mark Fraunberger, Matt and Jemil. The prefab parks can sometimes be a pain to get some good tricks on but these guys were showing some creative lines. Mark was boosting whips and bars all over the place and hit a feeble to whip off the hubba.
Matt did a rail ride to bar for his best trick of the day. Mike Nydam was also going off with big whips over the wedge box.
Overall it was a good way to spend one of the last few warm fall days in NJ, garnering support for getting Clifton Skatezone back up and running. Check out all the pictures I have from the day here  and there'll be more about the comp in the next issue of BMXNJ Magazine.
Live free and Ride.