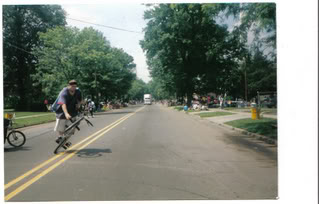 The NJ back wheel king wanted to do his own top five list. I figured why not? The dude is all about BMX whether its flatland, street, trails, ramps, racing, or just pedaling your bike. He is in the process of opening up his own shop with Ralph from Animal Bikes and Mike Wilson called Grove Street Bicycles. You wait and see. Rodney has been riding a long time, way before I was even a thought for my parents. The guy got me interested in Flatland and I'm glad he did. This list has me laughing, hopefully it does the same for you. Rodney, call me so we can ride!!!!!
 Top 5 Bands:
1. The Roots
2. MF Doom
3. Pantera
4. Geto Boys
5. Superjoint Ritual
Top 5 Bmx Brands:
1. Animal
2. Skavenger
3. FBM
4. Sick Child
5. Peregrine
Top 5 Flatland Riders You Are Stoked On:
1. Chase Gouin
2. Kevin Jones
3. Nate Hanson
4. Erin Donato
5. Mike Wilson
Top 5 Street/Park/Vert Riders:
1. Joe Tiseo
2. Luc-E
3. Dennis McCoy
4. Jeff Crawn
5. Ralph Sinisi
Top 5 Flatland Bmx Videos:
1. Doses
2. Release The Grease
3. All Day
4. Any Intrikat Vids
5. All Dorkin Vids.
Top 5 Street BMX Videos:
1. No
2. Reason
3. To
4. Separate
5. Them!!!
Top 5 Cars:
1. Anything
2. that will
3. get me where
4. I'm going
5. with a stereo.
Top 5 Websites That You Visit Daily:
1. grovestreetbicycles.com
2. animalbikes.com
3. skavenger.com
4. Porn Hub
5. nothingtoxic.com
Top 5 Riders Of All Time:
1. Same as top!!
2. But way to many to write
3. anyone who rides
4. a bike,
5. any kind of bike!!!
Top 5 Favorite Spots To Ride:
1. Runyon Ave.
2. Stadium(Rutgers)
3. Middlesex Church
4. Jersey City
5. NYC
Places You Want To Visit:
1. Florida (To see family)
2. Cali(Again)
3. …The rest, anywhere I can afford
4. to take my family but all in the USA for know. Way to much
5. to see here before I go outside the country
Essential Items To Bring With You On A Trip:
1. Money
2. Music
3. Cell phone (only to keep in contact with my wife)
4. All bathroom supplies
5. Bike
Shout outs?
My wife April, my sons AJ and Justin, my partners Mike and Ralph, Brett for his on going bmx support and drive, Grove Street Bicycles, Animal Bikes (for all the goodies) anyone who I ever rode with and anyone who has ever swung a leg over a bicycle.