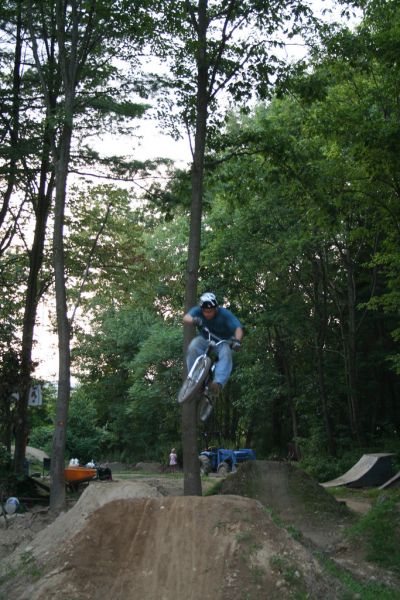 I'm sure many of you have been over to Raiden Bill Hayden's site, NJBMXRacing.com, to check the NJ BMX racing scene
or throw out a comment or two…or more. But for those of you who haven't or those of you who want to see how an ex hardcore BMX racer (Bill is from the Braddock era of BMX racing, so….well….if you've read some of my stuff you catch the drift, to use an 80's term), ex ABA  professional track builder, current dad, husband, part time BMX racer, and one of the I ride a BMX bike and built a set of trails or track in my yard set lives and has fun in the off  hours, check these shots. Bill lives up in the far northwest corner of NJ, near…well near the mountains and the bears and has opened up his yard to the local BMX crew to have fun. Grabbing a machine and his small crew Bill built up a nice set of trails on his acreage. Check these shots and check the rules he runs by. BMXers grow up, some get married have kids, get homes, mortgages, the usual stuff, but you can't take that BMX out of 'em. Push the limits, have a good time and give back to what gave us so much fun over the years.
BMX's first generation has grown up and the words "yardwork" have taken on a whole new meaning.
House rules:
1. I need to know ya
2. No drinking back there, if you are of age you can drink later on the deck
3.Newbies, wear a helmet
4. If you screw up a landing or jump, fix it
5. Throw garbage in the cans we have
6. Check runs before riding, this is important
Live the BMX life.