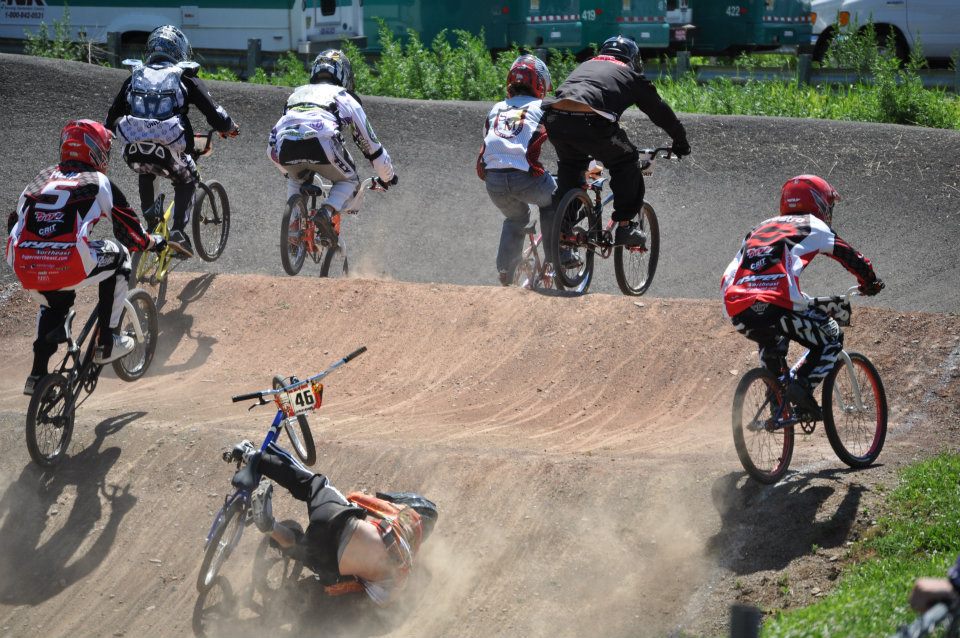 As reported by Dave Pawlowski of Damage Inc, and S4LNJ:
State qualifier #3
Saturday, June 23rd marked the third and final qualifier for the NJ state series. This round took place at the newly revamped, Hunterton County BMX track.
While on the familiar drive up I-295, I thought about the previous night's thunderstorms and wondered what effect they would have on the track. I noticed there the sky was cloud-free; a good sign for race day. When I arrived at the track, it was dry and ready to be ridden, as promised. The rebuild was fast and technical, with an impressive 2008 Olympic-inspired rhythm section at the 3rd straight.
There were 33 motos, including a full rack for the pro/am race. Between the qualifying rounds and the main event, they held the "king of rhythm" contest,with a go-pro camera up for grabs, courtesy of Hookit.com. There were riders of all ages competing to be the most stylish through the 3rd straight. Danny Smith had two super smooth runs, then unfortunately attempted to "quad" out of the turn but came unclipped mid air. Thankfully he came away uninjured. Pj Fillipone wowed everyone by manualing the entire
section on his second try. But it was Evan Eisenhard who stole the show with three flawless runs combining speed and style. Not surprisingly, he was also the pro/am winner.
The day concluded after the race with a clinic by Danny Smith and Jimmy Mulhern, getting the next generation of racers faster.
HCBMX shook things up in NJ by holding a race, contest, and clinic all in a matter of a few hours. So get out there to flemington, and get ready for whatever they have in store next.
words–Dave and Mare pawlowski
pictures — Krystie Fulton