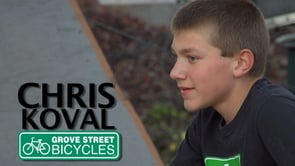 Wasn't too long ago that this young ripper was blazing across BMX tracks in NJ and his parents were running HCBMX. (If you wanna know about those days check out some historical brokenspokes.net coverage here: HCBMX, Quarry Dust and Track Rebuilds ) These days, Chris "Kid" Koval is now riding for my old buds Rodney Morweiser and Mike Wilson's bike shop, Grove Street Cycles and busting loose at freestyle comps around the state. Chris was recently chosen to star in a New Balance sneaker commerical and was caught practicing at the Central NJ, playpen of BMX mayhem, Hippie Steve Compound in South Bound Brook.
Check out the footage below. BMX…not defined by racing or freestyle…defined by riding ability and need to have fun.
Grove Streets Chris Koval At Hippie Steves House from Grove Street Bicycles on Vimeo.
Chris Koval is a thirteen year old BMX rider from the Hillsborough NJ area. He recently just filmed a commercial for New Balance.