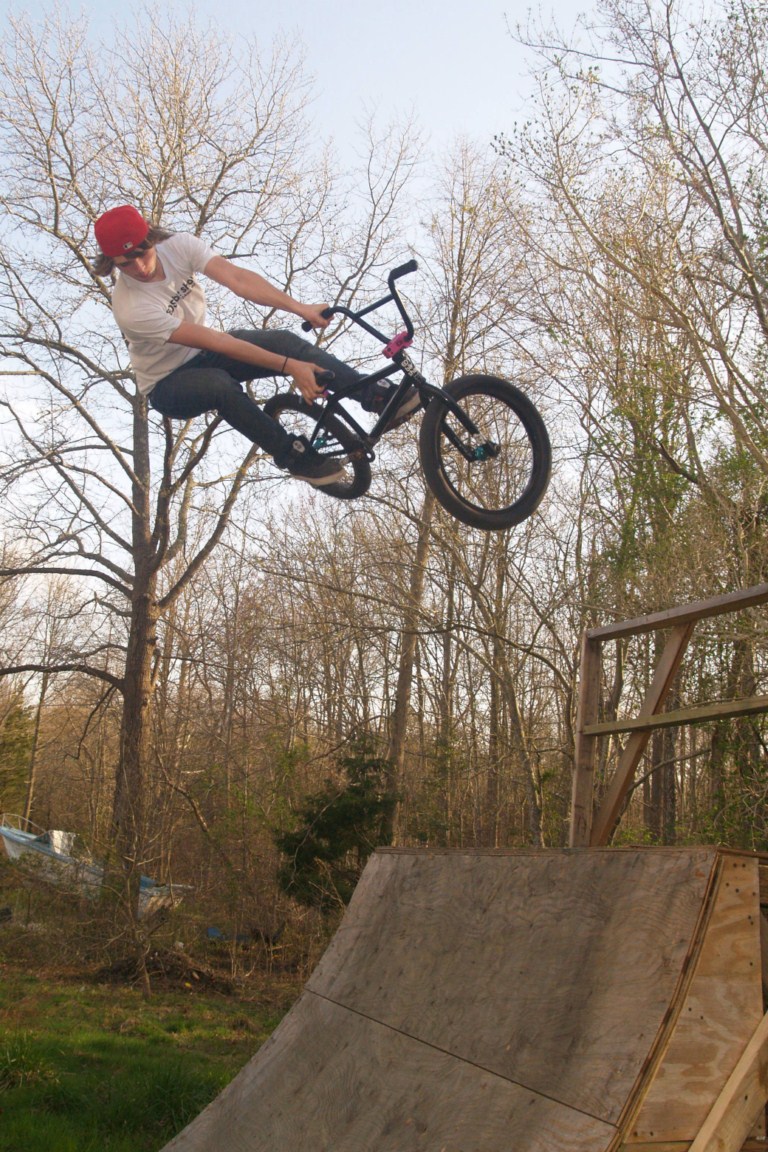 As I'm sure all of our adoring fans know…(annoyed…fans…the 4 or 5 people who come to this site…? 
) BMXNJ is also on facebook and has a friend or two on there.  I noticed that one of Ed's Bike Shop' s main rippers Mike Paton was having an Easter Jam at Delmont Skatepark and since I hadn't seen any of those guys since the January Shields comp, I figured I'd head out and say hi, maybe ride a bit. I put myself down on the event list as maybe attending. So then I set out on google to find where "Delmont Skatepark" is… The hits were quite slim, some might say non-existent. I later found out that is for good reason, the locals call Mike's house with tons of ramps spread out in the yard, the Delmont Skatepark. Seems I had stuck my foot in my mouth by basically inviting myself to someone's house on Easter for a party with their bros. After apologizing to the Mike and then hoping that he remembered me from Shields, he was cool enough to say come on down and hang if you want. Stoked that I hadn't burned a bridge with a killer bunch of riders in the Southern NJ area, I made plans to head down and see the Ed's Crew on Easter Sunday.
I rolled up to what Google said was the Paton's Pad about 2:30 or so and promptly bolted down a dirt road next to his house, while the locals looked on in confusion as a woody PT cruiser with a Quadangle rolled down their neighbors driveway, I hit the reverse, backed out, turned around and took the next turn to the correct address.
BMX freestyle has to be one of the best things going. As long as you show respect to the locals when you show up, you can be pretty much assured that you've got brothers all over the planet. Once again this was shown to be true when I saw Mike shook hands and he offered, food, beverage and the ramps to be used as I pleased. I asked him where Ed was hiding and took off to BS with the one of the guys who has been around since the beginning of BMX in NJ.
I'll save everyone the details of two guys talking about BMX history that afternoon but I will tell ya that Ed was cool enough to be down with a little interview at some point which will be enlightening to say the least. The man is a font of BMX knowledge and one heck of a metal detecting archeologist.
The BMXers hanging at the Paton residence even though they were just hanging chilling and partying were still beating the snaut out of the ramps there. It was obvious that this was Mike's pad as he was just boosting everything all day long in between brews, dogs and laughing with his bros. Little Frankie Day was going big all day long till he had to roll out.  Frank Lynn was not only rocking the ramps but also chill to talk to about the racing scene. Seems Frank actually raced B Pro a few years ago before hanging up the spurs. I was stoked to hear he never went to the dark side and clipped in while racing. (Hope the tooth is feeling better bro!) The McNamees were there. Dad had his classic 80's PK Ripper with Z-Rims chilling and he let the young guns ride it…and they were killing that machine. Even got his son Richie busting a Leary (turndown, kids….turndown…) on the bike. It was such a good mix of different riding styles we even had a small flatland jam going on down there. Good times indeed.
Mike had to have at least 45 -50 dudes and dudettes there just during the time I was there from about 2:30 to 7:30 and from what I heard the party session went on till almost midnight. Since this was only my second time meeting up with Ed's crew the memory of everyone's name who said hi to me is severely lacking. I can tell you that all the dudes were super cool and are what BMX is all about, friends and good times. Next trip down to Ed's area will be June 5th for Ed's Games II at his shop and this time I will be having a pad and paper to remember everyone's names. Big thanks to Mike and his siblings for opening up casa de Paton for the day and letting me lens some stuff there, props to Ed for being such a positive force in making the scene down there so impressive, and to all the riders for making BMX what it is, the best m-fing thing on the planet.
For pics taken by Ed and his buds down there hit up this link, apparently there is even a picture of some old guy doing a tabletop there…weird… LOL!
See you guys out there. Peace.