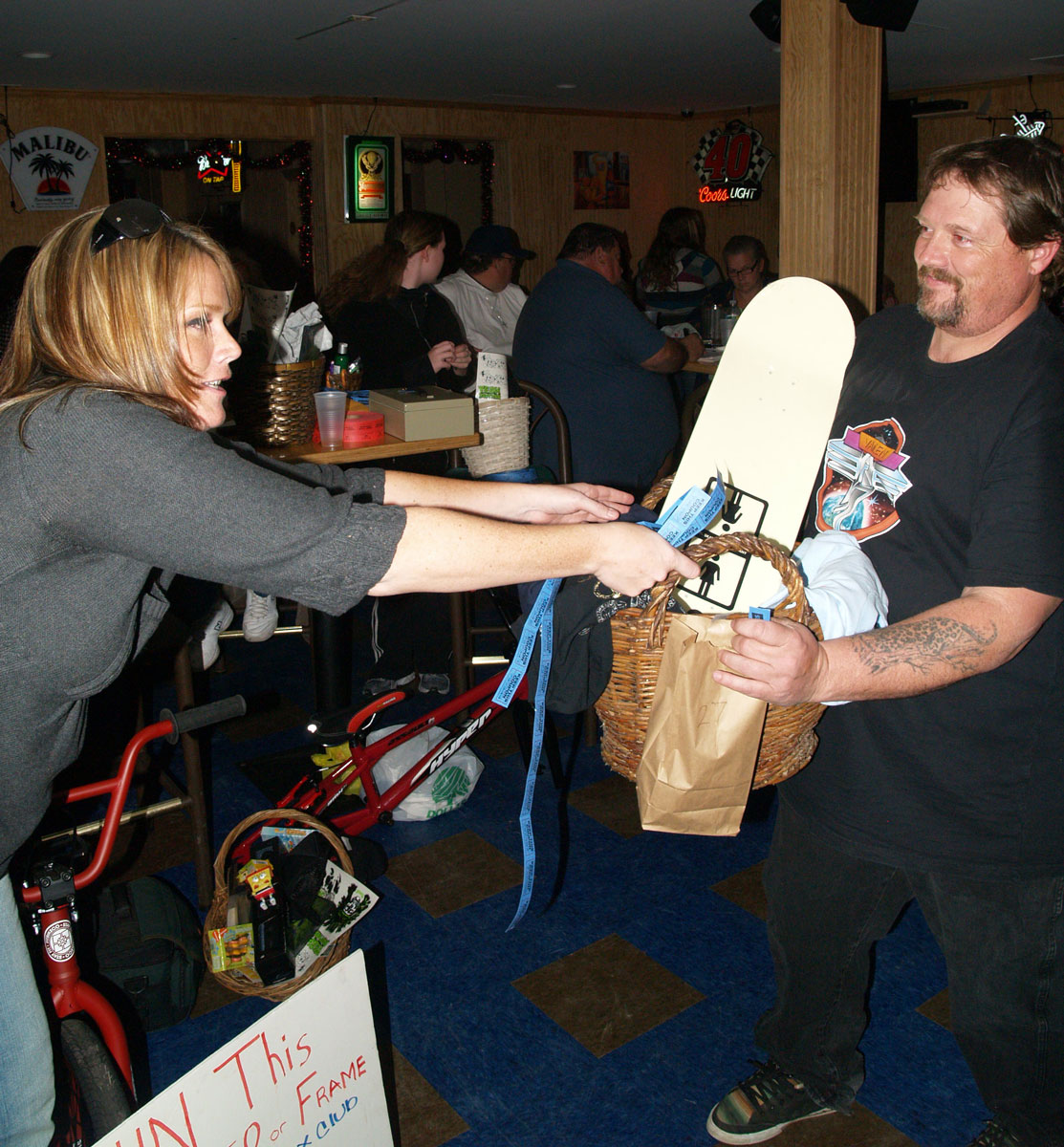 Bill Dougherty hit me up a couple months ago about a fundraiser event he was holding down near where he lives in Clementon NJ. Seems Bill (on the site as DocJr) was working out a way to get his BMX Race Team out to the Presidents Cup race now based in Louisville Kentucky. No small feat as his "Team Tear It Up" operates on a low budget. Since Bill is one of the old school BMX crowd going all the way back to the days of Millville BMX of 1976, he struck out on his own and put together a little party-fundraiser with raffles and all to generate the funds needed to get the guys out there. Jersey's American Pub in Lindenwold, NJ was tapped as the place to hang from 2 to 6 pm on Dec 12th and tons of prizes were put together for raffles. Bill went out of his way to promote the event and got more than 80 people to show up and donate to the cause. Over 34 different prizes were give out at the event from perfume for the ladies to gift packs from Van Homan's 2×4 BMX Shop. Van gets special props for donating all the BIG prizes of the day like the ones we're about to mention. (for those of you who know your BMX history you may remember that Van started as a racer and used to stomp butt at Mullica Hill years ago.)
Plenty of good food was also there for everyone to scarf down on. After all of the small stuff was given out though the raffles, Bill got down on the mic and gave out the big stuff for the day, A Hyper BMX frame and fork set and a Fit complete bike. The big winners there were Matt Law who walked away with the killer Hyper f&f and Matt Poulton who pedaled away with the Fit complete. Both were very stoked. Gotta give props to Zack McGinnis who got a new ride (read: bike) from Pine Hill Bike Shop and a sponsorship from them as well for  doing so good at this years NJ
State Series (he won his class). All in all it was a very cool day for BMX racing in South Jersey. There are plenty of people really stoked on the sport down there and with Bill leading them in the right direction it seems things are looking pretty positive. Word is that Clementon
Township has actually donated the land for a track and it just trying to figure out a way to finance building it! Awesome! The amount of cash generated will pay for everyone's room and a rental van to get them there. Forward thinking stuff from one of the OG's of Southern Jersey BMX. Big thanks to everyone who came out to the party-raffle and spent some money on tickets! Maybe this will generate some ideas for other BMXers out there looking to get funds for their projects. Guess you can learn some stuff from us old BMX fossils, LOL. See you out there, Brett @BMXNJ.