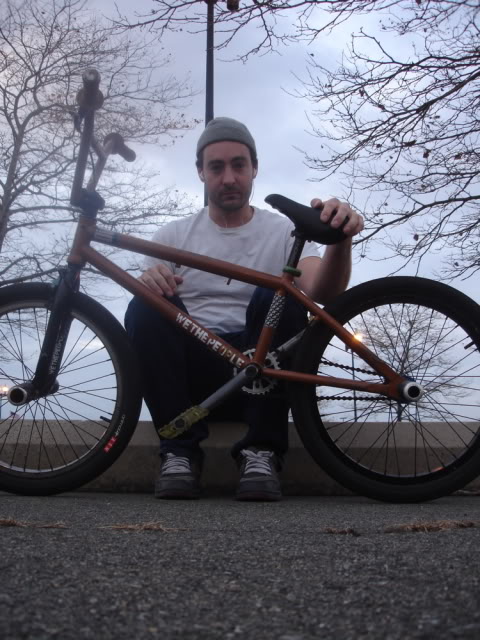 Brian Tunney is one of those guys who seems to not care about the new flatland trends and just sets up his bike how he wants, not how someone else wants him to have it. His style is unorthodox and very fun to watch. He is a cross over rider which contributes to both of his styles for riding. Brian is also apart of the original Doses crew and manages different BMX teams today, I shot him an e-mail and he was down with letting us know how his bike is set up, enjoy.
Name: Brian Tunney
Age: 34
Location: Jersey City, NJ
Sponsors: Badashell Clothing
Bike Check
Frame: WeThePeople Div V2 19.3″ top tube
Forks: WeThePeople Mantis
Bars: Animal Bob
Stem: Suelo
Lever: Eclat
Brake: Suelo
Bar Ends: MacNeil Steel
Grips: Animal Edwin
Seat: Primo Steroid
Seatpost: Thomson
Clamp: Animal
Cranks: Profile Mini with ti spindle, 170mm
Sprocket: Eclat 28t
Pedals: Eclat Surge PC
Front Wheel: Demolition
Rear Wheel: Profile Nankai Shell, Nankai guts, Odyssey rim
Pegs: Front-FBM, Rear-Suelo
Tires: Front-Animal ASM, Rear-WeThePeople Feelin'
Modifications/Other/Extras:
No modifications needed. It rides really swell.

Which parts do you go through the most?
There's the normal stuff, like grips and tires. And then there's the unusual stuff, like stems. Not sure why I break those really. More than anything though, I wear through shoes and rip my jeans in the crotchal region.

Describe your bike setup and how you like your bike to feel.
It's pretty basic I guess. Maybe 'brown' would be a good description? I like my bike to be able to pedal a few miles on top of riding flatland. I guess that's a bit of a rarity in the flatland world.

Do you remember your first "real" BMX bike?
Yeah, an '85 GT Performer.
How do you like riding a straight tube frame compared to a crazy bendy flatland frame?
I've never seriously ridden a crazy bendy flatland bike. I think I just appreciate more straightforward, simple designs. I really really like the way double diamond frames look.

What are your thoughts on the newer generations of flatland frames with the really low top tube and super high seat post?
Not really my thing, but if it makes other people happy, I'm not going to stand in the way.

Do you have any idea how much your bike weighs?
No idea. It's a lot lighter than any other flatland bike I've ever had though.
Do people give you a hard time for riding flatland with more of a street set up?
For me, this is a flatland setup. And I have fun on it. I don't really ride around anyone that would actually harass me about my setup. Actually, I don't ride around anyone period. I'm a loner dottie, a rebel.
I know you had a signature frame called the Fraction from Federal, any idea if you're going to come out with another signature frame from a different company?
No, I'm happy just doing what I do with WeThePeople and eclat. (team manager stuff, promotions, etc.)
Do you like to work on your bike or have some one else work on it for you?
I hate working on my bike. If anything needs doing, I usually end up doing it, but I bring it to Nation BMX in Sayreville to use good tools and a mechanic's stand. I do wanna put back brakes on again at some point, but putting on a gyro is something I also never wanna do again.

Any shout-outs/Thanks?
Thanks to the guys at WeThePeople, eclat, Animal and Suelo for the hook ups.