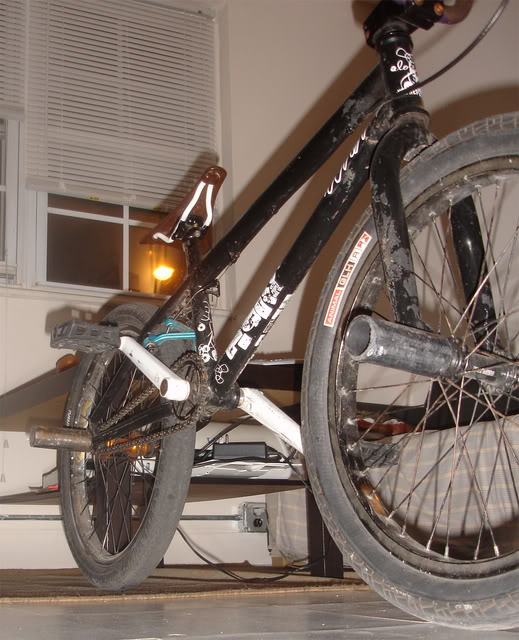 Almost a week ago Brian showed us what he was riding when he rides flatland. This time around he gives us a look at his street machine and answers some questions. Enjoy.
Name: Brian
Age: 34
Location: Jersey City, NJ
Sponsors: Badashell Clothing
Bike Check
Frame: WeThePeople Lofi 20″ top tube
Fork: WeThePeople Helium 25mm offset
Bars: Federal 8″
Stem: Animal Jumpoff
Grips: Animal Edwin
Barends: Eclat
Pegs: Animal
Detangler: N/A
Headset: Not sure
Clamp: Built in
Seatpost: Thomson
Seat: Eclat
Cranks: Eclat
Sprocket: Animal Vinnie
Chain: Not sure
Brakes: Eclat
Cable: Animal
Brake Lever: Dia Compe Tech 77
Front Tire: Animal GLH
Front Wheel: Demolition 36h
Rear Tire: WeThePeople Feelin
Rear Wheel: Federal freecoaster built up to an Eclat Bondi rim
Pedals: Eclat Surge PC
What's up with the purple on the bars?
They used to be purple, and I started stripping the paint but ran out of paint stripper. I am inherently lazy when it comes to the way my bike looks.
Looks like you beat that thing up quite a bit, do you ride it more than your flatland bike?
I ride this about the same, but I also pedal this everywhere around the NYC area, even in the snow and rain. My flat bike goes from the house to the riding spot and back on nice days.
Modifications?
Bent the lever out a bit and cut the bars down 1/2 an inch on each side.
Pretty spastic colors on there, did you plan that, or did it just happen that way?
Everything that's differently colored (seat, brakes, hub, cranks) are sample parts, not production models. So whatever comes in the mail from the factory is what you get to ride. I don't really mind though. When you're actually riding it, you can't notice any of that. And I have two different colored grips cause I wear through left ones faster than the right. Also, if someone's gonna give me a part to ride for free, I always say to give me the color that sells the least. Beggars can't be choosers.…
This bike looks less dialed than your flatland bike, any reason why or it just happens to be that way?
It gets abused a hell of a lot more. Flatland isn't that harsh on bikes. This bike crashes a lot more and falls a lot further. It is actually smooth though. Nothing's bent, the wheels are straight, the chain is tight and the brakes work really good.
I can't think of anymore questions, anything you want to add?
Probably that I would ask people not to drunkenly kick this bike if they see it locked up outside a  bar in Jersey City, Manhattan or Brooklyn.
Shout outs/Thanks?
Thanks for doing this.