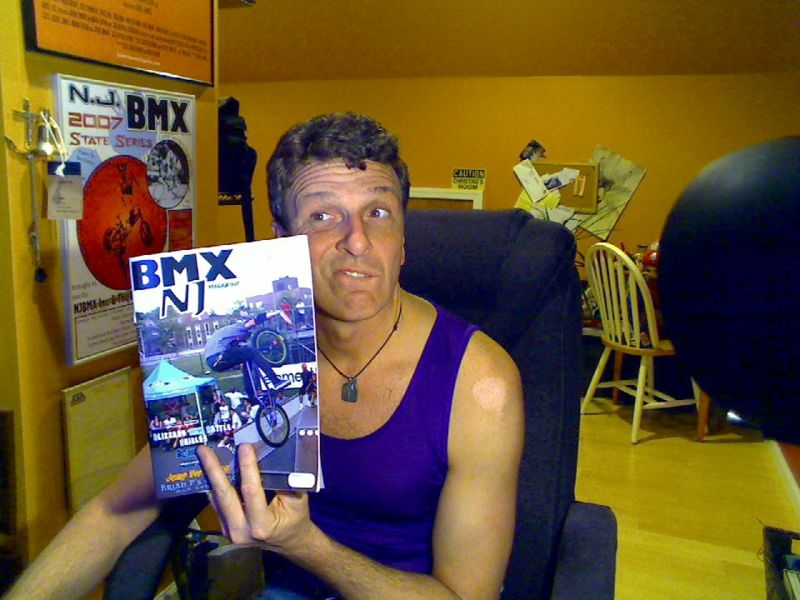 It was bound to happen. We got issue numero uno of BMXNJ Magazine done! Our first issue includes a bunch of stuff from Jump For Joy to photos by Dirk Lesko, Shields, Bios, more photos and other nonsense. Congratulations go out to Ed Herbison for snagging the cover this time around. It was a toss up between him, Little Mike and Aaron but Ed just fit on there right so…he makes history! This issue is dedicated to a bunch of guys, Charlie Litsky, Bob Warnicke, Charlie Huber, The Veales, and The Zeuners as well as still happening BMXers who no longer ride, Brad Dalbec and Jeff Crawn. All of these people advanced the sport of BMX by leaps and bounds during their time in it and gave it their all. We're trying to live up to their standards.
The premiere issue can be ordered below. There is a cost to this thing and it is $4.50. (plus shipping which is about $1.40) It's print on demand and will take about a week to get to your door. Seems sorta lame when you take into account the instant gratification of the internet but let's face it, 10 years from now you'r not gonna be sitting in a chair or taking a dump and saying…hey let me take a look at that archive from 2009. You'll be grabbing something tangible and sitting there going…damn, remember when. So, be a part of history and get the inaugural issue of BMXNJ Magazine. I will be printing up some copies to sell at events this spring but the main place to get it will be online. Shops and parks that would like to carry BMXNJ magazine just have to go magcloud.com and order em up. Any order quantity over 20 gets a 20% discount off the cover price.
Since I am a webguy, I know the call for "print is dead" has been going around, but to me, this is the way to go. It's "green", we only print what we need and it only contains the highlights of good NJ stuff to hold onto for years to come. Order one up and let me know what you think If you would like to advertise in BMXNJ Magazine, send an email to adspace@bmxnj.com.  The first issue has a few of the core guys who have helped BMX in NJ over the years.
Thanks to all you BMXers again and I'll see you out there!
BMXNJ Magazine. The ONLY BMX mag devoted to the NJ scene. Comps, bios, pics, articles and other stuff for the BMXers of NJ. The sister publication to the wildly popular BMXNJ.com website and brokenspokes BMX webshow!