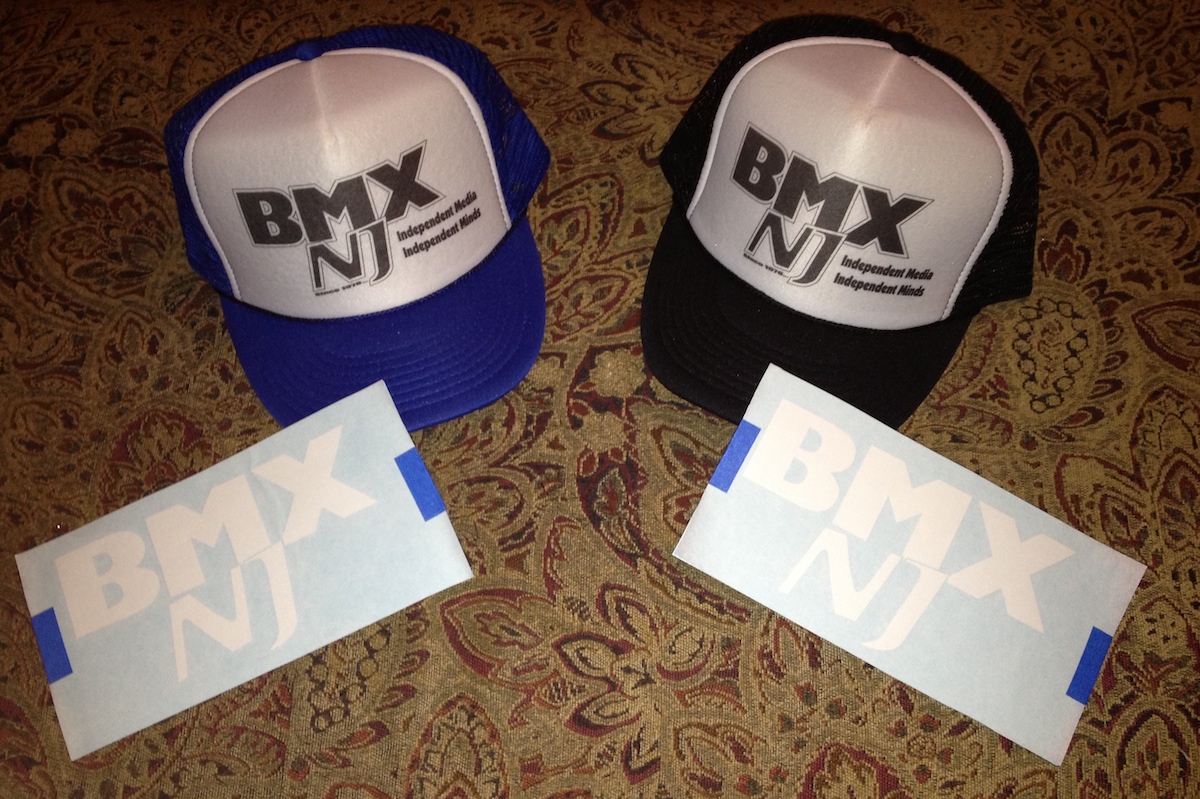 We talked about these a little while back and after waiting a bit for George Hoernig to get his company rolling we now gots 'em. One of the things I talk about a lot is how BMXNJ is not controlled by any other outside interest…we don't have a "parent company". Therefore we can do what we want, when we want and say what we want…(within reason…) without worrying about what someone else would think. If there is one thing I have learned with BMXers it is that they are big time independent thinkers. So being independent media, we figured it might be cool to celebrate being inde-freaking-pendent. So we made these mugs up. Price: $20.00 bucks. Colors: Black or Blue. Type: Snapback. Hey what about the stickers? We're gonna roll those for $5 simoleans. Need it shipped to you? $5 beans by USPS for the hat or hat and sticker combined, or $5.50 for the sticker alone. You can paypal us at brett@middaugh.org for easy payment. If you need more info hit me up atbrett@bmxnj.com
In the honorable tradition of Steve Jobs…oh…one more thing…
NJ got decimated by a storm the size of the east coast two weeks ago. As a lot of people who know we are located not to far from the shore towns of Mantoloking, Bayhead, Point Pleasant, Seaside and of course…Brick, in fact we are in Brick. This is all new territory for me as I have never lived in a disaster area before. (yep, as hard as it is to believe, around the corner FEMA is set up as well as an entire encampment dedicated to feeding people who lost their homes and…everything during the storm.) Within a 2 mile radius of me, hundreds of homes were destroyed. Right now…it's sorta hard to talk about because our place was spared any damage while friends and people we know…did not fare so well.
So we are going to donate $5 bucks from the sale of every hat to relief efforts for the shore area. (And yes for the savvy bunch of my group it will NOT be to any organization that uses more for administrative costs then it does for relief efforts…heck we may even just donate it to one small business that needs a little help) Once we get all the hats sold, you'll see a post on the BMXNJ site showing the check being handed off. Oh and $2 bucks from every sticker will also be heading to help out.
So…that's our plan. It's not a lot but we do what we can do. I hope everyone out there made it through ok. Jersey Strong, You Can't Go Wrong.