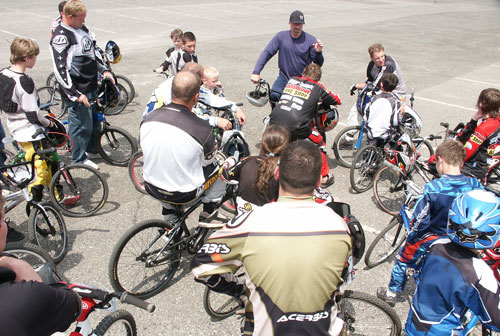 When you turn pro at the age of 14, beat guys 5 years your senior and become one of the first riders to ever start your own bike company there can be no doubt that your knowledge and experience runs deep in BMX. Combine those facts with a humble but no nonsense personality and you have arguably the first BMX racer to take training and mental conditioning towards BMX to another level.
Who is this person? United States BMX Cycling Hall of Famer, Greg Hill.
Rich Farside was fortunate enough to get him to take time out from re-starting the legendary GHP (Greg Hill Products) BMX Company, and bring his 30+ years knowledge of BMXing to EHT BMX on June 17th and 18th.
Many racers and parents have been to "clinics" where the top guy for the team will come out and go over gate starts, basic passing techniques, maybe their version of sprint training, Greg takes these tenets of BMX and turns them on their head.
When I say turns them on their head I am going beyond merely saying that he teaches a better way of doing it, I am saying that he literally explains to you how to expand your way of thinking about racing and training and just as importantly looking at the challenges and goals that you will face and want to achieve in life.
He doesn't call them Speed "Seminars" for nothing. A clinic teaches you how to do; a seminar teaches you how to think.
Rich and Greg were good enough to let me hang on the sidelines and take some photos of the clinics participants as well as get Greg's philosophy behind racing and life that he freely gives during the 2 days of intensive training. Standing there watching this man give out his years of BMX knowledge was a true testament to how great this sport is for building character in today's youth.
From mental prep, to diet, gates, sprints, turns, passing…and everything in between there is not one aspect of the BMX gamut that is missed. He goes the extra mile however and speaks to the parents of racers on what to do and not to do to make your child feel comfortable at the track. Greg's willingness to be open and candid about any questions people have during the training just makes it that much easier to take in everything he is teaching.
If you've ever watched local hotshot, Phil Delizia rock the track and wonder where he got some of those moves from, well Phil's naturally incredible talent aside, you can look straight at Greg Hill. Phil has been to Greg's seminar and picked up a lot from this living legend of Bicycle Motocross.
Rich has asked Greg to return next year for possibly two more seminars and it looks like the spots will fill up even quicker next time than they did this year. Be sure to keep your browser pointed to brokenspokes.net for the dates and location. Don't miss without a doubt the only person properly training BMX racers today.
Rich would like to thank EHT for giving all the clinic participants free food and drink the morning of th e clinic as well as donating the use of the track!
-aside- As I was going through the photos for this write up it suddenly dawned on me that I was watching a group of adults and children getting trained by a person who is a peer of many of the adults. Watching the training this weekend I noticed very few kids laughing or talking when Greg was speaking, though I attribute most of this to Greg's excellent teaching techniques it also seemed that the kids were more willing to listen and do what they were asked to when the parents were themselves active participants. BMX racing, it crosses generational boundaries.