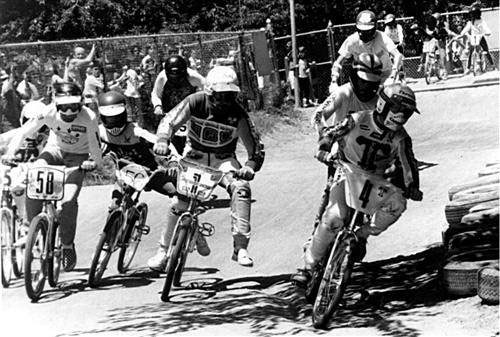 Thanks for taking the time to kick it Old School, Brad, for the NJ cause. How did you get the bug to start BMX'ing? What was the first bike you owned?
I started out pretty much like most kids at 9 or 10 years old with a Sting-Ray jumping curbs and plywood jumps on the sidewalk. That bike got beat up beyond repair and my parents surprised me with a Schwinn Scrambler, but first real BMX bike that was suitable for racing was a Kuwahara.
I got busy playing stick and ball sports for a while then moved to a new house across town in Nutley with an empty dirt lot next door where I started riding a lot more making big dirt jumps with the other kids in the neighborhood. The lot was owned by the town and they didn't like us riding there, so we were occasionally harassed by the cops. They brought a tractor in and leveled everything a few times and we always built it right back up. I eventually built a nice practice track there.

What was your first race like, how quick was your progression to expert?
My very first race was at Braddock when I was 12 and I was completely lost and finished second to last at best. I gathered myself up a few months later and went to my second race, which was held in the indoor tennis courts of the Wayne Racket Club. I fared much better and got a second or third place ribbon as a 12 beginner. Soon after I moved up to the novice class and started racing WWBA at Oakland and Englishtown and really started to enjoy the racing. Within a couple of months I had enough wins to move up to 13 expert. It was tough at first, but eventually I started winning on a regular basis. I chased points by racing three times a week. My first full season racing in '81 I won two nationals and finished the season with district #5 and national #6.
You were part of THE NJ team BITD, Thruster. How did you get hooked up with them?
I started working at Scavone's Bike shop when I was 13 and they were also my first sponsor. They were a big distributor for Thruster and John Scavone hooked me up with a co-sponsorship from Thruster in '81.
In early '82, Tom Daniels who was the owner of Speed Unlimited at the time was reorganizing the team. He offered me a full factory ride along with a few of guys from Torker East including Frankie Chirlo and Chriss Williams to join Franco Perrino who was already with them for a while. There was a certain amount of luck involved like being at the right place at the right time and knowing some of the right people.
Who was the biggest smarta** on the team? Any good practical joke stories?
We definately had tons of fun especially on road trips. We raised a lot of hell, nothing serious, just enough to get in a little trouble. Chriss Williams was always doing something mischievous and was really funny to be around. Franco was defiantly a wise guy as well. We were once asked never to come back to some hotel after jumping bikes into the pool.
My dad is pretty funny and he would egg us on to do some pretty stupid things. He once dared Chriss and Franco to moon everyone from the top of the team's box truck…which they did. I still have a photo of it…lol Some other interesting things were missing a flight out of Orlando and staying in the airport all night and someone was riding their bike around the terminal at 2 am to the delight of security. On another flight my dad took a marker and carefully put two "S" on the sign that said "CREW only" where the flight attendants sat. By today's standards, I'm sure most parent's would have never let him chaperone after the stories they heard, but everyone thought he was a riot. We always had a lot fun back then.
Do you keep in touch with anyone from the team? Franco Perrino, Chris Williams, etc..
Funny you ask, I just heard from Franco the other day for the first time in over 20 years. He's coming down to Florida to visit some friends and we'll try to get together. He's doing well and he's got a three month old son.
I heard from Frankie Chirlo as well just over a year ago. He's married and as a few kids and is living in Lyndhurst. Haven't heard anything from Chriss, but would love to hear how he's doing. There were a few other guys on the team that I'd like to give a shout out to like Tommy Ruble and his Dad, Brad Birdwell, Marc Arless and Scott Stewart. I've been in touch with a lot of other racing buddies recently from NJ as well as from other states. A lot through VintageBMX.
What was the highlight of the racing days? You were a powerhouse in your class during what can arguably be called the biggest time for BMX racing, 81-83. What are the things you remember most?
I don't really have one particular highlight, there were a lot of good ones. I won a few nationals over the years and made a bunch mains, finished second and third a few times and I held a national number each year. If I had paid closer attention to points, I probably would have finished with better rankings. The team's main focus was mostly NBL nationals during the '82 and '83 seasons where we won the factory team trophy at several events.
My class was huge and very tough at the national level. In '83 as a 15 expert, we would regularly have to run 1/16 semis and if you could make the main, that was an accomplishment. '81 to '83 were big years as you said and I got to race against some of the top guys in the country and the list is big.
Who was in your North Jersey riding crew back then?
There really weren't any serious racers in my town of Nutley back then, but there were a bunch of guys that would ride next door to me. I guess it came down to quality rather than quantity and luckily my teammate Frankie Chirlo lived right across the Passaic river in N. Arlington and we rode together a lot. He was about a year and a half younger than me, but he was really fast and had great style. We pushed each other pretty hard and were good friends away from the track as well.
When I wasn't racing nationals, I was racing locally several times a week mainly at Braddock, Howell, the Armory in the winter and most of the other NJ tracks at one time or another. I always rode and hung out with Chirlo, Perrino, Williams, Dave "Spanky" Campbell, Wayne King and Greg Mazuy. In my WWBA days it was Ken Aman, Marty McCoy, Ron Afilitto, Mike Polidoro and so many more I can't think of at the moment. I didn't have lots friends at school, but I did have a lot at the track.
How much input did you have in the design of Thruster products?
Not much…I got a race bike, a practice bike and a cruiser from them. When I first joined the team, they had just changed ownership and there wasn't much development of their line at that time. They were probably more interested in increasing their revenues and that's around the time that they started building a lot for Hutch.
I had one of the first 24" Tri-power Cruisers in early '82. The first one was really big and bulky compared to others like Hutch and CW. I was at the Factory in Wayne, which was more like a small machine shop and I never saw or heard about any Thruster pedals…lol (an inside VintageBMX joke)
When did you stop racing?
I stopped racing abruptly in July of 1984 when I was 16 and due to a really bad injury. I had a freak accident while racing at Howell that instantly threw me head first into the ground shattering the 4th cervical vertebra in my neck. This caused a severe spinal cord injury which left me a quadriplegic (quad)…permanently paralyzed from the chest down. It was something that was completely out of my control, and it could have happened to anyone even with the best of skills.
I spent the next 6 months in the hospital and rehab learning how to live and cope with my profoundly altered life and I now have to use a wheelchair to get around. It was and still is very tough to deal with, but through it all I have kept a positive and realistic attitude. I did have complete control when it came to how I would deal with it. I chose to keep my head up and do my best to better myself and that helped a lot. I also had great support from my family and friends. "I live life to its fullest." It's a cliché, but it best describes how I now live my life. I now realize how much little things we all take for granted.
I was able to graduate High School on time and go on to College. I'm independent and living on my own with some assistants that help me out with things on a daily basis.

You gave up the beautiful garden state for sunny Florida, (traitor, lol, just kidding). What occupies your time now down there?
I went to college at the University of Miami and the weather was so nice down here I couldn't get myself to go back to the long cold winters up north…lol
My dad and I recently got rid of our boat which we did a lot of sportfishing with friends off the coast of Florida and over in the Bahamas. It was getting old and was getting tougher to maintain. One day we may look into another one, we just need a break. Aside from that, I'm doing some work in finance and investing and trying my best to dodge Hurricanes…lol
I've been to your site, and judging by your email address, you're obviously an Apple man. What are you running hardware wise at the moment? Are you an Apple man for life and have you ever thought of converting?
My first computer I got in college back in 1990. It was a Mac ll Si with only 5 megs of ram, an 80 meg drive and a 20 MHz processor. Currently I'm running a dual 2.5 GHz G5 with 2 Gb of ram and dual 250 Gb drives. Funny thing is it's not helping me type any faster than before…lol
I've got a PC as well, but I only use it once in a while. It just sits around collecting dust. Mac OSX is great, very stable, little problems and virtually no issues with viruses and spyware.
Final thoughts, or thank you's?
I'd like to thank you Brett for thinking of me for this interview, I'm humbled. It was fun going back on a trip though some of the best times of my life.
Thanks for taking the time to jot this down Brad, I hope you had a good time and look forward to seeing plenty more of you at VintageBMX.
I'll be around. I always check in on VintageBMX regularly.
PS: I was just thinking, if you still have any hookups with the rest of the old Thruster Team we could do a whole couple pages just devoted to you guys…
I may meet up with Franco in March and I'll ask him if he's interested. I'll talk to Mark Lopez as well. Those two were definately top notch NJ racers.