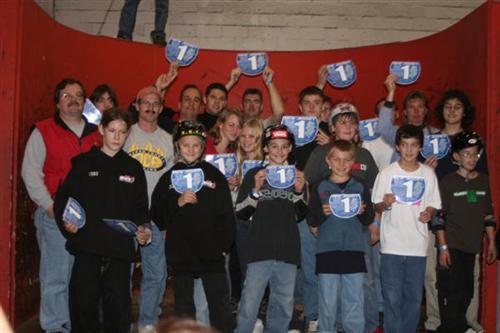 Tons of thank you's to Scott and Donna Cranmer for opening the doors of the Incline Club in Lakewood for 4 hours of BMX racing madness on November 13th and the 2005 NJ State Series Awards Ceremony!
This was the rookie year for many on the State's Board of Directors and these beginners really took off and put together a rockin season for the NJ racers. The culmination of the awards ceremony at Incline Club was just too wild. Getting all the riders together to jam and throw down the B.S. was an inspired idea.
From the heard these names before department…i.e. Old School racers who had kids rocking the series this year, Lenny Hicks #1 in 7 novice, Taylor Farside #1 in 10-11 girls, Shane Goldsmid #2 in 6 rookie, Kyle Hamblin #1 in 5 & under rookie, Alex McMurray #4 in 5 & under rookie, Andrew Cafiero#4 in 6 rookie…. Carballo, Goldsmid, Hamblin..we're starting to get dynasties here fellas….knock it off!, Just kidding. It's really great to see BMX becoming a generational thing!
Rookie of the year…to me, well he's 44 years old and runs a specialized and his name is Jeffrey Heath. Way improved over the course of 1 season and a for sure threat next year in 45 cruiser, his kid Jeff just went novice and is sure to be a dynamo soon enough!
Dude who defines BMX in his style of riding, Victor Behm, that blonde main of hair flowing behind the helmet, the rolled up pant leg, this kid could be dropped into Corona in 1981 and not miss a beat…with a full on ramp park in his yard, his skills can only improve.
Littlest gnarly dude of the year? Michael Reszkowski, first off he's 8 and jumps like he's 18 and second the little bro took the gnarliest crash I have ever seen at CJ and just got up like it wasn't nothing! Superkowski…
2005 rocked the house and '06, well folks it's gonna get crazy, congrats to everyone who rode and step it up next year!