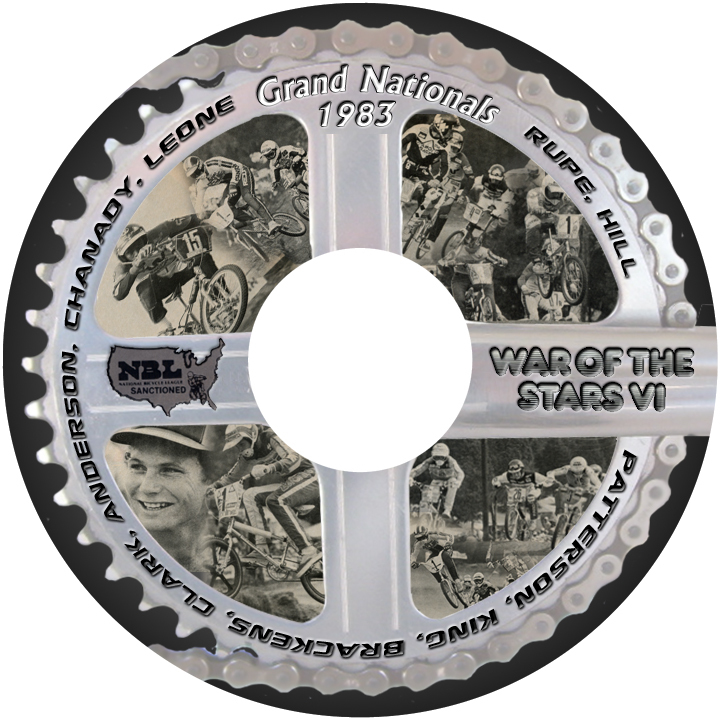 Geepers…what was BMX racing like back before the days of paved turns and clips? Who were the stars? What kind of drama happened on the track?
For those of you racing fiends or BMX historians who would like to know the answers to those questions, two old school BMX racers from NJ have once again done what NJ always does and lead the way in showcasing BMX. Mark Lopez and Brad Dalbec are releasing footage from the NBL Grand Nationals of 1981, 1982 and 1983. That includes one year when the grands were actually at South Park, PA! You will get to see the legends race. Most importantly, you will get to see the legendary Rich Farside, Charlie Williams battle for the #1 plate. Great stuff, know your roots dawgs.
Oh…and BMXNJ is stoked to say we designed the DVD labels. (So if ya hate em, don't blame Mark or Brad!, LOL)
Here's the labels themselves, and you can place orders by doing the following:
Prices are as follows-
1981 NBL Grands(2 disc set/approx 4 hours of footage)-$30 + $3.50 shipping.
1982 NBL Grands(2 disc set/approx. 3 hours,40 minutes footage)-$30 + $3.50 shipping.
1983 NBL Grands (1 disc/approx. 1 hour,42 minutes footage)-$25 + $3.50 shipping.
Pay with your Pay Pal Account by sending payment to marklopezeai@comcast.net
Also you can send Mark an e-mail at the same e-mail address supplying your name and address as well as a detailed description on what discs you want and quanity.
Pay Pal accounts MUST have a confirmed address. Discs will not be shipped with out a "CONFIRMED ADDRESS". All sales are final and there are no refunds or exchanges.