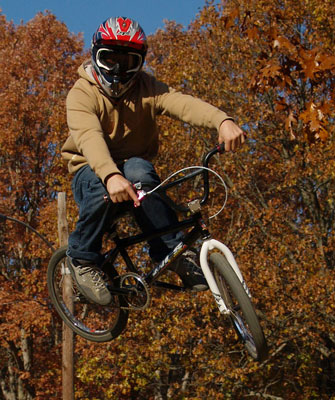 Fast Phil Delizia took care of bidness on day 1 of the 2007 Rockford ABA Midwest Nationals in Illinois. The Dragon fired up the A Pro class winning it on Saturday and taking it easy on the rest of them by rolling in for a 7 on the day of rest.
Here's a shot of Factory Phil, practicing at CJ.
Ok…well maybe we was just macking the ladies on the cell, but either way look for Phil to continue to blast through the Pro ranks this year.
Phil is sorta…paving the way for NJ's return to dominating BMX.
Oh and there may be more big Phil news coming, but it may cause my death to reveal what it is.
Man, I am a stinker!