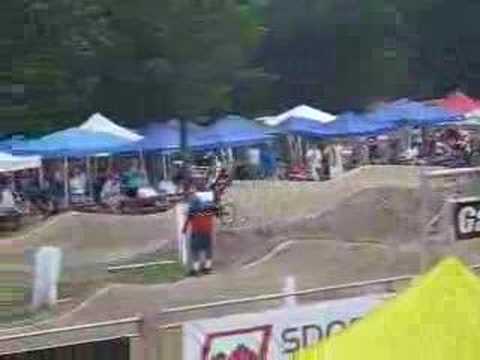 The Quaker State Nationals. I always did like the sound of that. It sounds like a tradition that's been going on for 65 years. I know it's been going for at least 20 years because I still have the shirt from the 87 Quaker States in York, PA. Brian Shute and Dave Clymer raced that one. They didn't make it this year. I think the only guys left from the 87 Quaker States are me and Clayton himself. Wait a minute, Clayton wasn't there. I guess it was just me then. Not sure I'll be at the 2027 Quaker States so read on to get the Caveman' view of the race.
Actually it;s a short one because I only raced Saturday. 6-5-1 wasn't good enough to make the main in A pro. I had 12 with a 1 but the cutoff was 10 with a 2. That's pro talk for ya. On a postitive note, I now have won three pro motos in my career. Woohoo! I wonder how many motos guys like Purse or Ellis have won? I wasn't gonna give the Dragon any more of my money so I went home early.
Speaking of which, who do you think won A pro both days? Here's mains 2 and 3 from Saturday.
A Pro Main 2
A Pro Main 3
Do you like how Joey Albright goes down pedaling around the turn? Garret Rosh didn't like it as he landed on his tailbone trying to avoid him.
Rich Farside also raced only on Saturday. He would have won too but he got a flat tire and didn't show for his second moto. 1-dns-1 gave him a second behind Kent Gordy.
The Smiths.
This was the only shot I could get of Jeremy Smith because this was the slowest he was going all weekend. You sure couldn't get a shot of him on the track because he was going so fast, these were the kind of leads he was winning with.
As fast as he was, Anthony Derosa must have been faster because I only HEARD his name, I never saw him.
Bawls dude takes a leak in public. The nerve. I'm sorry but that stuff tastes awful. Give me Monster or give me death!
Matt Kelty with a snap and a half. Even with a snap like that, Kelty didn't win this main. He was second behind Kory Cook to his left and went down making his typical Matt Kelty desperation move in the fourth turn. Don't know how he did on Sunday.
I could talk about Jud Ciancio getting second on twenty, local boy Buck Taylor getting bumped off the track by Tommy Zula and Austin Loebe winning but you probably wouldn't believe me without pictures so I won't mention any of that.
Someone else will have to cover the 2027 Quaker State Nationals because by that time I'll be riding one of those three wheeled bikes with the six foot orange flag on the boardwalk. But if you come down, I'll race ya!