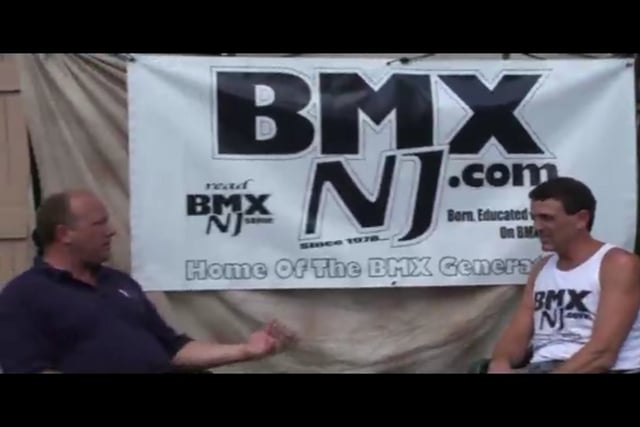 This is the final installment of The Dave Dechert Story video, "The East Coast Is The Right Coast". It was a real pleasure to bring this video interview to life with Dave. I hope that in some way this inspires people to get out and make BMX just as huge as it was in the 80's. Props to all the BMXers past, present and yet to be. Thanks to everyone who took the time out to scope out this piece of video history of BMX in New Jersey. Check out Dave's words right below the video. Have a great '09 season!
© Copyright 2008-2009 Dave Dechert
Future Of BMX Racing, by Dave Dechert
I was fortunate enough to see this great sport evolve and finally become an Olympic Sport ,although it took approximately 35 years! I pretty much grew up on my bike and have no regrets doing so. I feel that BMX offered me an experience that no other sport could have offered me.  I had the best ride on the east Coast ,raced against the sports finest and was able to have a few victories.  I have had  exposure on all types of media and eventually a video, "The East Coast is The Right Coast" summarizing my BMX Career and NJ's history in BMX racing,which was made possible by Brett Middaugh and the # 1 BMX Site on the web BMXNJ.com. (Thanks for the props Dave!)
NJ's start and my start goes back to 1976. Yes they were racing in California before we were.I saw BMX Racing really take off in 1978. Al ot of things happened that year. 1978 Schwinn NBA National Tour,Bob Osborn's BMX Action Magazine
had been out for 2yrs ,and yes the Craigmeur ski area of Rockaway Twp, NJ having a BMX Track . The track furthest away from the sports home and that track was only 35 miles north west of the World's largest city New York,NY. Our little state was getting as many, and I am told more, participants at local races than that of the west coast. Craigmeur offered everyone a lot of exposure because of its location and the efforts of Harry Myers and others who helped run Craigmeur.
The late 70's and early 80's it was this 2 wheeled sport that everyone looked at and didn't know where it was going to go. The best way I can describe BMX's growth back then it was like a turbo on an engine was kicking in!  Some people embraced the sport of BMX,and others feared BMX. (Some parents had the "mindset" not my kid,"That's Dangerous!", which was really sad.)  Here you had these kids doing "all kinds" of things on their 20″ bikes. It was a sport that a kid go do on their terms. Race as often or as little as they liked or just ride their bikes in the neighborhood.
I really had no doubt that BMX would one day be an Olympic Sport. Human powered, competitve, a sport that tests one strength, coordination, and focus. Hats off to everyone that made The Olympics a reality. What I don't understand is why our great sport is not available in the public school system. A kid sees the sport on TV in the Olympics, wants to become involved but has to go out of his surrounding area to participate? You would have thought by now it would atl east be available in the public school system in US where it is warm all year round……?
What the sport needs is to  become available in the school system  to make it to  the same level as "stick and ball sports."
What they did in Beijing has been what the sport has been missing. The Olympic track was a "Supercross" type track. BMX Racing doesn't really have a spectator base like that of freestyle BMX, freestyle motorcycle motocross, Supercross,Nascar….etc.
You have to make it where people will want to see our sport even if they don't want to participate. The Elite Pro Class on Supercross type tracks. Excitement! This will bring in more sponsorship dollars. The car manufacturers, the sports drinks, etc. You can still have your younger and older and your less experience race different sections of  the track or a separate track.
I don't want anyone  to think that I have all the answers,"I don't!"  This is my perception and view on how to take the sport to its next level. Kids are different ,"The Video Age" is here and yes and I spend too much time in front of the computer..BMXNJ.com….BMXActiononline.com, lol.
Making a conscious effort to get kids outdoors and excercising is a good thing. BMX is a family sport and the families that get involved together,"Stay Together."
So why does a middle aged man who hasn't been around for 25 years re-emerge? For the love of the sport. Although I haven't participated actively in the sport for a long time, I have always picked up, looked and bought BMX mags off the shelves. I have continued to ride bicycles, 2 mountain bikes and 1 beach cruiser. I ride my mountain bike on the same fire roads that I rode my Mongoose and Thruster on. When I am blazing down those fire roads on  my Specialized Enduro I go back to the BMX Daze! I am fortunate to have the time to get back into the sport I miss.
I have a lot of different ideas for the sport. Having worked and having friends in the classic car business I am thinking about doing some of the same type of events but with BMX Bikes, Schwinn Sting Rays, etc. Possibly opening a track.
There are no BMX Tracks in Northern NJ. Brett and I have discussed the possibility of a documentary of North East emergence similar to the movie "Joe Kid on a Stingray." (The north east was totally left out in the cold. ) That's OK no hard feelings! The producers are from Pa too, go fiqure?
Baby Steps, you have to crawl before you can walk. I have been in and around the freight business all my life, 2nd generation, but my true passion is bicycles and BMX.
I hope everyone enjoyed "The East Coast is The Right Coast". At the same time the sport evolved my BMX career evolved. From the 1st gate at Millville to wining amongst the 1st generation of BMX Pros. Every BMXer in NJ should really know about the history (nosalgia) and humble beginnings of BMX in The Garden State.
NJ the little state that could and did!
Dech