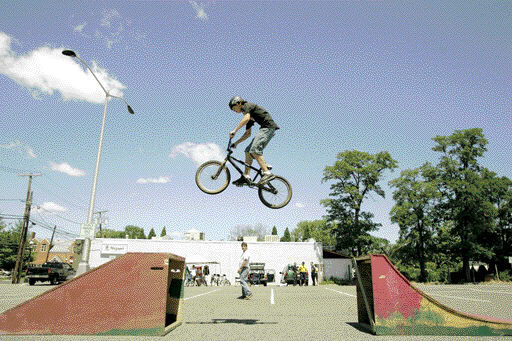 ~Story and pics by Ant-Dog~
Last month I saw a poster for a bike rodeo in Metuchen, first thing I thought, "CJS has got to involved" A few phone calls and we were in. But the funny thing is Officer Velez thought we would want to get paid for it. I told her no we want to help you.
Well the day of the "rodeo" I get there early(Hey this was my first time) I find out that we have a whole parking lot!!!!!!!!! Now this is not about me this is about a team effort. The parents were a real big help. I would not have been able to do this without them. That is the thing about CJS racing we are all family.
They went and got ramps and it was on. Oh, Lou (aka Loudogg) killed it for the flatland crew. People were amazed at the things he could do on a bike. I thank lou for coming out and doing his thing. All the parents have alot of respect for you.
The rodeo will be on a local cable channel in this area, and I will try and catch it and video tape it. There is a pic of DAN FORTE. (the paper called him matt doh!!!!!!!) on the cover of the SENTINEL newspaper. (a local paper) and Lou is on page 13
I want to thank the entire CJS family. Without you none of this could be possible. I want to thank Lou for coming out and KILLING it. And most of all Al and Helen- for having the faith in me to handle the team. At CJS our main goal is to have fun. There will be more pics and video. My computer is having issues right now.