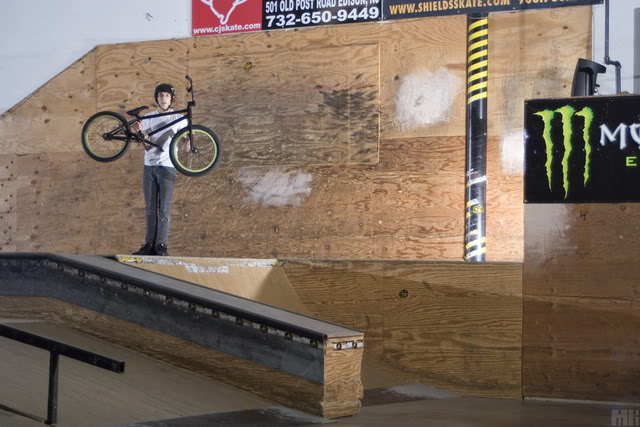 This is the bike check that never happened for Eric Marion, shredder for the Efinger's Bmx Team. There are many reasons for this never happened. First of all, it was the dead of winter when I asked him at a local hardcore show. So I could imagine him not wanting to go outside and take some pretty sweet pictures of his bike. Second, I am a very busy individual, I work a full-time job and I was also going to school full-time. So the only time I spent on the computer was either writing article for the website or writing papers for school, studying, and being in a documentary about my riding. Another reason was that Eric's computer just broke. I'm not sure of the details, but it just died. So, after probably 6 months or longer, I'm not sure, here is his bike check from February 2009. Please also note, that if you go to www.efingersbmxteam.blogspot.com there is a brand new video of Eric and Dean Watson showing off their new rides.
Name: Eric Marion
Age: 17 years of age
Location: Bridgewater, New Jersey
Sponsors: Efingers Sporting Goods, come check the shop out!
Bike Check
Frame: The Take Ivy 3 20.5 with custom BB guard
Fork: Odyssey Race Classic 3/8s
Bars: Demolition P.A (Chris Doyle signature ones)
Stem: KHE Minimalism
Grips: ODI Longnecks
Barends: Federal on the right, random plastic on the left haha
Pegs: Drive pegs
Detangler: N/A.
Headset: FSA Impact
Clamp: S&M Clamp
Seatpost: Animal Bikes
Seat: Kink Slim Pivotal blacked out
Cranks: Profile Racing black 175mm with titanium spindle and bolts.
Sprocket: Madera 23 tooth
Chain: KMC 710SL
Brakes: N/A
Cable: N/A
Brake Lever: N/A
Front Tire: KHE Dirt folding tire
Front Wheel: Green Demolition Zero Rim laced to a Madera front hub with DT Swiss spokes and nipples. Those are the best! Also made my own hub guard out some some aluminum strips laying around my garage.
Rear Tire: Maxxis Grifter usually but, just blew out today so I'm running a folding Ruben until I get another Maxxis.
Rear Wheel: Green Demolition Zero Rim to a Madera V.2 Hub, DT Swiss Spokes and nipples, and a Custom homemade aluminum hub guard.
Pedals: Primo Stricker Plastics, only good Primo part really haha.