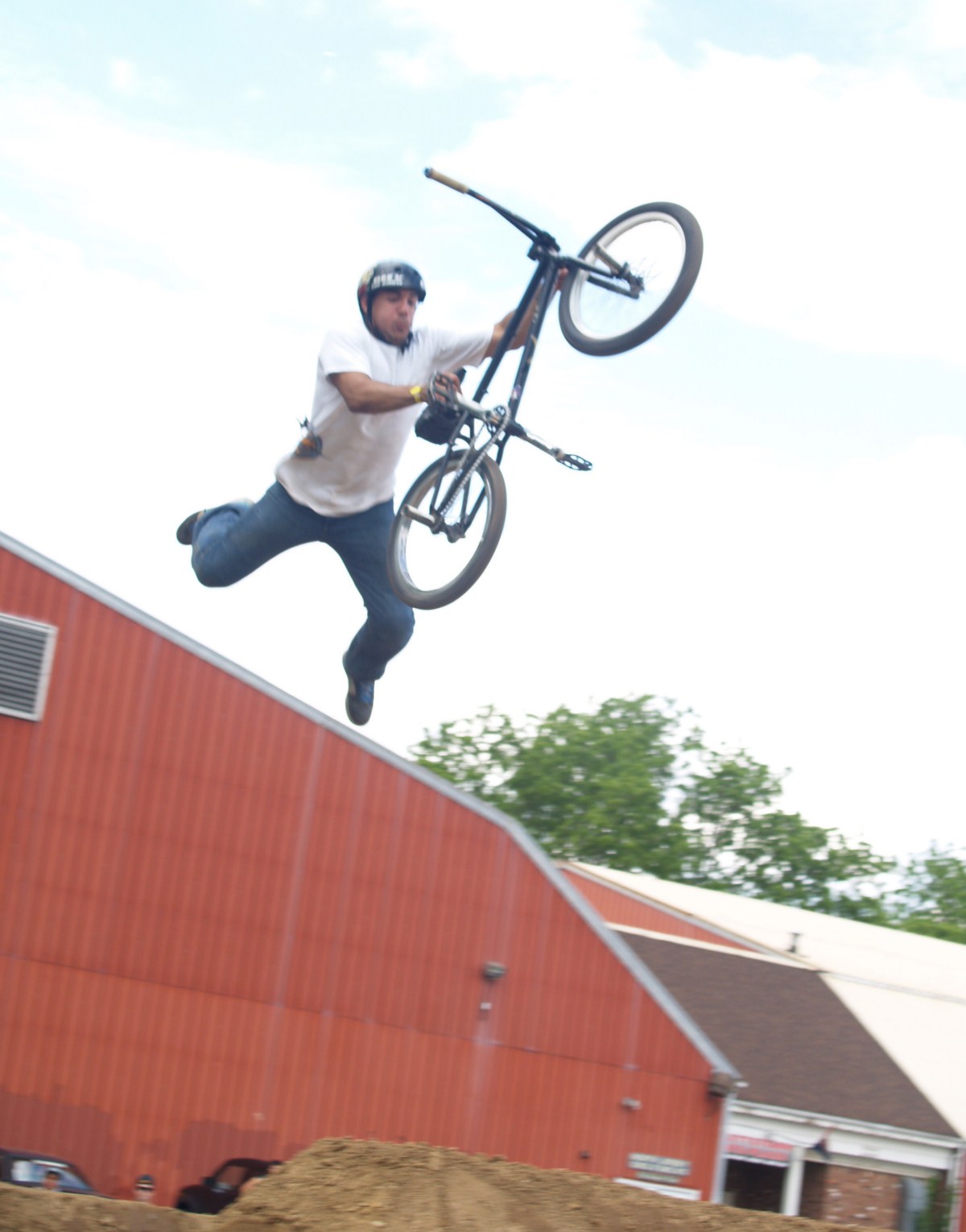 At the top of the list of things that skateboarders cannot use at a skatepark, I would have to believe would be…dirt jumps. So BMXNJ has to give big props to the crew at Hacketts for investing some big bank into dirt and labor to get a set of BIG triples pumping up there at NJ's oldest continuously running indoor ramp park. Out the side bay door there is now a big roll in with a pretty large set of….three doubles. About 6′ to 7′ high and gaps going from 22′ down to about 12′-15′. Quite honestly the size of these things created a little bit of controversy with the guys that were there. As usual the top guys were there and giving it 110%. Hambone, Herbison, Fede, Perez, Deveaux, to name a few were killing it to get over that first 22′ set. Even NJ's main announcer Aaron Graf who cut his teeth on dirt jumping as a youngun struggled to make that set, having a couple of the gnarliest bails of the day, he also sat out the later part of the jam. I gotta give props to all the guys who blazed at those things and hucked themselves over and in the air to prove that they could be jumped.
LMNOP ripper Ed Herbison resorted to yelling as loud as possible on his way up to the 22'ers to get the needed adrenaline to hike it over them bootches. He made it. I also believe Ed was actually the first dude to make it through the whole set. Hambone was SKYING over them but a couple of gnarly jump offs tweaked his heel to the point where he had to chill for the rest of the day. When you have a rider with the skills of Hambone struggling to get over the jumps, you know you have pushed NJ's jumping limits. Sonny was also there and one of the few guys to make it over the set as well. I'd also have to say Sonny had the most intense faces of the day when he was hucking himself over them bad boys. I believe from this point on it shall be dubbed "boostface"….grarrrr!
Since this was the first time at Hacketts for a dirt contest, the atmosphere for the jam was more relaxed than usual. Sign up, nut up, get up… on the roll in and have at it. The "jam" itself had two classes. Best line and best trick. It was kept simple so everyone would not be stressing and no one would be pushing themselves too crazy on these pro level jumps. As the afternoon moved on, it became apparent that a couple guys were standing out over the dirt and they were Mike Fede and Chris Aceto. Aceto was hitting up solid 3 trick lines with whips and layed out 360's. Fede though was looking for the $500 put up by Hacketts and Dirk Lesko, photographer supreme. He took the morning to dial in the doubles to the point where he had a solid pump hitting the last set. After letting loose with a 3 double whip pulled super clean he decided to chill for the rest of the afternoon and let the other dirt heroes play catch up. A few guys were able to bust all the way through the jumps but no one was able to out trick that 3 double whip.
Well…no one until Rob Deveaux showed up late in the day. I thought Rob was looking a little weird that afternoon but I later realized it was just those two dollar signs I saw in his eyeballs. He was there to give Fede a run for that $500 beans. Rob showed us why he is one of the areas top riders by first of all getting through the set in a minimal amount of tries and then busting loose with a backflip on the last set. A quick check with the judges and though it was hot they still had Fede out ahead. Rob went through with another couple of lines and then…boost, bam, he put down the frontie. Solid. Suddenly Mike's 3 whip had some competition. The judges had a confab in the judges corner and even spoke to both riders. The frontie was close and burly but they still felt that Fede's 3 double whip was the better trick on these particular jumps. Rob went back into the ramp park to practice a couple tricks he hadn't done in awhile the flip whip and tuck no handed frontie. After several more runs through the jumps he just couldn't get the right pump to make the trick come together so everyone decided that Fede deserved the win for best trick for the day. In true coolness fashion Hacketts and Dirk decided that since these two guys put on an incredible show out there on these new jumps, they would give Fede the full $500 for best trick and let loose with a cool $250 for Rob and his front flip. The level of craziness there was insane with these two guys.
Best line came down to Aceto and  Jorge Herrera. Jorge had some MONDO seat grab supermans but Chris's runs were  just a little cleaner with whips and 3's that were pretty dialed. Both guys ripped but Airing Aceto took home some cool swag, a couple rims and a Federal freecoaster for best line.
About halfway through the day, Hacketts brought in a stack of pizzas and drinks for all the guys riding and people chilling out there in the sun and then the Animal crew lead a purty big product toss from the top of the center doubles. People were diving left and right for product, stickers, posters and clothing. Overall it was a fun day for spectators and riders alike. Although I would say that the day was probably a little rougher on some then they wished. I gotta just put out there that, personally, as stoked as I am to see Hacketts grab the lead on having organized dirt jumping contests it might be a little cooler next time to possibly build two sets of jumps so that you could get a more well rounded field of competitors. It might also be sorta cool to have the bigger set…be a little bit of a smaller set so you could have guys doing tricks all the way through. Might even make for some really good spectating in the future…(like bleachers kind of spectating) Although the riders themselves will always push themselves as hard as possible on whatever is put in front of them, sometimes for everyone's benefit it is good to make things a little easier for everyone. Would be cool to see a jumping contest as big as the regular skatepark comps.
It was pretty amazing though to be up at Hackettstown and watch everyone get a chance to rip over jumps that you would see Bohan, Napolitan and Foster go over….speaking of the last name Foster…where was NJ's main master of dirt disaster Brian Foster this day? Ah, questions for the ages.
With that preponderance in the  ether we'll see ya at the next Hacketts event. Big thanks to Anthony, Chris and Dirk for all the hospitality.
Peace, love and dirt jumps,
BMXNJ
Oh for more pics from the event keep your eyeballs out for BMXNJ Magazine Issue 2 this summer!