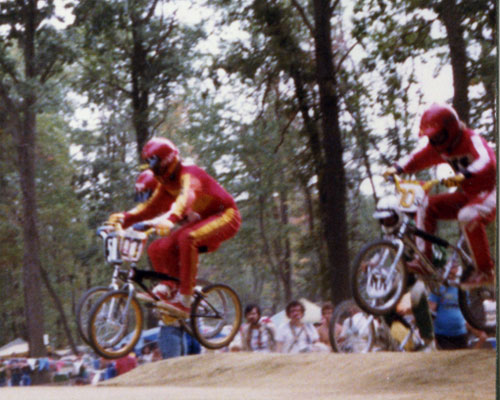 One of the great aspects of racing back in the 80's was the family owned bike shop that would take the local troop of bada** racers to the track to throw down.
Metuchen Bikes was your typical mom and pop bike shop that did that exact thing. This winter they closed their doors after 30 years of doing business. Since our own Adam Guild and freestyle legend Dan Menapace actually worked there for a time in their youth, I had my intrepid motor mouth reporter Ant-Dog run down and get a little write up about them.
Thanks for all the good times mom and pop shops! With that being said I'd like to ask any shop that would like a write up to give us a holler and we'll come out to give you some props.
Without any more nonsense here are the Heller's, owners of Metuchen Bikes.
The mom & pop bike shop is going by the way side. The days of walking into the small family owned bike shop are coming to an end.
Today I interviewed the owners of METUCHEN SCHWINN. After 30 years they are retiring. Now I have not been a patron of this shop for that long.(I just moved into the area) But they give me that good feeling I used to get when I walked into JF's bike shop.
Kathy & Dennis Heller have gotten alot of families involved in the sport of BMX. They traveled across the country to numerous races,always traveling with racer's and their family.I purchased their son's MCS race bike to restore for my nephew. Although I have only known them since october, I want to thank the Heller's for being involved in the sport that i love.
What year did you open?
We took over the shop in 1977
How does it feel to have been a motivator in the JERSEY BMX scene?
All we wanted was to get the kids involved in something different. And to show them another organized sport. Regardless of BMX we always enjoyed making kids happy.
Do you think the"GOLDEN BMX Racing ERA" of the 80's will return?
Never. But if it does, it will not be the same.
Any riders that stand out in your mind?
CHARLIE PETERSEN
DANNY DOELLER
CHRIS GRIMES
JASON SIMMS
How does this generation of kids differ from the previous?
Kids today do not want to ride as much. There is less group activity. Now they want to play video games.
What will you miss the most about the shop
The kids.