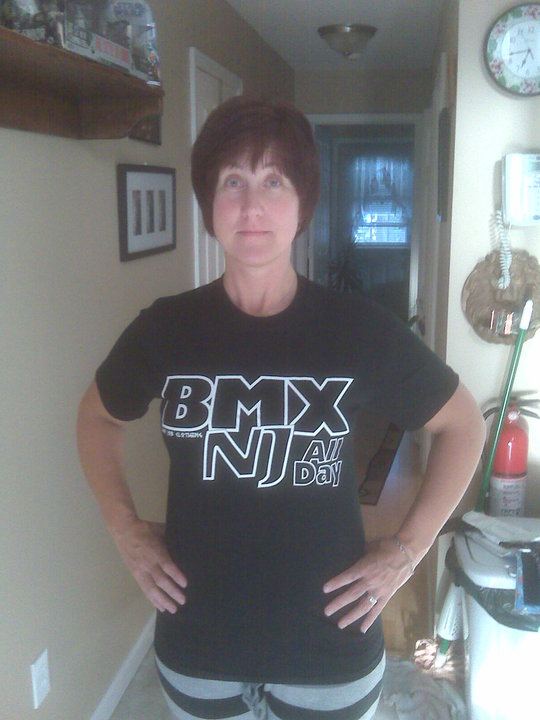 Yea, we sold out…No wait, this isn't a corporate thing because Day Job Clothing is us, LOL. So anyway this is our first full on, screen printed BMXNJ shirt-product. Pictured here modeled by our very own Christine Blake. We have these mugs in stock and ready to go out the door here at BMXNJ HQ for the low, low price of $15.00 bucks plus $5 beans shipping. (The $15 gets you a sticker as well… in case anyone just jawdropped on the price.) The shirts are currently also available at Ed's Bike Shop in Vineland, NJ. If you don't live near Ed's, you can do one of two things…
1. Bug your local shop to contact BMXNJ and get them to stock our stuff! (We'll have more clothes coming in the fall…)
2. Order it direct from us. Sizes are your usual, s,m,l,xl. Two ways to get it, email to brett@bmxnj.com and paypal to brett@middaugh.org or snail mail to BMXNJ, 461 Silverton Rd, Brick, NJ 08723 with a check for the total amount.
3. (Did I say two?, I meant 3) See me at any local event or gathering I may be at. You can't miss me, I'm the 44 year old guy with cameras and a strowler bicycle.
Thanks for supporting BMXNJ and well…as usual we'll be out there covering you.
Ride.
Just ride, no ride on, I mean ride on is so dang melodramatic, it's beginning to sound…well…melodramatic, so  just…