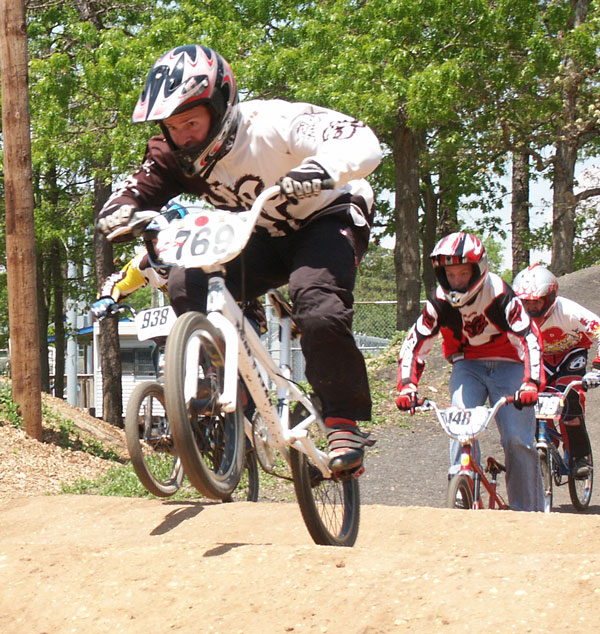 Cancelled. HA! Cancelled you BMX yahoos!…Rainout for the first State Qualifier at EHT this year. The 3 week delay put the punch into the riders appetite to get back to EHT and get back to BMX bizness for the 2006 season.
Hyper lost Farside to the extreme team of full on Felt radness. OCR had the full on team in force, and Chip and Dale was there doing what they always do, picking the best NJ has to play in their sandbox.
The track was killer as usual, but if somebody doesn't volunteer some time to get the PA up to snuffarino down there, the announcers are gonna boycott! Dave "Caveman" Kapigian's melifuous tones of tonsorial nuttitude were barely audible. Everyone rolls out right after their last moto but not one person can roll in with 2 speakers and an amp? Zoinks!
Pedalriffic action, aka racing.
The little dudes are rocking the house again this year, course they are slightly bigger little dudes and dudettes!
National Neva Warren put the rest of 6-7 girls to rest with some feats of 2 wheeled terrorocity. Alana Carolan and Emilie McMurray went 1-2 in 8-9 girls, the names may sound familiar because the dad units also kick out the jams in cruiser and expert! Rock on BMX families!
Mike Rip-em-up Reszkowski tore up 9 expert and trounced a bunch of guys older than himself as well at the same time! All with some killer 9 year old cross up style! Paul Filippone did it up in 10 expert and older brother Luke pulled in a second in his class.
Older expert guys were led by Jeff Tantum doing the airing for 16 expert and Brian busting out Busto kicking it in 17 expert.
One of the biggest classes of the day was the crazy 35 & over novice class a killer crash by Crazy Craig Wilson didn't slow the rest of the class down and Paul Carroll blew doors wire to wire to win the main, Loren Hamblin pulled in for second.
Jeff Tantum took home the bacon in the highly competitive 16 over open, but not without some heat from deh Caveman Dave, considering Dave is twice the age of Jeff well let's just say that smack talking and geritol does wonders. 2nd place for Kapigian for the day, and props for being a 20 year + vet of racing.
The next stop is right back here for round 2 on June 3rd. Go grab some of your buds and pull em out to the track, 1 qualifier, 4 locals and a Warnicke race lead to qualification and more craziness. Word has it that the NJBMX board is looking at doing some cool stuff for the end of the year awards.
The NJ State Series is in full rock and freaking roll mode, and with CJBMX being the championship track this year, it's only gonna get wackier!
See you on the 3rd, BMX loving loons of two wheeled wonders!
Results:
Rookie:
5 & Under Rookie
1st Nicholas McDonald
2nd Phoenix Crager
3rd Anthony Feinstein
6 Rookie
1st Andrew Cafiero
2nd Garrett Vliet
3rd Alex McMurray
7 Rookie
1st Nathan Grabel
2nd Eric Matos
3rd Kyle Mehr
4th Ryan Yuhas
8 Rookie
1st Karsten Tribus
2nd Colin Hamblin
11 Rookie
1st Erik Robbins
2nd Ryan Pappas
12 Rookie
1st Brandon Perez
2nd Thomas Lockard
3rd Frank Marr
13, 14 Rookie
1st Amanda Robbins 13 Rookie
1st Lee Matos 14 Rookie
15 Rookie
1st Kyle Lockard
2nd Braeden Mark
3rd Tyler Kraemer
4th Frank Paglianite
16 Rookie
1st Timothy McCarthy
2nd Sean Hogan
17 & Over Rookie
1st Kyle Robinson
2nd Karl Greis
Girls:
6-7 Girls
1st Neva Warren 7
2nd Cheyenne Godino 6
3rd Gillian Gaskill 7
8-9 Girls
1st Alana Carolan 9
2nd Emilie McMurray 9
3rd Layla Crager 9
10-11, 12-13 Girls
1st Taylor Farside 10
1st Linda Oliverio 12
14-15, 16 & Over Girls
1st Shannon Walsh 14
1st Toni Benedetto 16
2nd Sarah Welsh 17
Cruiser:
9 & Under Cruiser
1st Jeremy Smith 8
2nd Michael Gelsomine 8
3rd Joe Caputo 7
10-11, 12-13 Cruiser
1st Paul Filippone 10
1st Victor Behm 12
2nd Michael Schneider 12
16-17, 18-21 Cruiser
1st Luke Fillipone 14
1st Jeffrey Heath 16
1st Mike Smith 18
22-29, 30-34 Cruiser
1st William Groen 28
1st Chris Gulich 32
35-39 Cruiser
1st Chris Wiley 37
2nd Craig Wilson 38
3rd Nial Bridgeman 37
4th Gene Gaskill 38
5th Frank Klimecki 37
40-44 Cruiser
1st Rich Farside 40
2nd Nils Tribus 41
45-49 Cruiser
1st James Rempkowski 47
2nd Mark Pletscher 48
Expert-Pro-Opens
6,7,8 Novice
1st Kyle Hamblin 6
1st Joe Caputo 7
1st Chris Koval 8
2nd Michael Gelsomine 8
8, 9 Expert, Novice
1st Jeremy Smith 8 Expert
2nd Matthew Cranmer 8 Expert
1st Austin Padilla 9 Novice
2nd Jake Pletscher 9 Novice
3rd Jesse Heft 9 Novice
1st Colin Grabel 10 Rookie
9, 10 Expert, Novice
1st Michael Reszkowski 9 Expert
2nd Tommy Gillis 9 Expert
1st Zarek Justis 10 Novice
2nd Justin Phillips 10 Novice
3rd Brandon Brown 10 Novice
4th RJ Godino 10 Novice
5th Chrisopher Whiley
10, 11, 12, Expert, Novice
1st Paul Filippone 10 Expert
1st Anthony Carsillo 11 Novice
1st Dakota Caulfield 12 Novice
2nd Brian Farro 12 Novice
3rd Nicholas Jones 12 Novice
4th Kyle Glenn 12 Novice
5th Trevor Justis 12 Novice
6th Ryan Jagusch 12 Novice
12, 13 Expert, Novice
1st Michael Schneider 12 Expert
2nd Victor Behm 12 Expert
1st James Cranmer 13 Novice
13, 14 Expert, Novice
1st Jonathan Hoffer 13 Expert
1st Tyler Pappas 14 Novice
2nd Christopher Opitz 14 Novice
3rd Austin Gretz 14 Novice
4th Gary Transue 14 Novice
5th Thomas Turner 14 Novice
6th Justin Harrington 14 Novice
14, 16 Expert, Novice
1st Shawn Lloyd 14 Expert
2nd Luke Filippone 14 Expert
1st Kenny Meleta 16 Novice
2nd Jeffrey Heath 16 Novice
16, 17 Expert, Novice
1st Jeff Tantum 16 Expert
2nd Luke Yerkes 16 Expert
1st Stephen Moritz 17 Novice
2nd Tom Martin 17 Novice
3rd Tom McFillin 17 Novice
4th Taylor Wigglesworth 17 Novice
17, 18-21 Expert, Novice
1st Brian Busto 17 Expert
1st Michael Kouterick 18 Novice
2nd Carl Risley 18 Novice
3rd Kevin Morrison
18-21, 30-34, Expert, Novice
1st Mike Smith 18 Expert
2nd Timmy Sullivan 18 Expert
1st Anthony Diciano 34 Novice
35 & Over Novice
1st Paul Carroll
2nd Loren Hamblin
3rd Frank Klimecki
4th John Cafiero
5th Craig Wilson
6th Fred Hague
7th James Rempkowski
35 & Over Expert
1st Rich Farside
2nd Thomas McMurray
3rd Rob Bennett
16 & Over Open
1st Jeff Tantum
2nd David Kapigian
3rd Timmy Sullivan
4th Carl Risley