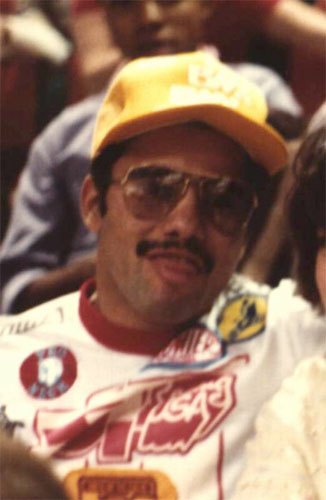 One of the BMX pioneers we always talk about on here is the originator of BMX promotion in NJ, Charlie Litsky. Unfortunately Charlie passed away at the young age of 33 leaving a large void where his smile and constant enthusiasm of not only BMX but the cycling lifestyle in general was. He was the original "NJ BMX Uniter" In the last few months Charlie's Dad Frank has contacted me and informed that in order to keep the memory and legacy of Charlie alive he has started the Charlie Litsky Memorial Scholarship Fund at The University of Connecticut. I have reprinted Frank's letter below as well as the contact information on how to contribute to the scholarship fund. Frank is also still looking for all of Charlie's old friends and would love to hear from them. If you would like to drop Frank a line, send an email over to frank.litsky@gmail.com. Oh and um…if you are David (Spanky) Campbell, Mark Lopez, Mike Lynch, Harry Myers, or Dave Pelletier shoot him an email too, he's looking for you. For those of you who are wondering who this Charlie guy was, check these links ~Letters from Charlie ~ and ~Memories of Charlie ~ on the old BMXNJ.com site, brokenspokes.net.
~Frank's letter announcing the scholarship~
To Charlie Litsky's many friends,
On May 10th, Charlie would have turned 50. He would have been the youngest 50 imaginable, still bike racing's walking cartel. In his day, he became the nation's first athletes' agent in the sport, excited crowds as an uninhibited public address announcer for races and then provided expert analysys on those races for ESPN and other outlets.
That career was cut short when Charlie died at age 33. To this day, I still hear from his friends, many of whom I have never met, and still read memorials to him in cycling magazines.
His life was too meaningful to let him be forgotten. But how do you keep the wonderful memories alive for the ages?
The answer was sitting right there. Charlie had majored in broadcast journalism at the University of Southern California and put his education to fine use. No matter what the uncertainty of the newspaper business these days, journalism — print, web or broadcast — remains vital, and young people need the opportunity to learn how to pursue and present news in all its forms and why that is so necessary.
When I attended the University of Connecticut ages ago, there was only a two-credit course in journalism. Now there is a Department of Journalism with 260 students and seven full time faculty members.
I know how good UConn's journalism program is because in recent months I have sat in on classes, read the work of the students and talked with them and their professors. The students impressed me with their understanding of the importance of journalism, especially in these days when we are uncertain where and how news will be disseminated in the future. They seemed eager to become part of the journalism world.
To honor Charlie's memory, I initially planned to provide in my will for a scholarship fund at UConn's journalism department. UConn, like most other state universities, does not have the endowments of the big private universities, and scholarship funds there are limited.
Then it struck me that I had retired after 50 years at The New York Times, I was getting older and it would be more satisfying for me to establish that scholarship fund now and enjoy the fruits. So with my initial donation, the Charles Litsky Memorial Scholarship at Uconn is in place. I hope you will contribute to this fund and help perpetuate Charlie's legacy. Please use the enclosed gift form/envelope.
Thank you,
Frank Litsky
frank.litsky@gmail.com
(Since I can't enclose a virtual envelope on the site here. This is the link to the spot where you can make a donation www.foundation.uconn.edu . Designate the donation to go to the Charlie Litsky Memorial Scholarship #31176)