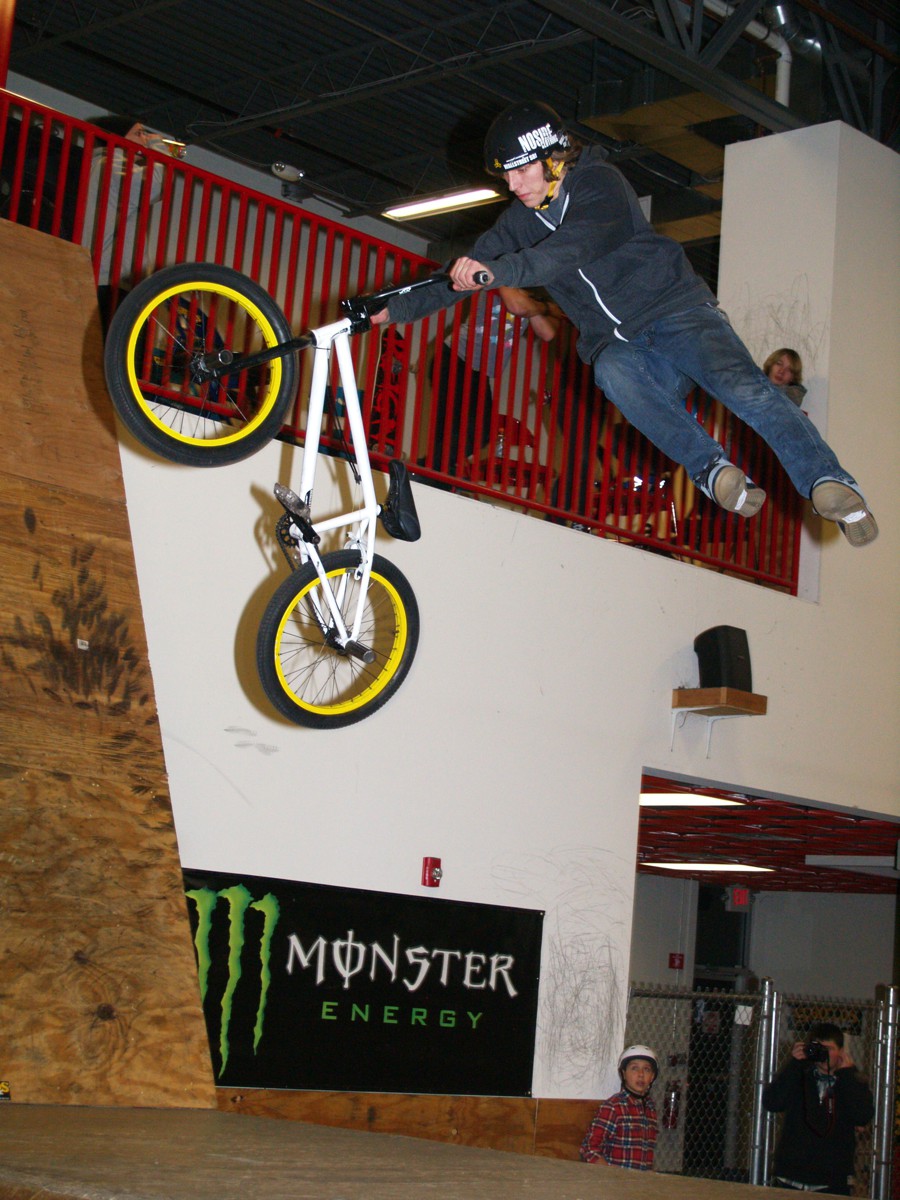 For the past five years Shields has opened the BMX year up at their park by hosting a comp right at the beginning of the year with a pretty large amount of riders and even bigger amount of swag for the top 3 guys in each class. '11 was no exception. The weather was frigid with temps in the 20's outside all day but inside the park the tricks being put down were keeping the temps tropical feeling. Aaron Graf was once again charged with the unenviable job of keeping the comp rolling and crowd in check during the day.The years of seasoning are beginning to show and Aaron kept a cool head all day even with the balcony bikers consistently riding without headgear. Just so everyone knows, Aaron is not being a d**k when he's asking everyone to put the noggin bucket on. Insurance is hard to come by and if someone gets wrecked without the proper brain attire, it wouldn't take much to take down another park in NJ. Guys and gals help us all out and keep those things on when riding indoors…and any parental units up there help Aaron out by keeping track of the younguns to make sure the noggin protectors are securely fastened. (Wow that turned into a lesson of how many names for helmet I could come up with.) Aaron was not completely alone out there though, he had his judges and his gal, Savannah McVay, helping him get the scores tallied up. With everyone pulling together, the comp ran pretty tight. Big ups to the comp sponsors, Hyper, Grove Street, Animal, CJS, Action Wheels, Big Diesel, Kink, Skull Candy, Alienation,Yums Shoes, Subrosa, Props, Primo, DK, System Cycle, Shadow Conspiracy, Free To Ride and Profile Racing, they all donated plenty of stuff through Shields sponsor magnet, Dan Gardner to make the winners very happy gents.
The spirit of 76 was at Shields this Sunday as 76 riders were competing between the three classes. That's a pretty big turnout for a comp these days and many props should be given to everyone who braved the arctic to come out and ride for the day, win or lose. I got there just a little after the noon hour and met up with future BMXNJ interviewee Rodney from Grove Street. Rod is looking to get some big summer events going on, possible at Shields so stay tuned from the land of Jersey City. Paul Shields spun through and said hi wishing for a rainy summer to keep the riders indoors! LOL. Good guy taking the big risk in running that park all these years. Clay Goldsmid, old school BMX racing pro and owner of Hyper Bicycles was in the house having a good time, talking BMX and watching young Clay throw down racer style during the Intermediate part of the comp. Hyper is becoming a pretty big presence on the scene with not only sponsoring Mike Spinner but also putting out for local guys to the area like Mike Fede and Steve Weiler. The local shop scene is also going big guns for BMX with the aforementioned Grove Street sponsoring several riders including stalwart Chris Koval. Ed's Bike Shop also had a big contingent up in the land of HC with Frankie, Courtney Freeman, Matt Blew and a host of other dudes in the house. Even a big name in the old school race scene was out in force at Shields, Chip n Dale BMX was making the rounds and even had a rider in the top 3 in one of the classes. Efingers had The Machine there, Dean Watson repping for 'em. Team Wallstreet SB was hurting everyone's senses with their shredders, Mike Aldomovar, Little "Now Big" Nick Seabasty, Gary Nilsson putting down soooo many good tricks. The day was a total smorgasbord of BMX badness for everyone there and there was a lot of peeps there, the stands were packed with riders and parents!
Since we now have BMXNJ magazine to look forward to, I'm not gonna due a huge write up here on the site but reserve that for the next issue of the magazine in the spring (that will also include the best shots from the comp). Just gonna do a quick rundown of the top guys in each class and a glance over the Advanced class…which by now could easily be a combination of a Dew Tour Pro class and a FBM street comp. Those guys had it all covered, but a little more on them in a paragraph or two.
Shields always breaks their classes into 3 joints and they did not break with tradition this time around. Beginner, Intermediate and Advanced were on it again this time.
Beginner was a 20 deep class this time around and the skills ranged from "just learning" to "time to move up". Chip n Dales's Rashad Wilson locked down 3rd place, Ed's Bike Shop rider, Zachary Stewart clamped down the deuce with Maceik Bogdzio from Efinger's Sporting Goods riding home with the big box of 1st place swagadocio.
The Intermediate class was huge this time around with 34 guys in it.  Anthony Spagnola came in from the other side of the river to score 3rd place for Brookyn, NYC. Homegrown fave, Tyler Bailey scarfed 2nd with Efinger's
Sporting Goods backing him up and all the way from South Jersey, Gio Reyes took home some prizage back to Ed's Bike Shop.
The contest was so good and the riding so nuts this time around that Shield's was STILL packed when the Advanced (read, Expert, Semi-Pro, Pro) class hit the ramps. Big names in this class like Dean Watson, Mikey
Almodovar, Mike Fede, Gary Nilsson, Kaminski, Ricany, Nick Seabasty, Speed Meade, Happy Herbison, Keith Schmidt and way too many others to put all down in one sitting. These guys were all given seperate runs and then a 6 minute jam to settle the score on who was the best for that day.
I'll go into a bit of detail in the next issue of BMXNJ magazine but for now the placings turned out like thus, Geoff Meade took 4th with some original stuff, Brad Kaminski pulled in 3rd going BIG, Mike Fede got the number two with height, tech and variations then proceeded to give away all his swag that he won to other riders in the comp. Props to Fede for giving back to his riding buds. First place though was Keith Schmidt. Keith was just going bigger than everyone else that day and the judges just were not going to deny him top bananas this session at Shield's.
The comp was over and done by 7 and everyone who signed up for the day was allowed to chill and ride till closing. Most of the riders were heading out, warming up their cars and hightailing back to home by that time though. We did a little discussing of future plans for BMX stuff in the area with Clay and Dirk, while Fede showed his approval in the background and then we also packed up and headed out into the crisp HC winter air.
Judging by this first BMX get together of 2011 in NJ, this looks to be another insane year for the band of BMX brothers in the state. We lost a skatepark in 2010 but there are big plans out there for the coming months. Stay tuned for more news from BMXNJ, and look for more from this comp and other winter shenanigans in the next issue of BMXNJ Magazine (#4) this spring.
Now go shovel a small spot out and do some bunnyhops or something in between snow and ice storms!