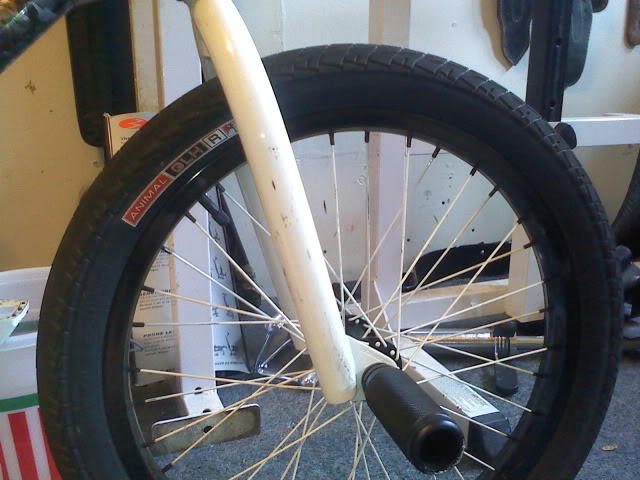 Part owner of Grove Street Bicycles, Rodney Morweiser, has been riding and fixing bikes longer than I've been alive. So, I figured I would shed some light on what he is riding these days. Check it out after the jump. Beware: the paint job might bring back acid flashbacks.
Also, the pictures are of terrible quality, I don't have a camera anymore so I used my phone.
Name: Rodney Morweiser
Age: 38
Location: Jersey City/Easton
Sponsors: Grove Street Bicycles
Bike Check
Frame: FBM Equilibruim 19.2 tt Custom paint. Custom brake mounts.
Fork: Odyssey Race
Bars: Quamen Karma
Stem: Animal Jump Off Flipped upside down.
Grips: Animal Edwin Black
Barends: Plastic Animal
Pegs: Colony Jam Circle
Detangler: Odyssey Sealed
Headset: FSA
Clamp: Can't
Seatpost: Custom wedge…Dom
Seat: Animal Cush
Cranks:  Eclat…….soon to change
Sprocket: Animal Sprocky Balboa 30t
Chain: KMC 710sl
Brakes: Fly
Cable: SST
Brake Lever: Tech 77
Front Tire: Animal GLH
Front Wheel: Primo Balance 7000 black rim, G Sport hub, Primo spokes
Rear Tire: Odyssey Folding Chase
Rear Wheel: Primo Balance black rim, KHE Reverse, Primo spokes
Pedals: Animal Hamilton Sealed
Modifications/Extras/Others?
Custom mounted brakes, cut seat tube(wedge post only) 14mm drop outs.
Which parts do you go through the most?
AIR…my tires always lose it??????
Describe your bike setup and how you like your bike to feel.
90's retro….I like it to feel like a 19 year old porn star.
Do you remember your first "real" BMX bike?
Hutch Windstyler, Cy's hooked it up.
Do you have any idea how much your bike weighs?
Lighter than Loudoggs!!!!!!!!!!
I know you work on your bike and let no one else touch it, why is that? 
Cause they all suck.
Why did you paint your bike that color?
What color?…….all of them!!!
How come you only ride a back brake?
Don't care to do any front wheel drinks that require brakes. (Editors note, I have no idea if he meant front wheel tricks or actually meants fron wheel drinks.)
Why is your bike 100% dialed, all the time? 
Skillage
What do you like about your bike and what don't you like about it?
I like that its 20 inches.

What's your favorite part about your bike?
The warmth of the saddle on my tender ass.
When will we see the prototype Grove Street Bicycles seat post come to life?
The second Tuesday of next week.
What's your least favorite part about your bike?
Not really a part on my bike but people asking me about the least liked part on my bike.

If you could change anything about your bike what would it be?
I would want it to be a downhill, 29er, tandem, recumbent, fixie, unicycle, gas powered, butt plug I could ride on ice…….make it happen.
Any shout-outs/Thanks?
GROVE STREET !!!!!!!!! Dom at Animal for hooking his skills, Loudogg for accepting the torch that has been passed down to him to keep flat in NJ alive. And anyone that has ever rode BMX and still does……….. HOOK IT.