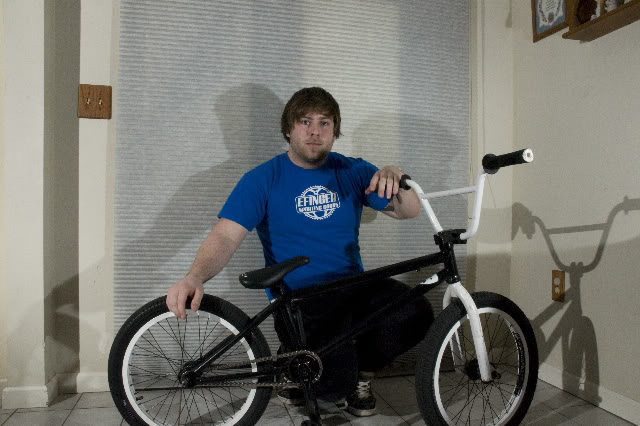 Rick is a really talented photogrpaher. He is the photographer featured in the documentary I am in. Hit him up for some photos, dude produces. Check out what he likes to ride with. Clean and simple. Which I appreciate.
Name: Rick Danielsen
Age: 20
Location: Hillsborough, NJ
Sponsors: Efinger Sporting Goods
Bike Check
Frame: Subrosa Pandora 20.75
Fork: Primo Kamikaze (14mm axles!)
Bars: Fit Northwest
Stem: Fit DLD
Grips: Odyssey Griswald (best grips I've found other than longnecks)
Barends: Animal Plastic
Pegs: N/A
Detangler: N/A
Headset: FSA Hiddenset
Clamp: Federal
Seatpost: Kink
Seat: Primo Nathan Williams
Cranks: Primo Hollowbites with Ti spindle
Sprocket: Animal Sprocky Balboa 25t
Chain: KHE hollow half link
Brakes: N/A (big bars no brakes, I love trends)
Cable: N/A
Brake Lever: N/A
Front Tire: Odyssey K-lyte Dirt Path 2.2
Front Wheel: Primo Pro Front Hub (14mm!!!!) laced to an Alienation Delinquent
Rear Tire: Odyssey K-lyte Path 2.1
Rear Wheel: Primo Mix Cassette 8t laced to an Alienation Delinquent
Pedals: Odyssey Twisted PC
Modifications/Other/Extras:
Cut seat post to an inch long, I slam my seat. Cut steerer tube to slam my stem. Nothing major, low and light. Took my brakes off a year ago otherwise I left everything stock. I'm a trend kid, no brakes, big bars, haha.
Which parts do you go through the most?
Grips and pedals for sure. Everything lasts me awhile, I never break parts (bike shop kicking in, broken parts are 90% due to improper installation. I know I'm breaking the bmx kid stereotype). But I'm always going through grip, and I destroy pedals. I don't run pegs so I stall and grind on my pedals. Probably two sets of pedals a month. Hahaha do you know any kids who ride pegless and right foot forward I got a bunch of new left pedals to trade.

Describe your bike setup and how you like your bike to feel.
Low and light for sure. Its at 23lbs now and I don't think I can go lower without constantly breaking things.

Do you remember your first "real" BMX bike?
Hahaha yes a Haro Revo. Thing was awesome I rode that until nothing spun. Four pegs front and rear brakes, 38lbs thing was amazing, I have an appreciation for front brakes from that bike.

Do you have any idea how much your bike weighs?
23lbs 2oz (I love working at a bike shop).

Do you like to work on your bike or have some one else work on it for you?
HAHAHA never. I do all my own work except build wheels. I leave that to Dustin Farnum. Dude can build an amazing set of wheels I swear by his work. He builds them both in like a half hour, I ride them a day and tension them once and don't ever touch them after, amazing. But like I said above I work at a shop so its easier to do it myself. Plus I'm super picky about my bike and how it feels. No noises or rubbing or anything. I hate when I crash and my bike makes noises too haha, its completely quiet. It needs be dialed. I yell at everyone on the team for it. I fix all their bikes too, I cant understand why some kids ride their bikes the way they do (Joey Alicino and Justin Benthien!! Dean also but his is nice cause I hate when his bike is gross, so me and Chris Scappino constantly tinker with it).

Thats a pretty nice color scheme you got going on. Is it something you've always wanted to do, or you just like the simplicity of it?
I have always done some sort of theme. This one is solely on simplicity and me being a photographer. Its black and white, and there is a lot said in black and white. But all my bikes have had some sort of scheme. I could never do a skittle bike (every color imaginable). It seems there is no middle ground in BMX, either they are gorgeous thought out and specific colors and placement or just a puke of parts and colors.

How come you don't ride any pegs?
I HATE pegs. They aren't needed, they are heavy and they make your bike feel horrible. I haven't run them in two years. I took them off to change things up, had them off for like three days, ha ha ha honestly I put them back on because my bike fit weird in the back of my truck without them, I went riding with them on and hated how my bike felt and handled, took them back off, and been riding without them ever since. I need to thank Dean Watson for that one.

If you had to pick, what's your favorite part on your bike?
Now I would say my front end ( I know its not one part). The Griswalds are amazing and my stem is awesome. I'm super picky on backsweep and these bars are the most comfy I've found (11 degrees backsweep). Also my cranks but solely on the fact that Eric Marion hates them with a passion and they're are only an ounce heavier than his profile set up with all ti hardware. HAHAHA long live primo!!!!!!
Any shout-outs/Thanks?
Shout outs definitely to my girlfriend Sarah she hates me and still stays with me. Dean Watson and Eric Marion for constantly pushing me not to suck and keep things changing and progressing (see the peg story). the Efinger BMX team for the fact its just a blast with everyone. Mikey Kuhn for keeping me motivated to shoot. Marc C and Efinger Sporting Goods for my job and the constant support of the team and the BMX kids in the area, and not being a stuck up shop and allowing us hood rats to hang out. And finally Nikon for making the best cameras ever hahaha!