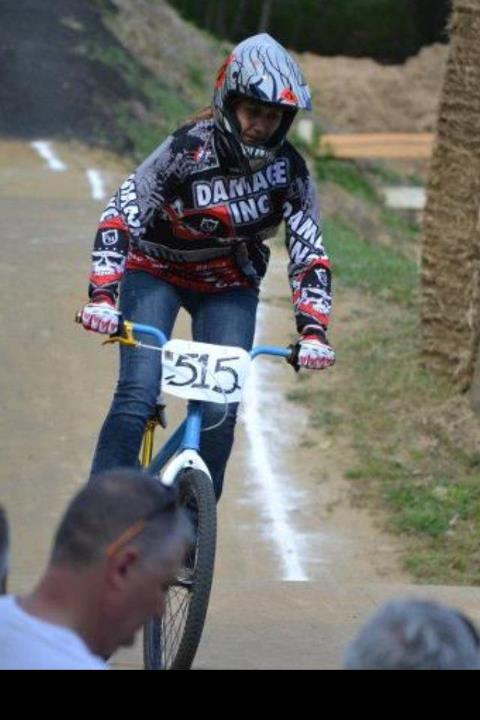 Tommydone is back and we got him. This time at CJBMX for the first race of the 2012 USABMX NJ State Series…Here'sssssss Tommy.
Dust off the bikes, gather up the gear and in my case pack the Ben Gay and ibuprofen, I don't know how many races this old body has left but I was not going to miss this past weekend at CJBMX. Saturday was the second NJ state qualifier and Sunday would be the Redline cup race. This was also the first trip for our new RV, Rveena (that's what the kids named her) would be taking the Damage Inc. clan on her maiden voyage. I had work on Friday but thankfully this family has my girlfriend, Denise to be in charge of packing the food, clothes etc. if it were left up to me, we would have nothing but Doritos and toilet paper.
This would also be the weekend of Denise's first race but more on that later, we checked in at the campground but we got there a little too late to get over to the track for the Friday night race for life race. After we got Rveena all set up I had to take a ride over to the track to pick up the few remaining parts for Denise's bike, a custom powder blue, white and gold S&M .38 special cruiser. So I jumped into the jeep and went to see Andy from Chip-n-Dales who was set up at the track. I grabbed the stem lock and headset spacer that I needed and stayed for a few minutes to check out the scene and watch some of the action.
I have to tell you that CJBMX is looking mighty spiffy, Craig West, John Regan and crew have that place looking as good as ever. It looks like every little detail had been thought of, the registration trailer had been painted as well as the fence lining the track. Weeds were nowhere to be found . There is a different vibe that has been going around BMX this year, there is a feeling of excitement with a blend of cautious optimism that BMX is on the upswing . By the amount of kids I saw there I too think that BMX may be making a comeback.
I figured since I was there, I would head over to registration to see the smiling faces of Alli Ryan and Laura Feinstein, and lets not forget the Mother of 2024 Olympic hopeful PJ "the Bullet" O'Brien. I have to tell you, that these ladies work hard in that trailer and deserve our respect and recognition for it. With switching over from the old NBL format to the new USABMX format they have done their best to make this an easy transition for all of us here in NJ. Well I got the family registered as well as getting Denise her license then had to borrow some tools to get the stem lock and headset spacer on her bike so it was back to see Andy. Got the bike dialed in and took it for a few laps around the parking lot to make sure that all was good, then it was back to the campground for the night, I really enjoyed only having a 10 minute ride instead of the usual 1 hour and 10 minute ride. We got settled in for the night to get ready for the next 2 days of heavy BMX action.
AEEH! , AEEH!, AEEH! the alarm went off and I jumped up to get the kids ready. Hollywood (Elizabeth) was sleeping of the fold down bed and the boys, Liam and Aiden were nice and cozy in the bunk above the cab. I thought it would be good to wake them up by scaring the bejeezus out of them so that's what I did (fun for me but not so much for them). Everyone got dressed, Liam was a little nervous as he just turned 11 and would be in with the 11 intermediates for the first time but we got ready and headed to the track.
Craig West, Kim Feinstein, John Regan and the rest of the CJBMX crew were all running like a well-oiled machine. We unpacked the bikes and got a few laps in before motos were posted. There was a sea of tents lining the track , Felt, Hyper Northeast , Point Pleasant , Shore Cycle , Stylin , Zero Tollerance , ECC and of course DAMAGE INC. were all set up for the days action. I went and checked the moto board and noticed that Denise had been put in with the 36-40 cruiser men and Liam was in with the 10 year olds still. A quick trip to registration would get that fixed. It was nice to see Gabe Hatem back at CJBMX and the thrill of the day at least for me was going to see Victor Behms Daughter, Autumn. To see his face light up when he talked about her was also a treat. She was in the stroller beginning to pedal already.
Saturdays action would start off by Tina Carr singing the national anthem, I see an American Idol tryout in her future as she was amazing. Kim Feinstein did a GREAT job in Pre-staging making sure the lanes weren't clogged up with riders.
The gates started dropping and 54 motos of riders would scratch and claw their way to make the main even in search of that coveted NJ state championship. Rob Bandoy jr. along with his broken wrist would take the win in 11 inter , he has to be turning expert soon because he looks like he is gonna lap the moto in front of him soon. PJ "The Bullet" O'Brien would take 2nd racing up an age with the 8 year olds. Aiden Timmons would take the win in 8 x and 8 cruiser. Trevor West was on fire all weekend taking a second both days to PJ Filipone, must be something about being named PJ that just makes you fast , think its too late for me to change my name? Newly engaged Heather Havens took the win in 36-40 women. Denise Zeallor in her first ever BMX race would make her main and take 3rd place in 36-40 womans cruiser. Pete "The Beast" Sylvestro went down hard while he was in the lead of the 28-34 cruiser class. Raheem Nasheed didn't get the memo that the first turn at CJBMX was a right turn and on Saturday he made a left while Jay Bertles would get the win, he got himself a GPS and would take the win in the same 41-45 Cyldesdale class. Luckily I am slow and would avoid all the carnage and pulled a 4th on Saturday. Elizabeth "Hollywood" Donahue would take home a hard fought 2nd in 7 girls.
Sunday's action would continue but with Pro/Am money open and here are the results.
1st ­ Phil Delizia – $400
2nd ­ Victor Behm – $250
3rd ­ Danny Smith – $200
4th ­ Evan Eisenhard – $150
Victor Behm was on Phil's back wheel all weekend, maybe a move up to pro is in his future ?
There was a bike shop team challenge on Saturday won by Factory Felt sort of like having the Phillies play the local YMCA team and being proud of the win ?????????????
54 motos on Saturday and 64 on Sunday. $5500 was raised during Fridays race for life race, all of it going to find a cure for leukemia .
I would especially like to give a shout out to all the Moms that spent the weekend with us on their special day, without their unselfish attitude we couldn't have had this race be the success that it was. Next state race will be at HCBMX, until then , RIDERS READY , WATCH THE LIGHTS!!!!!