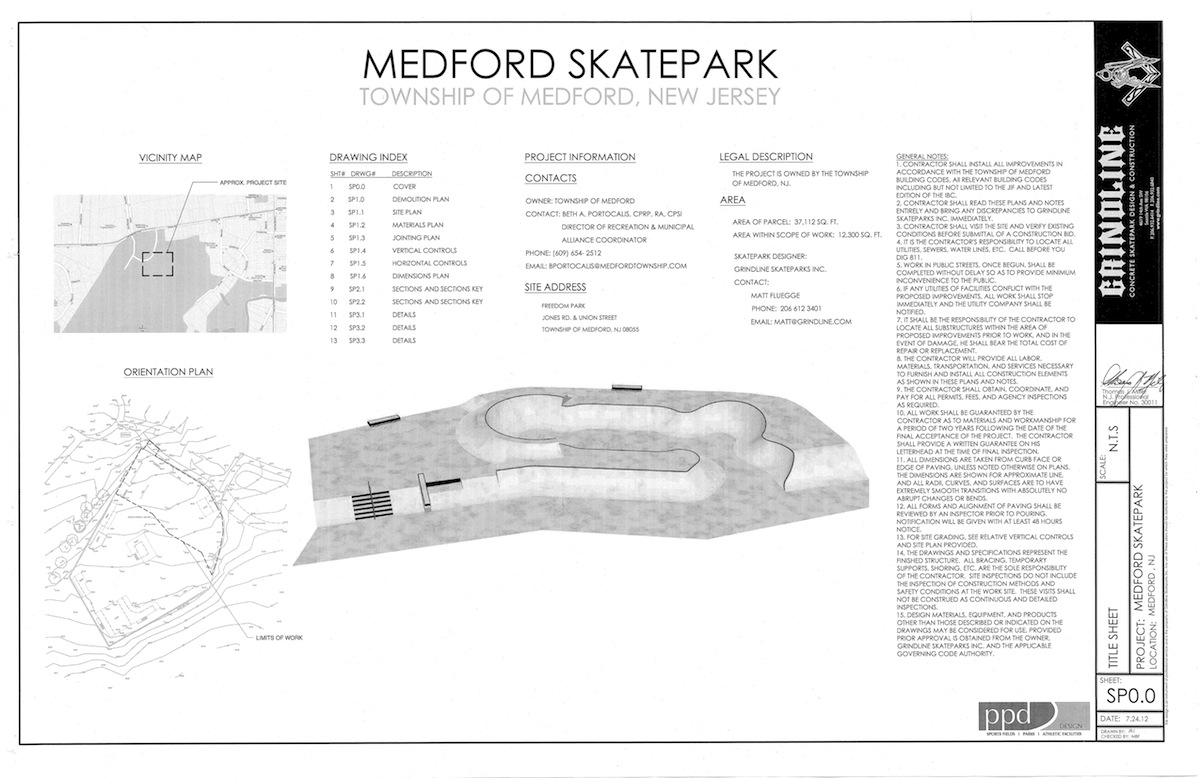 Over a year and a half in the works Medford's new skatepark will become a reality in the next couple weeks as construction begins. Big props to Beth Portocalis who was the driving force behind getting the park updated and making sure that it was a dual use park. Yea folks, this new concrete park will allow bikes and boards on alternating days. More info after the jump. 
From Beth:
I wanted to share the news that construction is set to begin in the next week or two! GrindLine Skateparks of Seattle has been awarded the contract for the construction of this new concrete park. I have attached a conceptual drawing for your perusal, which a lot of you offered input on.
Also, this facility will be open to both skaters and bicyclists, BUT NOT AT THE SAME TIME! I have also attached our new operational rules and regulations. I can't say this enough—as one of the first municipal dual-use parks, we need everyone's cooperation with these rules. If we find that they are not being adhered to, Medford may be faced with the difficult decision to close it. We also need your cooperation with some of the basics—wear your safety equipment, no cursing, no smoking, no litter, no graffiti. Medford Township officials have committed to rebuild the skatepark utilizing grant money from Burlington County, but its Medford that has the responsibility to maintain it. We're not going to charge a fee for you to use it, but would expect that you would keep it nice for everyone's enjoyment in return for the privilege to skate or bike there.
During construction, please stay out of the area and off the ramps. Medford Police will enforce all trespassing and criminal mischief ordinances if anyone is caught inside the construction area. Not only is this for your own safety, but also for the integrity of the ramps. If they are skated before they are set, they have to be re-done. This costs money, which Medford does not have. If you are in the area of Freedom Park during construction and see people in the skatepark, please chase them out or call the Police.
Check back on www.medfordtownship.com or www.medfordrec.com for construction updates and the grand opening date.
On behalf of Medford Township officials, I thank you in advance for your cooperation. With it, I pledge to bring the Medford skatepark in Freedom Park back to the prominence we enjoyed with the first park!
Skatepark Rules (yes, there's rules, follow them so we can keep this gorilla biscuit running!)