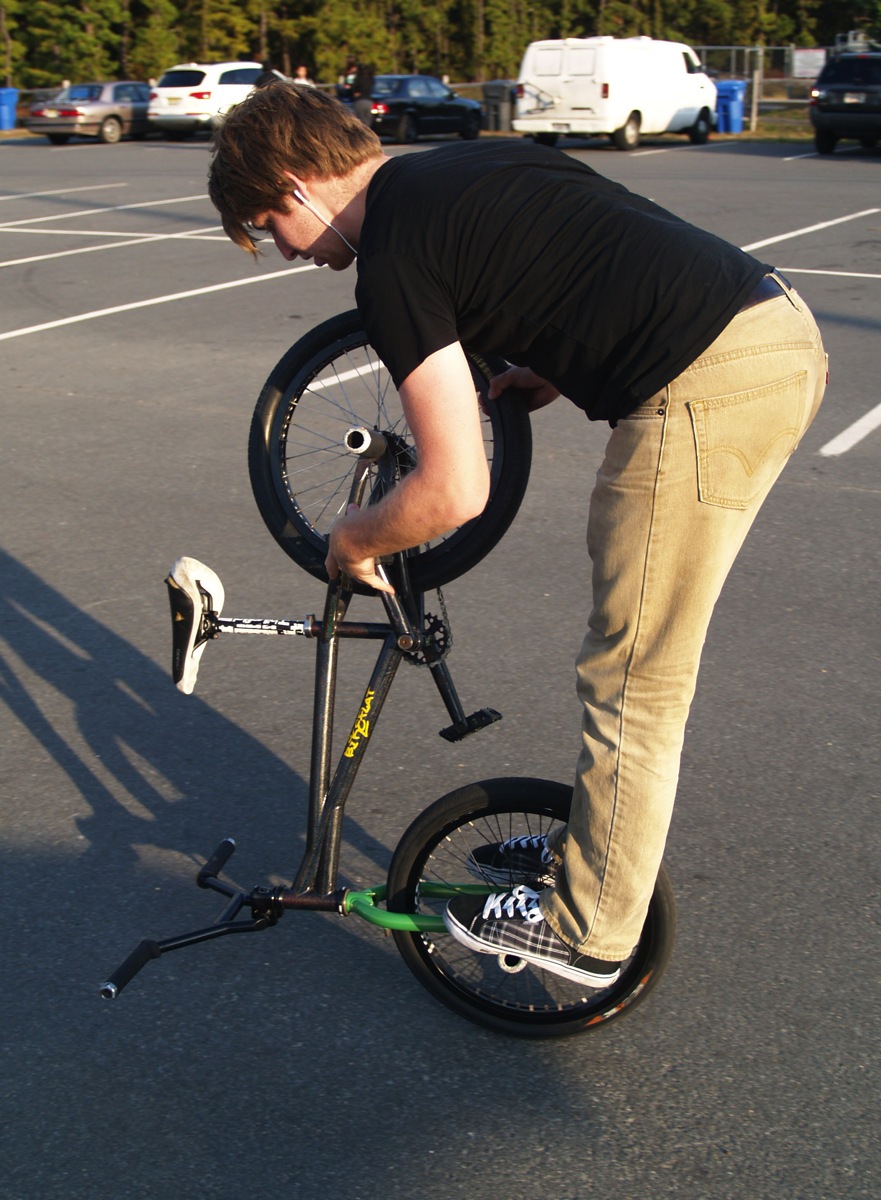 Ideas come and go within my mind. Some times I blurt them out loud and share them with people. Other times I just keep to myself. However, I've found some motivation and enthusiasm for riding my bike again. Therefore, I shared my idea with Brett about holding another flat jam/BBQ at his place in Brick, NJ. Needless to say, it happened.
Arriving to the lot on the day of the jam I saw some people I hadn't seen in a long time. Namely Matt Hartley and Alex Caps from upstate NY. It was really good to see them again. Both of them were throwing down great links. Matt has progressed a lot from what I remember. And Alex is still smooth as ever, and his photo skills were in full-effect throughout the day.
Not many people showed up to this jam. Which in a way is a good thing. We all had a really chilled out session and just rode with smiles on our faces and having a great time. The dudes from Brooklyn also showed up, which was a treat. I even pulled a decade so everyone knew I wasn't lying.
I spent most of my session taking turns with Frank Macchio. Frank is the man. I'll give you a little insight on him. He originally started riding as a street rider. He is definitely one of the most original street riders ever, where he would do steamroller grinds and many other flatland induced tricks. He eventually decided to switch over to flat. He told me he doesn't mind the "Walk of shame."
Keith Fischer was also there. He was killing it with the one-handed steamrollers. I have no idea how he does those. Intense balance. He also had his video camera out and was filming most of the session. But you'll have to wait for the footage. He also has one of those Go-Pro cameras. I have to admit, they are awesome. You attach them to your bike to give the viewer a point-of-view feel during your trick. He also has a chest harness for the thing. I can't wait to see what my decades feel like.
Brett was also riding a lot during the day. I'll admit it; I've never really watched Brett ride before. I was super impressed. He was trying some things that I would've never thought of. Definitely an awesome thing to witness.
The standout rider of the day had to be David Debuono. Dave has so much control over his bike and his tricks it's almost incomprehensible to most people. He was killing it with his long side-pedal hang fives. His other links were just as smooth. Every time I see him, he has something new. He also just recently put a front brake on, so watch out for him.
Willie Smith came out from PA to shred too. He was killing it with his long hiker combos. I can't wait until he gets some cranks, somebody hook this dude up.
After the session died, most of us went back to Brett's house to eat some BBQ and we premiered the newest Simon O'Brien video, Déjà Vu. I'm pretty sure his riding blew everyone away. I know I still am every time I watch it.
I just want to give a shout out to Brett for putting this all together and taking my idea into consideration. I had a great time and it seems like everyone else had a great time as well.
Until next time,
-Louis