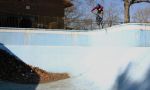 Yes, it's that time of year again. Homeowners go out and take a look at what the new year offers in pool design. A.S.S. founder George Hoernig and local shredder John Decaprio, (who is well known as the guy on the cover of the first NJ BMX Szine) went pool hunting this past "spring like" day we had and dug up something they may be looking at for the 2011 season. From George and John:
"Spring is on its way and summer is right around the corner. I'm looking forward to pool season."
Pictured below is the model they picked out and John jumping in.