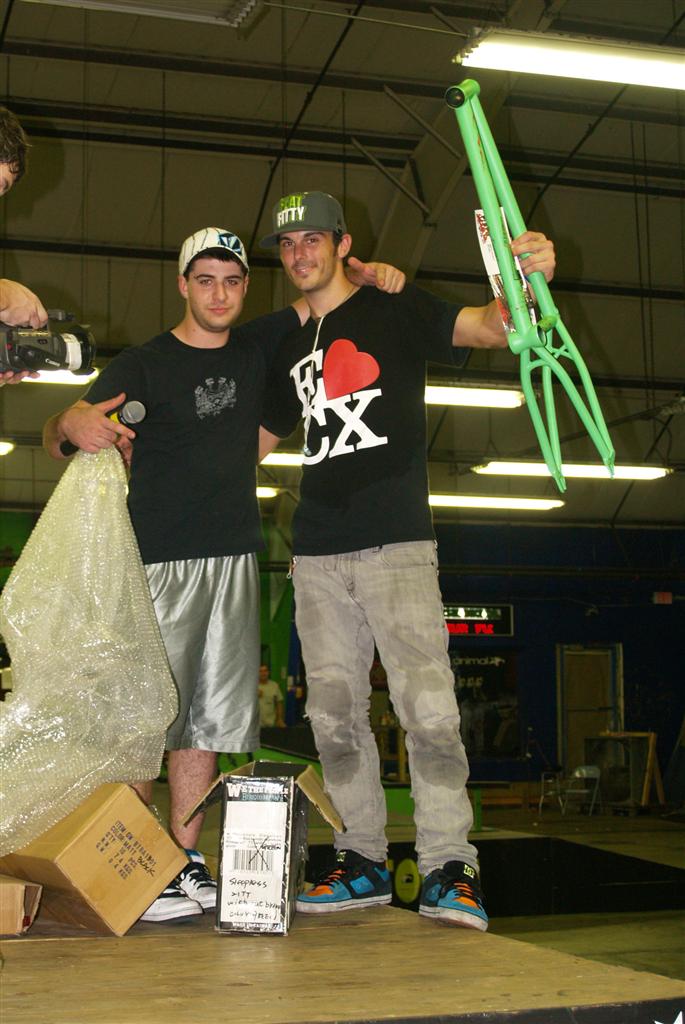 Man it's 1:00 o'clock, I gotta start heading to Hacketts, woa, it's 2 gotta get outta here…3….Holy sh*t!!! It's 4 pm I gotta ROLL!!!
To be honest, when I get near BMXers, I have a tendency to  hang and talk till my throat is dry and my brain is fried. For the first time ever, I decided to try to cover 2 events in one day. The first was Brian P's Summerslam for the Old School collector crowd, the second is the short story I am about to tell, which is another Hackettstown Throwdown comp put on by Anthony and the gang.
So…I finallly got my act together about 4 and headed down to Hacketts from near New York state hoping that the comp was running a bit behind and that I would be able to catch much of the action. Unfortunately Anthony, Aaron, Roachie and the rest were banging through the comp today and I arrived too late to catch all the beginner and intermediate action. A complete bummer for me but a lesson to be learned on covering more than one thing in one day for the site. Before I try my best to give some highlights of the late afternoon finals, let me throw out a thanks to all the companies that gave Hacketts and Anthony product for prizes. They are Big Diesel Bike Company, Alienation, Monster, Mutiny, Hoffman, CJS, Kink, Mirra, Madera, Profile, Primo, United, We The People, Animal, Mirraco, Staff BMX, Hoffman, and Vengeance Clothing. Dang, Anthony must have some pull to get that kind of sponsorship love.
So, like I said, I got there and missed all the young gun newbie action so I can't give any details on what went down there but I can give you the results which Aaron was good enough to flow over to me. So here they are for the first two classes.
Beginner: 4th- Nick Hennings, 3rd – Peter Spurtiello, 2nd- DJ Palonis, 1st- Kyle Olinger
Intermediate: 4th- Billy Perry, 3rd- Paul Bentivegna, 2nd- Mikey Almodovar, 1st- Ed "peace" Herbison
The details of the Expert brawl are there after the Read More link. Scope 'em…
Yea, it took me a bit to get there but it was way worth it as Expert best trick was just finishing up, Mike Fede took home a new frame for his banger during that part of the comp. (If I didn't show up late,
I could tell everyone what he did to get best trick but…As Aaron and Anthony proceeded to ask me "where the heck have you been?!", I quickly unpacked the Olympus to get some shots of the cream of the crop expert finals. Six guys got whittled down to go up against each other in 2 three man jam runs to determine who was gonna ride home with the big prizes. Brian Hittle, Brandon Jones, Little Jeff, Randy Helzburg, Brian D, and Gary Nillssen got out on the floor and gave the crowd a good show on the newly renovated Hacketts park ramps. Brian was all over the park busting out with big one foot flatties and some cool manual moves as well as some pretty tweaked 360 lookback variations. This got him two spots out of the top 3 this time. 4th went to up and comer Brandon Jones, Somverville Park local who had one of the biggest transfers of the day with a huge tailwhip from the spine to the new small jump box, he also tossed out a big decade air over the big jump box. Brandon has been pretty consistent in the last few comps and it looks like all the hard work will be paying off soon. Brian "hit em high" Hambone Hittle was on top of the park like he had been living there for the whole summer. Flairs and whips in both directions on the battleship, the big barrel roll and plenty of variations over the spine and the step up took him to 3rd from the top spot at this comp. Hittle has burst onto the scene and has been getting some press from the big guns like Dig. 2nd got swallowed whole by Little Jeff. Since I was running around trying to get my f-stop, photo speed, iso and flash settings freaking right, I have no pictures of the man but suffice to say that he did shred up the park with a lot of tech tricks which probably caused the heat in there to go up even higher than it already was. (yea, it was toasty in there on a nice summer day) When I did get my camera sorta functional, I realized that one guy that day really seemed to be all over the park popping off a trick on every transition he was on. It wasn't till Anthony started giving out the awards that I realized it was Gary Nilssen. Gary has been on the contest scene in NJ for awhile and this time around his riding just all came together for a well deserved win. It's not really possible to put to words runs like Gary's because they contain so many different styles of tricks and riding. I was able to capture one decent shot of the man which is featured in this write up. Oh, in case you didn't figure it out, Gary grabbed the top spot for the day at this little jammie and went home with the most swag.
For a warm summer afternoon, this Hacketts jam had a pretty good turnout. Considering that during the summer months, most BMXers head to the trails or outdoors to ride and take the summer to just learn new stuff it was pretty cool to see everyone back up there having a good time. Big props to Anthony P for putting together the
whole shebang, Aaron for sweating out the announcing that day, and Roachie (the DJ with the mondo system) for keeping the tunes rolling. All these guys ride, which is good to see and the way it should be. Finally for anyone who hasn't made the trek to Hacketts since they have recently redone the park, I gotta recommend a spin up there as the new layout has a good feel to it. (hey, Hittle likes it, the man skies, take his word at least!)
Next up for the 2009 summer of BMX, BMXNJ will be heading to The Dome for BMX Invasion 9…our first official foray into covering BMX in Eastern PA.
For those of you making the journey up, see ya there!
Ride on,
Brett