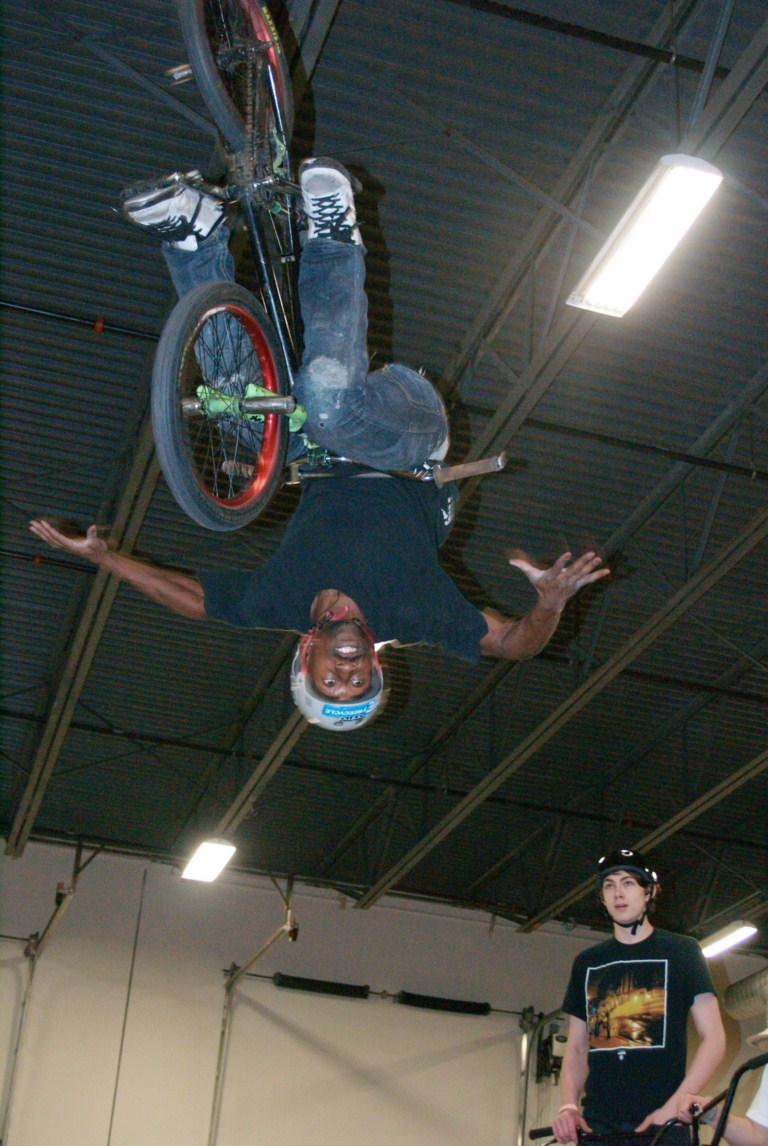 Blizzard BMX Battle? Well there was no snow for the first contest of the year at Shields but the temperatures outside were cold…no wait I mean COLD! With that being spouted, I have to say that the most hardcore riders of the day were not quite inside the park but outside jamming in the lot. Some of the NJ flatland guys came up to chill for the day (um…no pun intended) and were seen shredding the lot outside Shields new location. Budz, Jsteady and his gal as well as Ken were busting the flat in the frosty cold. It's great to see the different aspects of BMX riding coming together again around here. There has even been talk of a flatland comp at one of the future Jump For Joy comps…sounds like an even better time at Hippies!We didn't come to Shields though to rock the flat exclusively, the main reason was to get a jump on the 2010 BMX year! Yea DAWGS! Walking into Shields that morning was insane. The amount of riders inside was completey OOC (out of control) and after talking to event organizer Aaron Graf I was informed that over 85 riders would be competing during the day.Realizing that this would be a long day of BMXatude action, I set about saying hi to all the regular BMX crazies that come to support the NJ BMX scene. Rodney from Grove Street was in the house with a slightly smaller contingent of killer riders than at Jump For Joy but his guys were still shredding it up during practice. GSB's Chris Koval was in the house and repping Rod's shop right with big racer style airs. Efingers was also in the house with a few guys chilling. Marc himself wasn't there but Dean "deh machine" Watson was out front and in charge hitting the disco airs and crazy transfers. The biggest contingent of riders though, trucked all the way up from the town over from the birthplace of organized BMX in New Jersey, Ed's Bike Shop out of Vineland.(um…for those of you new to the site, Vineland is next to Millville, Millville is where organized BMXing began in NJ.)First time I ever met any of the Ed's dudes was up at Jump For Joy where Albert Carlson was hanging. A quick chat up with the dread head  shredder and it seemed like if this guy was indicative of the people coming out of that area we were gonna see some good stuff from the birthplace of BMX. Sure enough at this comp not only was Carlson throwing down with his unique style but a whole PASSLE (Did he just say passle? Is Brett going insane?) of rippers from Ed's. Since I am always down to talk with guys who help the scene out in NJ, I was able to get away from taking pics long enough to get a few minutes of verbage from the main man himself, Ed. Seems Ed himself goes all the way back to the earliest days of BMX in NJ. Chatting about Webco mags, the switch to alloy wheels with freewheels and the industry itself was a great way to pass the break time between Intermediate and Advanced.It wasn't all about B.S.ing with the NJ industry giants at this jammie though.
The park was staying pretty hot with all kinds of action from the riders out there. Shields was cool enough to  have a "youth beginner" class this time around which meant that anyone new to the competition scene under 12 in NJ got a chance to get a feel for contest pressure by themselves.Jameson Woodell tore around the course tossing out a great assortment of tricks but it was John Monoco who took home first. Tommyh Koepplinger rounded out the class. Monoco also grabbed Best Trick for the youngest riders of the day.
The Beginner class was HUGE. Like big, big. Over 25 riders of all ages were lumped together and given their shot on the park floor to see who could take home the number one swag.  Charlie Quigley got down to business this day and tore the class up with some great jump variations. 2nd went to Richie Romanek who was busting some big air and 3rd was taken home by Joe Kuhfahl. Best trick in beginner was snatched up by none other than Gary Maddox riding for Ed's Bike Shop. At this comp the next guys (and gal) to go were the Intermediate class. (Yea, I know it can get confusing from one comp to the next with the class names…) We could go on about the class here but will sum it up in two words, Zach Reed. Zach the only guy on the course competing  to run a full face helmet was fearless in the park going from transfers to grinds all the way out to big backflips to win the class. Everyone else was sorta not even close to Zach's riding but two guys did come close. Vin Crispino (2nd) and Matthew Blear (3rd). Best trick was scarfed on by Matty Miller. It was a little difficult to determine who was doing what in the Inter finals as the jam format used had all the riders in the jam going at the same time, so it was realllly difficult to get names and tricks down at the same time. Hightlights though included, big behind the back tuck no handers, 540's on the wedge ramps, fat turndowns, barspins, feebles to 180, icepicks, 360 outs and attempts at BIG fakie wall rides. The Intermediates in NJ are really coming on strong and it won't be long till some are moving up to …
The Advanced class had the hottest riding of the day and big names like Gary Nilson and Sean Ricaney making the finals. The main man from the last Jump For Joy, Chris A(ir)ceto also just barely squeaked into the final jam. (Ok maybe it was more like BLASTED BIG AIRS into it…) The top 8 guys from the 5 preliminary jams were given 1 and a half minute a piece to get stupit (more 80's slang, your ever loving editor.) on Shield's plywood heaven. As much as I wanna go into detail on all the action, I'm just gonna
give a few highlights since brokenspokes BMX will be showing all the finals on its next episdoe as well BMXNJ Magazine's premiere issue giving the complete rundown…with more pics. Gary Nilson had the whips dialed all over, barspins everywhere and enough footjam action to break the toes off of bigfoot. He won. Zane Bradley HANDPLANTED the wall but could only must a fourth out of the judges. Albert Carlson from Ed's had the most original style in the Advanced class with MANY grind variations but ended his run early due to injuring his foot earlier in the best trick comp. (more on that on the next episode of the aptly titled brokenspokes BMX show). Brad Kaminski had the biggest airs of the day on the 6′ quarter and he started his run out with a bomber about 8′ out. He also busted a big nosedive 720 over the spine right into mini half. This and a whole lot more earned him 2nd for the day. This is gonna sound weak but we here at BMXNJ are nicknaming Chris Aceto, AIRceto because the  man only knows one way to hit a ramp, as high as inhumanely possible. I'll give a full rundown of his runs in BMXNJ magazine but every single trick he pulled was at least 6'+ up there! Chris was able to take home 3rd place swag for the day. The smallest dude in the Advanced class was Fuel TV star Sean Ricaney. Earlier in qualifying Sean pulled a crazy vader ho handed nose pick but didn't get the job done with that trick in the finals. He still kicked plenty of butt with no footers, and an ice pick to barspin. Kevin Vannacker probably had the longest wait of anyone who rode in the Advanced finals but that didn't slow him down as he started his run off with a monster bar spin on the back wall, he landed a little squirelly but rode it out with the crowd cheering him on. Kev also tailwhipped a big 360 over the jump box. Mark Barcik showed he will no longer be a stranger to the big finals in NJ as he came into Shields and started out with a backflip, big tuck no hander, downside whip on the wedge to whip tailtap. This is Mark's second final in as many comps in the top class in NJ so it looks like big bro is smiling down hard on Burly Barcik!
We can't talk about this comp without mentioning the two Pro volunteers out there demoing and helping with the daunting task of…ugh…judging, Rob Devaux and Andre Postell. In between classes and finals Rob and Andre were out there lofting large (come on you know you love my verbal embellishments!) with big airs, flairs, 3 6 0's, flips, and whips. If you ever get the chance to see these guys in action bring a cushion for your jaw because it will be hitting the floor watching them. (Oh wait you will get a chance to see them in action when brokenspokes puts up the pro finals from Jump For Joy 15 later this month.)Usually Shields comps are done promptly by 7:00 pm but this time around with the overwhelming number of riders who popped up the comp was over by about 8. Still record time for such a large amount of competitors in the house.We'll have more from this comp in the premiere issue of BMXNJ Magazine early in February. For now though big props should be given to the sponsors: Monster, CJS, Efingers, Grove Street Bicycles and System Cycle Supply.
If you wanna check out all the pics I have on here from the comp just click this link. For more pics and video, check out BMXNJ Magazine next month and brokenspokes BMX webshow later this month!
Here's the results and we will see you out there riding, (though at my age I'll probably be doing more talking, HA!)
Advanced:
1st- Gary Nilson
2nd- Brad Kaminski
3rd- Chris Aceto
Best Trick- Gary Nilson
Intermediate:
1st- Zach Reed
2nd- Vin Crispino
3rd- Matthew Blear
Best Trick- Matty Miller
Beginner:
1st- Charlie Quigley
2nd- Richie Romanek
3rd- Joe Kuhfahl
Best Trick- Gary Maddox
Youth Beginner:
1st- John Monaco
2nd- Jameson Woodell
3rd- Tommy Koepplinger
Best Trick- John Monaco